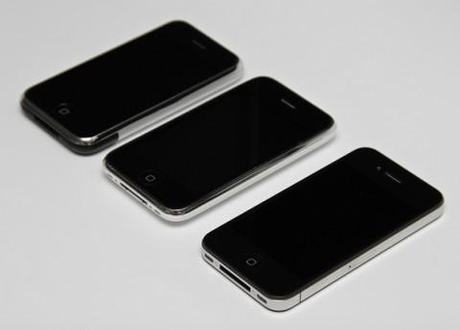 The evolution of the iPhone. Photo credit: Yutaka Tsutano http://www.flickr.com/photos/ivyfield/4731067396/
The Background
Rumours are swirling around Apple's hotly anticipated iPhone 5. The technorati are busily wading through the mass of speculation to get some sense of what to expect from the new device.
But Apple fans have been here before: in 2011, iPhone 5 rumours came to nothing after CEO Tim Cook unveiled the iPhone 4S instead.
Prepare for launch in October 2012?
"One should always take each rumor with a dram of delight and a soupcon of skepticism," wrote Chris Matyszczyk at CNET. The most consistent rumor is an October launch date, so that at least looks likely. Other than that, say Matyszczyl, the rest is hype and speculation: "The Machiavellian in me — he really ought to get out more — delights in imagining Apple's management encouraging employees to offer rumors to media members in return, say, for an extra day off every two years."
Or will it be June 2012 and a radical redesign?
"We reckon it's most likely to be shown off at Apple's Worldwide Developer Event (WWDC), which usually takes place in early June – even if the focus of the 2011 event was software," said Dan Grabham at TechRadar. Grabham pointed to rumours that late Apple co-founder Steve Jobs was heavily involved in developing the new device as a possible indication that the iPhone 5 will be a "radical rethink": "The fact the iPhone 4S was so similar to the iPhone 4 suggests that Steve was working on something pretty special before."
Taller screen and 'liquid metal'?
There are rumours that the iPhone 5 will be made of 'liquid metal', wrote Emily Price at Mashable: "A mix of several different metals, LiquidMetal could allow the phone to be more durable. Light like plastic but durable like aluminum, it would also allow the phone to weigh less and have a thinner profile." At MacRumors, Eric Slivka examined speculation that the new device will have a 4-inch display, with increased height and the same width: "A taller display could allow Apple to add one more row of icons to the iPhone's home screen."
Industry analysts: Rumours damaging Apple profits
"Apple (AAPL – NASDAQ) is warning investors that returns for the current second quarter will be lower than projections, triggering widespread and feverish speculation that the fall-off is due to swirling rumors about an early summer launch for iPhone 5," reported John Cox for PC Advisor. According to Cox, some analysts believe Apple fans are holding back on buying new iPhones in anticipation of the launch of a new device.
Will the iPhone 5 be made of wood? Watch an Apple parody ad below.