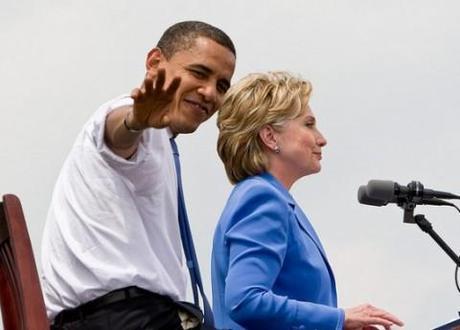 Hillary Clinton and Barack Obama. Photo credit: sskennel, http://flic.kr/p/4ZgZFG
Could Hillary Clinton end up as President Obama's running mate? Whispers that the US Secretary of State could replace Vice President  Joe Biden have increased in volume recently, with several commentators predicting an Obama-Clinton ticket for the 2012 elections.
Clinton has yet to comment."It's no secret Hillary is tired of logging miles as the 67th Secretary of State," said Suzi Parker at The Washington Post's She The People blog, pointing out that Clinton has already made clear she doesn't want a second term in the role. But does this really mean the former first lady has set her sights on the vice presidency or is she just keen for some time off? According to Patrick Caddell and Douglas Schoen in The Wall Street Journal, Clinton should in fact aim for an even bigger prize: Running for president in place of Barack Obama.
Clinton for President. President Obama may well win re-election, wrote Caddell and Schoen in The Wall Street Journal, but "the kind of campaign required for the president's political survival would make it almost impossible for him to govern—not only during the campaign, but throughout a second term". The solution? Clinton should step in. "Never before has there been such an obvious potential successor—one who has been a loyal and effective member of the president's administration, who has the stature to take on the office, and who is the only leader capable of uniting the country around a bipartisan economic and foreign policy," insisted Caddell and Schoen.
Clinton for Vice President. Talk of Clinton running for president in 2012 is misguided, wrote Bill Keller in The New York Times, but the secretary of state should certainly consider the vice presidency. According to Keller, swapping Biden for Clinton will greatly boost the chances of Obama's re-election, ensure the president is not a "lame duck with a gridlocked Congress" – and will leave Clinton perfectly placed for a shot at the presidency in 2016. However, Keller is concerned that Obama will fail to recognize the strategic importance of putting Clinton on the ticket: "The Obama inner circle believes the president doesn't need Hillary to win a second term."
"Bill Keller, a bad opinion columnist, has written a bad opinion column. It is about how Barack Obama will replace Vice President Joe Biden on the 2012 ticket with Secretary of State Hillary Clinton, a thing that will not actually happen," said Alex Pareene at Salon.
Useless speculation. Writing for New York Magazine, Joe Coscarelli was less than impressed with Keller's argument for Clinton to replace Biden: "Keller's column idea is so tired, and so baseless… that the writer himself seems less than convinced." According to Coscarelli, the "Great Switcheroo" is a story built on pointless speculation that just refuses to go away.
"Obama-Clinton in 2012. It's a natural," predicted Robert Reich on his website.
Biden for Vice President. "I for one want to see the president win reelection with Joe Biden as his running mate and truly believe that Hillary Clinton does as well," said Peter D. Rosenstein at The Huffington Post, arguing that Biden has a great record as vice-president and that the Obama/Biden ticket will prove strong, particularly in comparison to "Romney/somebody". However, Rosenstein also said that the idea of Clinton as Obama's running mate is not entirely without merit as she has excellent polling numbers and "the kind of excitement that would be created by putting Hillary on the ticket would be like nothing we have seen in years".