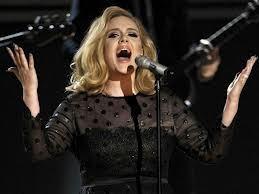 Rumor has it that Adele has named her son "Angelo."  The singer was spotted shopping for baby clothes wearing a gold necklace with the name "Angelo" spelled on it.  Adele gave birth to her son in October.  The name of the child however has never been publicly disclosed. 
A source tells British newspaper The Sun, "Those close to Adele have been told the baby is called Angelo. We're not sure of the significance of the name. She's wanted to keep it quiet but it was always going to come out sooner or later. Wearing an Angelo necklace not only backs up what is being said, it suggests she's not worried about people finding out."
Now you might be wondering why I'd even bother writing about this.  I generally don't really care what celebrities name their children.  After reading that her son could be named "Angelo" I was for some reason drawn to the story.  It might be because the name "Angelo" is one of the best in the world (okay maybe the best).  Yes, I might be somewhat biased in my assessment.  It doesn't mean that I'm not right.
As for not knowing "the significance of the name" I think I can answer that one.
I'm honored she would name her son after me (just kidding).
I'm just happy she didn't name her son some weird name like: Audio Science, Denim or Pilot Inspektor.
Do you like the name?
Email: [email protected]
Twitter: @adrakontaidis & @talkrealdebate