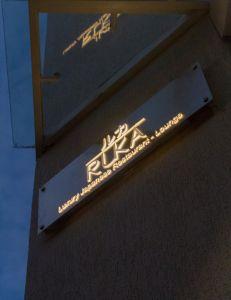 Ruka, a Luxury Japanese Restaurant and Lounge by the Ramee Group of Hotels launches in Juhu offering a new and exclusive culinary destination to the city of Mumbai. The uber luxurious Japanese Restaurant and Lounge currently operates an outlet in Bahrain which was established in 2014.
Speaking on Ruka, Mr. Raj Shetty the Chairman and Managing Worker of Ramee Group of Hotels, Resorts & Apartments says "The idea behind Ruka is to offer a completely new and sophisticated twist to the traditional Japansese Izakaya style of informal dining and lounging. With the brand launching in Mumbai, Ruka is ready to bring vibrancy to the industry taking dining to a completely new level by paying deep attention to detail and meticulous execution" .
 Ruka is located on the ground floor of the Ramee Guestline Hotel in Juhu serving as an ideal location for a light lunch, dinner or even a social get together with friends, family or colleagues. Guests can choose between casual bar area serving unique molecular cocktails, an intimate dining area or even opt to sit at the sushi bar where they can view Chef Masato Toida having over 43 years of experience, and his team deliver liberated Japanese meals with skill and creativity.
Chef Masato Toida from Japan, has mastered the art of Kaiseki which is the detailed and beautiful presentation of a multicourse Japanese meal. It is regarded as the most expensive format of serving Japanese cuisine which is aesthetically created signifying sophistication.
Speaking on the menu Chef Masato Toida says "Ruka has a comprehensive and alluring menu that focuses on retaining fresh and seasonal ingredients. The presentation is artful while the ambiance is relaxed and informal. We deliver a comforting Japanese dining experience where we have used age old techniques; however have still managed to create contemporary culinary offerings."
 The layout of Ruka is programmed into 5000sq ft space on the ground floor, having an entrance from the main gate as well as from the lobby of the hotel. The space will offer a signature Ruka restaurant and lounge experience that showcases the significant components of the brand. The design elements of the area will have the luxurious interiors of its flagship outlet in Bahrain with its luxe furniture, epitomizing a relaxed contemporary surrounding. The furniture is a combination of high dining tables, chairs and lounge seats having the view of an open kitchen where the talented chefs create a distinct personality in every offering.
The walls are laden with tanks containing fish, crabs and lobsters, some of which are actually used in preparing meals.
The food menu offers a compilation of unique yet traditional specialties delivering an unfamiliar yet memorable culinary experience filled with surprises. The restaurant and lounge imports a major part of its ingredients directly from Japan keeping to the authenticity of the brand. On the menu are signature dishes like Barbecued Tenderloin, Saikyo Miso Marinated Cod, Roasted Lobster with Shiso & Ponzu Butter, Rice Hotpot with Grilled Chilean Seabass, Avocado Nigiri, Unagi Nigiri, Temari Sushi, and Scallop Gunkan to name a few and a number of vegetarian specials.
To accompany your meal are a range of stylish signature molecular cocktails possessing, and showcasing elements of science and art with the use of gels, air foaming, dehydration, and layering with tools like vacuum sealers, blow torches, nitrogen guns and a whole lot more.
Ruka, with its impeccable cuisine, elaborate bar menu, opulent interiors and exquisite ambience is set to provide this city with a captivating drinking and dining space focusing at building long lasting customer relationships.
Restaurant Timings: 12pm to 3am
Open and close days: Monday to Sunday
Contact for reservations : 022 67159225
Address: Ground Floor, Ramee Guestline Hotel, 462, A.B. Nair Rd., Juhu, Mumbai 400049