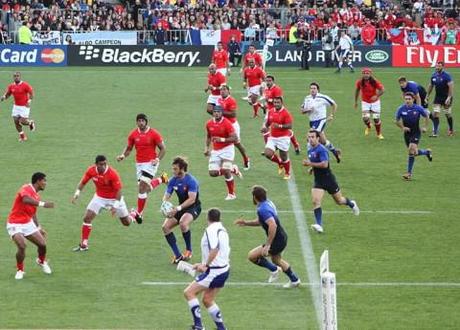 France were beaten by Tonga in the qualifying stages of the 2011 Rugby World Cup — will Sunday's match be a repeat of this embarrassing defeat? Photo Credit: Craig Boyd
With France and New Zealand going head to head in the Rugby World Cup final this Sunday, an old rivalry is set to be played out, and the stakes are higher than ever. France upset the Kiwis' chances in 1999 and 2007, despite the fact that many had predicted the latter would win. But this time they're playing to win the tournament, a distinction Les Bleus have never achieved. The All Blacks have only lifted the cup once, at the inaugural event in 1987, despite the fact that they are the Rugby team with the most points of all time.
So can a French side that has already lost two matches in this World Cup (one against New Zealand and one against tier two nation Tonga) upset New Zealand's chances? The last time the All Blacks lost at Eden Park was way back in 1994, and Rugby pundits say there's not much reason to believe the French will spring an upset.
Headline-grabbing Irish bookmaker Paddy Power is so confident in a New Zealand triumph that they have already paid out €650,000 on a New Zealand victory. The Kiwi players aren't so convinced that it's already in the bag.
"I did speak to him [New Zealand Captain Richie McCaw] earlier in the week briefly and I don't think there is any way they are taking this lightly", McCaw's father Don told The New Zealand Herald. "I heard a comment — I don't know if it was from him — but this game this week will be as tough, if not a lot tougher, than the one last week against Australia. So that's what they are expecting."
Here's what the sports commentariat are predicting:
New Zealand will win because they are the best. "New Zealand have been for the better part of four years the best side in world rugby", opined a bullish Peter Bills at The New Zealand Herald. "The All Blacks are also the cleverest, smartest team around", he insisted.
'Enigmatic' France may pull something out of the bag. "It's a two-horse race and both teams will be doing their utmost to win it", New Zealand assistant coach Steve Hansen told Bloomberg. Chris Rattue wrote in The New Zealand Herald "France have history, serious history. In the absence of form, we can highlight that they are enigmatic … history warns us not to write them off."
No chance. New Zealand will win it. "For Les Bleus to win … it will take the perfect storm, and a monsoon of calamity for the hosts", Eric Janssen argued in The Daily Telegraph. Though the French team "does not match" the Kiwis, Janssen hoped for a "magnificent" final for all of those who have paid £650 a ticket.
There's is a way the French could win. The Guardian's Shaun Edwards says the French could win by attrition if they can deal with the "claustrophobic intensity" meted out by the opposition. He questioned, however, "whether France can match the All Black intensity in a way Australia, a much more fluid side by nature, could not."