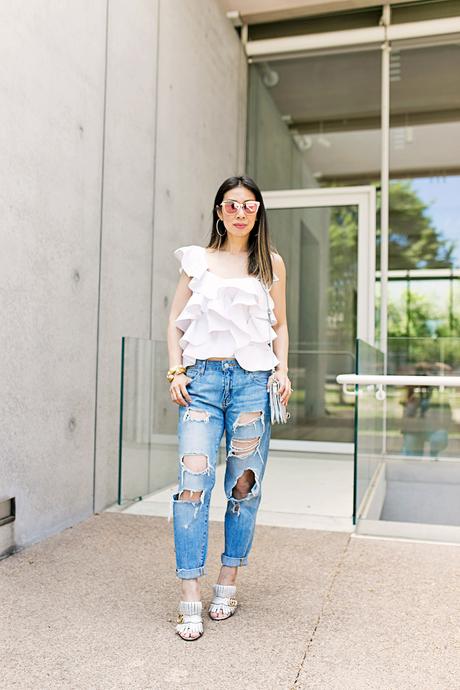 I almost named this post, "What NOT to wear when you're in your 40s!" Sometimes, you gotta laugh at yourself! This is such a FUN one shoulder ruffle top from BEEHIVE boutique. I styled it this way for the blog post, but have actually worn this top two different ways. (Looking at these pictures, I feel that the other 2 ways were more appropriate for "real life" but this is totally fine for "blog life"!)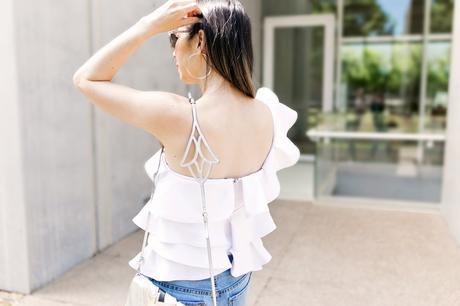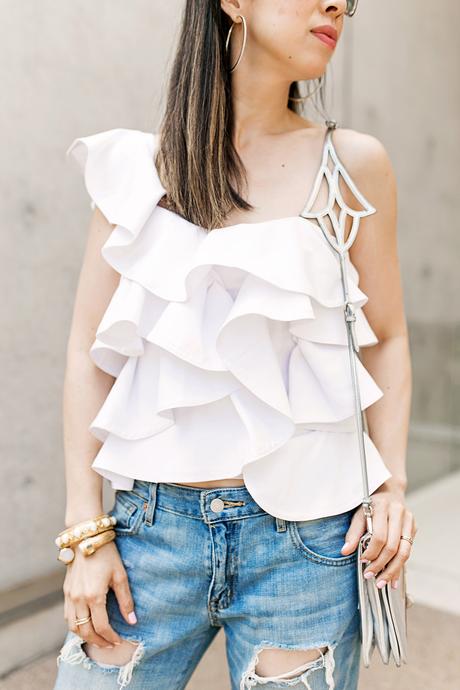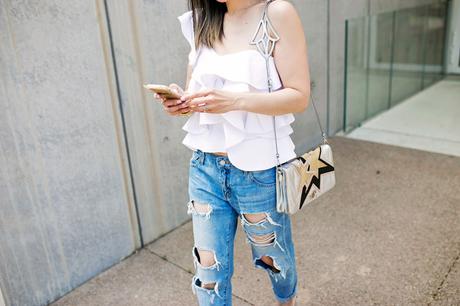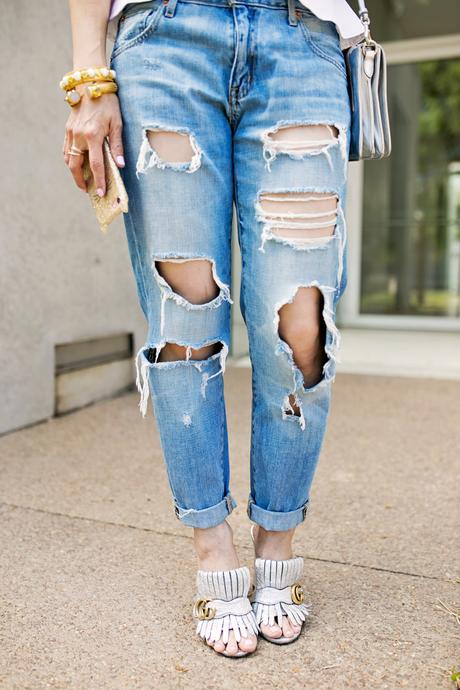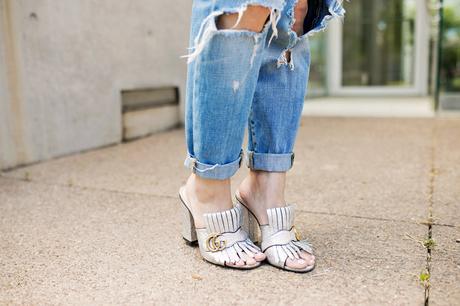 // Photography by Angie Garcia //
First of all, I couldn't get past the ruffles when I saw this one-shoulder top at BEEHIVE. It's white (I LOVE WHITE!), one-shoulder (you know how I feel about off the shoulder), and it's got ruffles (hello, i love clothing drama!). Second, I knew this would be such an easy top to wear! Dress it up or dress it down. Yes, I know that is so cliche, but it's true about this top!
THE STYLE Rx: When you find a good statement, get it! If you love it, then you'll be able to wear it and WANT to wear it all the time! It doesn't have to be one-shoulder or off the shoulder. There are so many great statement tops out now!
The ripped boyfriend jeans balance out the femininity of the ruffles. They are so comfy and add a lot of edge to an outfit. However, as one of my friends pointed out, it can be too ripped depending on the look you're going for! This is a great super casual look!
I've also worn this top as an all white ensemble with cropped white jeans and metallic accessories for an elevated casual look. It was casual chic when I paired it with high waisted ripped knee skinny jeans. (See the two other looks below). It would be beautiful with a tropical print skirt too!
BTW, Mr. S called while we were shooting and Angie got some fun shots of me on the phone. We decided to "go with it" and use the iphone as a prop!
Do you have a favorite statement top? One of the good or bad things about statement tops is that they are memorable which is why I try to wear them different ways!
Happy Monday Friends! What did y'all do this weekend?! We had my MIL and SIL over for a last minute Mother's Day celebration. It was so nice, and I was sad that the evening came to an end so quickly. And I also did a fun little photo shoot on Saturday with Angie to celebrate diversity! We had to wear all white (hence the candid picture below captured by my blogger friend Kelley)!

// other fabulous statement tops //

Other ways that I wore this top!