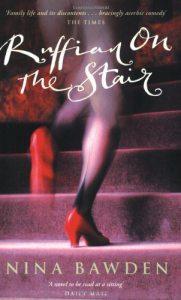 Contemporary fiction
4*'s
I was a huge Nina Bawden fan as a child with Carrie's War and a Peppermint Pig being much read and treasured books on my shelf but despite my huge admiration for her storytelling abilities I hadn't read any of her work for adults. Many months ago I came across a review for Ruffian On The Stair on HeavenAli's book blog and decided that I needed a copy.
Nina Bawden picked the fitting title for this book written in 2001 from the poem
Madam Life's a Piece in Bloom by William Ernest Henley
Madam Life's a piece in bloom
Death goes dogging everywhere:
She's the tenant of the room,
He's the ruffian on the stair.
You shall see her as a friend,
You shall bilk him once or twice;
But he'll trap you in the end,
And he'll stick you for her price.
With his kneebones at your chest,
And his knuckles in your throat,
You would reason — plead — protest!
Clutching at her petticoat;
But she's heard it all before,
Well she knows you've had your fun,
Gingerly she gains the door,
And your little job is done
Why, well this book introduces us to Silas Mudd, a man six days short of his one hundredth birthday, a celebration that as is often the case with these momentous occasions, has become somewhat mired in who should have pride of place next to Silas and which generations should be invited accompanied the somewhat ruminative dwellings of his offspring about how well they know the man at all.
Silas meanwhile is keen to keep up appearances, spreading his book across his knee as behind his unseeing eyes he disappears into his past on a journey where he takes the blame for some actions while neatly failing to take any responsibility at all for others. And what a journey it is, right back to his childhood with his adored elder sister through his first job and his courtship of his first wife Effie. Silas and Effie had some good times until the war came along causing a sequence of events that had consequences right up until the present day. After Effie's untimely death Silas married again to a younger woman, Bella whose children are the cause of the upset to his own offspring, Hannah, Alice and younger son Will.
I was pleased to see that Nina Bawden, even in her last work of fiction hadn't lost her keen eye for detail, the gentle and observational humor that she injects into what could be a melancholy tale, lifts this to an incredibly readable book. I wanted to know the details of Silas Mudd's life, being able to make my own assumptions about the life from the other side of the relationships he describes. How wounding to be Hannah who Silas had once remarked 'Going without food for once won't do you much harm. In fact quite the opposite, I would say.' how galling that Will had to tell his sisters of his father's mistakes, whilst also watching the seemingly over-caring Clare, daughter of Bella believe that she was ingratiating herself with Silas and with a wry smile noting his reaction both outward and inward to her flattery.
This is a gentle and incredibly perceptive book, told in a unlinear fashion as befitting its protagonist published by Virago that has reignited my admiration of this talented author. Expect to see some more reviews of her books for adults in the near future.