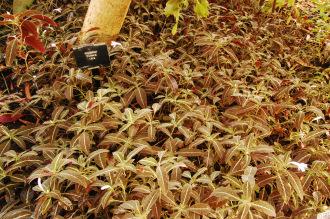 Ruellia portellae (16/01/2016, Kew Gardens, London)
Position: Light shade to indirect bright light
Flowering period: Spring
Soil: Moist, well drained
Eventual Height: 30cm
Eventual Spread: 1m
Hardiness: 10b, 11, 12
Family: Acanthaceae
Ruellia portellae is an evergreen tropical perennial with a spreading habit. Its dark green leaves have white veining, are red on their undersides, elliptic with entire margins, up to 10cm long and 4cm across. Its pale pink flowers are funnel shaped and appear singularly from the leaf axils.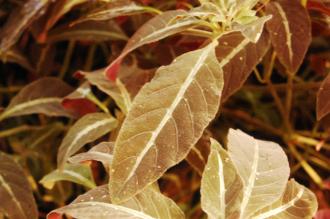 Ruellia portellae Leaf (16/01/2016, Kew Gardens, London)
Ruellia portellae, commonly known as Ruellia or Wild Petunias, is native to Brazil. In its native habitat it grows as a tropical woodland understory plant.
The etymological root of the binomial name Ruellia is named after Jean Ruel (1474 –  1537), a French botanist. Portellae is named for Francisco Portella (1833 – 1913), a Brazilian physician.
The landscape architect may find Ruellia portellae useful as an effective evergreen ground cover plant for atrium type planting schemes.
Ecologically, Ruellia portellae is of little value to UK wildlife.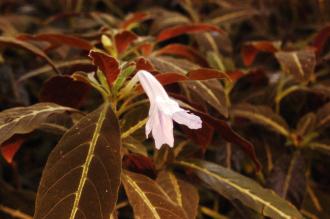 Ruellia portellae Flower (16/01/2016, Kew Gardens, London)
Ruellia portellae prefers moist, fertile, humus rich, well-drained soils. It tolerates most pH of soil.
When maintaining  Ruellia portellae as a houseplant its soil should be watered regularly. Watering should be reduced during the winter months. Its preferred active growing temperature rages from between 18ºc to 22ºc, it will tolerate a winter temperature of 15ºc. Feeding with weak fertiliser solution should be carried out once a month during the growing season.


Landscape Architecture