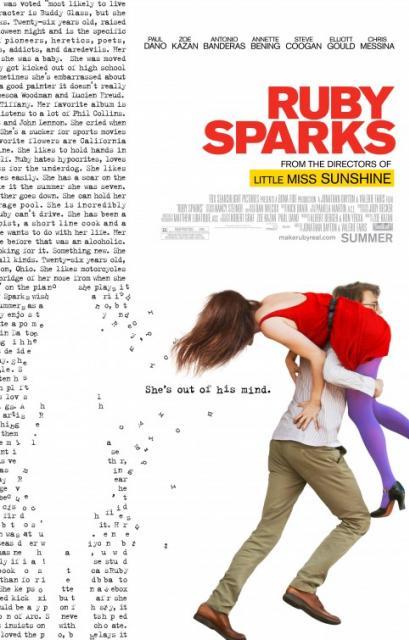 Calvin a struggling novelist  creates a woman who he wishes would love him and she becomes really. As he tries searching for a book in follow-up to success he had 10 years earlier with his first book.
With the suggestion from his therapist he starts writing another book after a dream about a girl he thought was perfect. The more he writes the more obsessed and consumed he becomes with Ruby. Then one day she is in his house and is his girlfriend! After testing many times to see if anyone else can see her he decides it was just meant to be, no idea how it happened but went with it anyway. Especially after his brother can see her too, although it does start with a few freak out moments.
The film does give you a few points to think about when it comes to love and relationships, the main one I thought about was that no matter how perfect you think someone is to begin with they will change. As Calvin found out when he thought he had created the perfect girl society eventually influenced how she behaved and he was not happy when she wanted to go places without him. That's when he decided to write a new version, but he did have to then keep adding and changing parts.
I guess it shows that you cannot fully influence someone and must be ready for changes along the way in a relationship, I really do think this film went quite deep into that type of thing and even has a rather disturbing scene which helped show how much power Calvin really had over Ruby. I think from the beginning you still know that it is not going to end well for anyone really and was always a recipe for disaster. But with good reasons behind this, really Calvin needed to grow and branch out from the experience and live his life differently.
While the film does have some good points and moments, it's not a new concept and has been done a few times before. I couldn't help but think about Stranger Than Fiction as I was watching this as had similarities with a writer influencing a character in the film. I am sure there are many more films that take this mold as well. I guess it's something you can relate to as at times everyone wants life to go in there favour and knowing what's going to happen instead of taking it like it comes.
Performance wise the acting was very good with the added bonus of Annette Bening appearing as Calvin's mother, you cannot help but love her no matter on how small the role. Paul Dano really carried the film well, and I have to say he wasn't too creepy in this film and more normal which is a first (from the films I've seen him in). I liked Elliott Gould as the therapist but again he's one of those actors you just enjoy. What about Zoe Kazan as Ruby though? I wouldn't say she was brilliant and was slightly annoying at times but maybe that was just the character?
This film probably will surprise you though as does have a heart and message behind it!