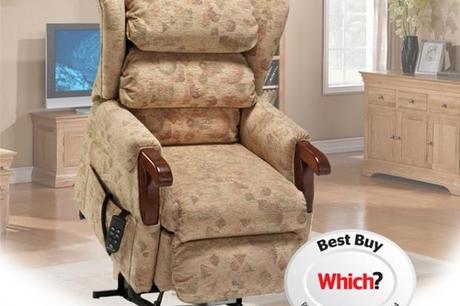 Royams Wins Which? Best Buy!
Lancashire based Royams has won the prestigious Which? accolade of Best Buy Riser Recliner 2014 in their recent awards. The coveted title was won after stringent independent testing and against fierce opposition from other leading Recliner Chair manufacturers including Sherborne Upholstery.
The Sherborne Donna Riser Recliner won the award having topped the scores in all the tested areas which included; Comfort, feeling secure, ease of use, speed of operation and back-up battery capacity. In addition to this recent award Royams Recliners have also been assessed as the 'Safest Chair on the market' by the UK Cabinet Makers Magazine having attained British Standard BS8474 by way Royams patented Protexa advanced safety system.
We at Dalzells Beds we are immensely proud to be a Royams Stockist in Northern Ireland and the Royams Donna is proudly on display in-store for you to come in and experience for yourself. We also stock the Royams Francesca, Tara and Joanna Riser Recliner ranges for your convenience.
What To Do Now…
Interested in a new or replacement Riser Recliner Chair? Come in and see us at Dalzells of Markethill, we've an extensive collection on display and our experienced team are on hand to advise you and answer all your questions. What's more at Dalzells Beds we offer Medical Vat Relief (20% Discount) on all our Recliner Chairs, simply ask one of our team for details. You can of course simply Call or Email us for further information and prices if you can't make it to us.
We Appreciate Your Business!