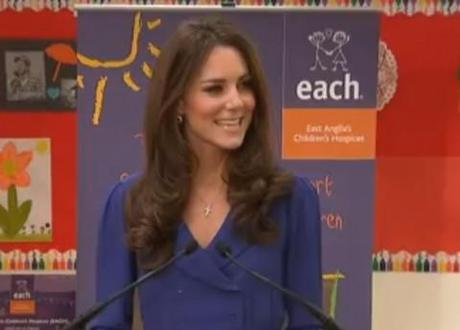 The Duchess of Cambridge delivers her first public speech
It's official: the Duchess of Cambridge, formerly known as Kate Middleton, is a member of the Royal Family. Those among the millions of viewers of the Royal Wedding in April 2011 may be forgiven for having assumed K-Mid joined The Firm the moment Prince William slipped the ring onto her finger.
But a senior Royal source told CNN that the last twelve months have in fact been an "induction" – and that the Duchess of Cambridge has passed with flying colours: "She has succeeded in doing what she set out to do in her first year. She has achieved her objectives."
The Duke and Duchess of Cambridge – or Wills and Kate, to be less formal – spent their wedding anniversary celebrating a friend's nuptials in Norfolk, reported The Mirror.
A perfect year. "What we have is a Kate who's great," wrote Victoria Mather at The Daily Beast, praising the Duchess of Cambridge's achievements in the year since the wedding. According to Mathers, K-Mid has succeeded partly because she knows when to step back from the limelight: "She does not upstage her balding Prince Charming. She does not upstage the queen or her stepmother-in-law, the Duchess of Cornwall." What's more, Kate (yes, says Mather, we know we're supposed to call her Catherine now) has perfected the art of being "Not Diana": "The Princess of Wales was 19; the Duchess of Cambridge is 30, a mature, proper grown-up. She is also well educated, well rounded, and playful without being coy."
According to The Telegraph, the Duchess of Cambridge taught father-in-law Prince Charles how to use an iron.
Saviour of the monarchy? Kate hasn't just proved the naysayers wrong – she may well have saved the British monarchy, said Autumn Brewington at The Washington Post. The Duchess of Cambridge has triumphed partly because her High-Street style chimes with the national mood during the financial crisis, and also thanks to her strength: "Those who wondered whether a commoner could handle royal life perhaps did not account for the strength that Kate's solid family background had instilled," Brewington said.
Suffering from Royal Wedding withdrawal? Watch the highlights below.