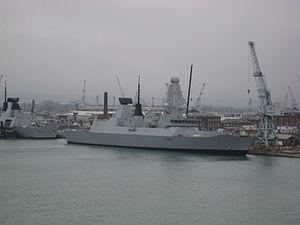 English: HMS Diamond in Portsmouth (Photo credit: Wikipedia)
Royal Navy warship HMS Diamond is visiting Kuwait as part of its 6 month tour in the Middle East. The Type 45 destroyer, which is on its maiden deployment, will pull into Shuwaikh port on Saturday afternoon having spent the last 3 weeks at sea working for the Combined Military Forces (CMF), based in Bahrain. - something to do on Saturday- take the kids to see it…….
During its visit the ship will be hosting several events onboard that will allow the ship's company to meet counterparts from the Kuwaiti military.  These events and discussions focus upon common areas of interest and sharing of professional knowledge on aspects of maritime security in the Gulf.  There will also be the opportunity for tours of the ship by local community groups. - where would one find this info out?
The ship's Commanding Officer, Commander Ian Clarke Royal Navy, said: "It is a privilege to visit Kuwait.  So far we have worked alongside many nationalities, promoting security and stability in the region.  We look forward to welcoming our Kuwaiti colleagues onboard over the next few days." Source
Well, I guess if Iran and Israel kick off, it's good to know we have a warship on the coast……