Fine Dining at Royal Ascot
Royal Ascot takes place this year between 17th June and 21st June and is one of the major highlights of the UK horse racing calendar.
Last Saturday I traveled to Ascot by invitation to sample a fine dining taster menu that people will be enjoying at Royal Ascot this summer. There was of course a day of exhilarating jumps racing too!
Each year Royal Ascot delivers unique culinary experiences to over 300,000 visitors I and was excited to sample the high end of these experiences.
Here is the taster menu on offer at this preview event.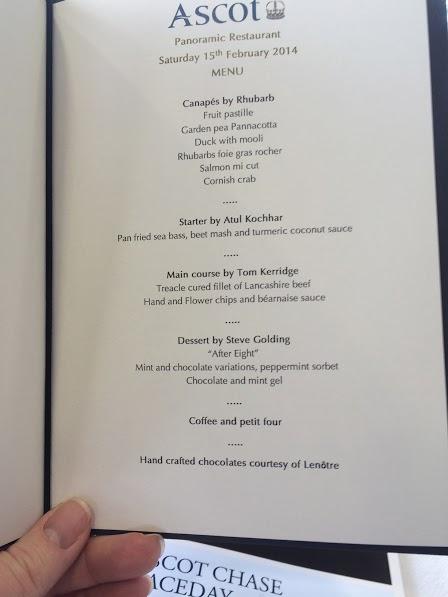 The menu awaits!
One
On arrival we made our up to the Panoramic Restaurant at the very top of Ascot's grandstand. This restaurant has its own private viewing gallery and roof terrace. We were served champagne and the most amazing canapés from Rhubarb - probably the most unusual and exquisite canapés I have ever tasted.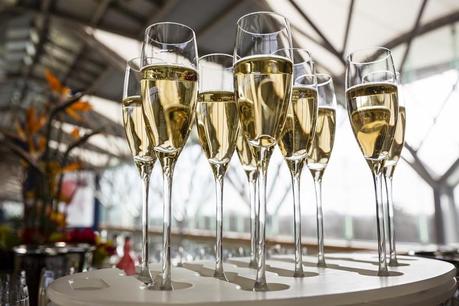 Champagne Sir?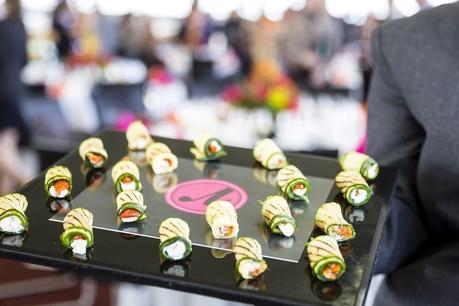 Beautifully presented canapés from Rhubarb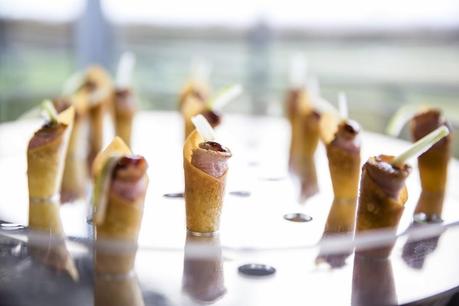 Novel Canapés from Rhubarb
Two
Next after some mingling with the other guests we sat down to listen to a tipster give his tips for the days racing. The sea bass starter then arrived prepared by Michelin chef Atul Kochhar. The flavours in his fish dish were full with a very spicy turmeric and coconut sauce which set the plate on fire. Atul was the very first Indian chef to receive a Michelin during his tenure as Head Chef at Tamarind Restaurant. He then went on to open the highly acclaimed Benares Restaurant & Bar where he was awarded a second Michelin star.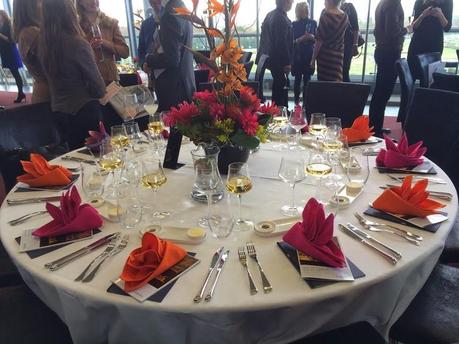 The Table is Set ready for fun times, good food and wine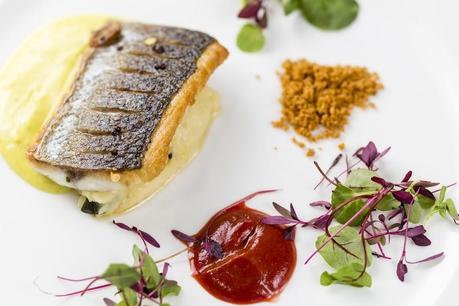 Pan-fried sea bass, beet mash and turmeric coconut sauce – prepared by Atul Kochhar.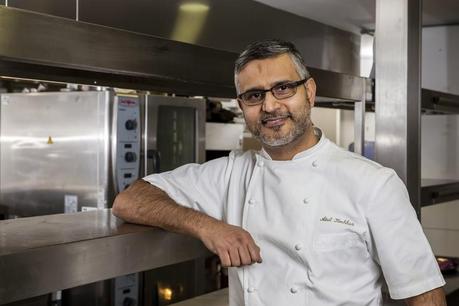 Michelin Starred Chef Atul Kochhar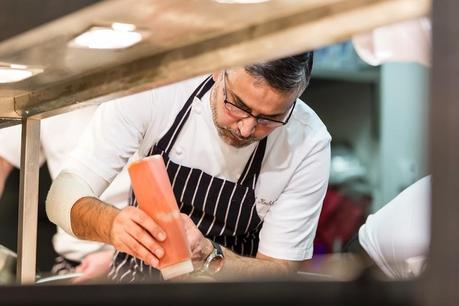 Atul hard at work – I'm sure that's not tomato sauce!
Three
Enjoy a main course prepared by another Michelin starred chef, this time Tom Kerridge. I managed to take a have my photograph taken with Tom but I seem drowned! Tom is the patron of the Hand & Flowers pub in Marlow – the only pub which has ever earned two Michelin stars. Tom is renowned for his modern take on British classics and is passionate about cooking with seasonal British ingredients.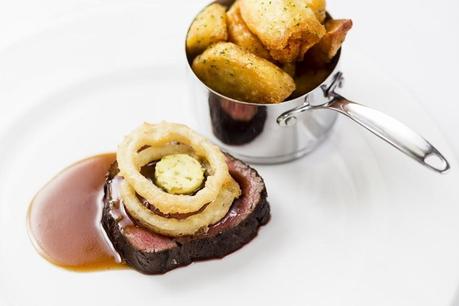 Treacle marinated fillett steak with béarnaise sauce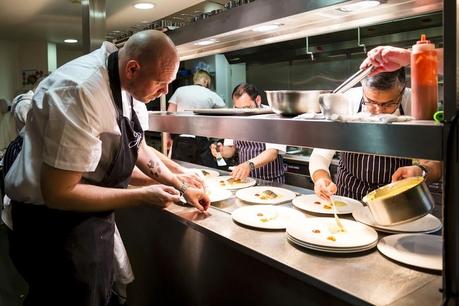 Tom hard at work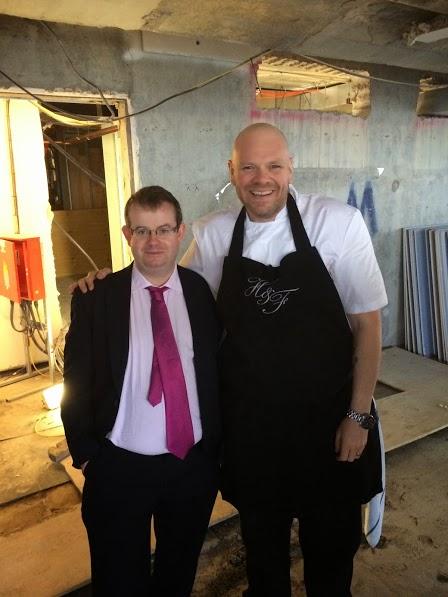 I look like I could fit in Tom's pocket in this photograph!
Four
The desserts were made by Steve Golding. Steve is the executive chef of Sodexo Prestige and has overseen the catering operation at Ascot Racecourse since 2002. Steve is renowned for his impeccable attention to detail and is extremely passionate about using the freshest local and ethically sourced ingredients. In 2012 Steve was awarded the Event Catering Award at the Food Service management magazine Awards. His accolade was in recognition of his innovative approach to fine dining at Royal Ascot.
Here is Steve's dessert named 'After Eight'.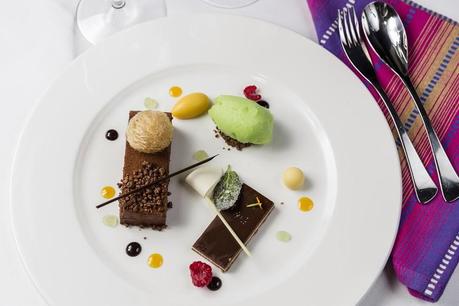 Mint and chocolate variations, peppermint sorbet, chocolate and mint gel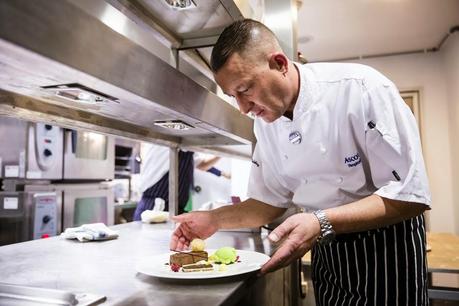 Steve Golding putting the final touches to his 'After Eight' Dessert. He describes his style as 'elements'.
Five
After more wine, champagne, coffee and petit fours we were treated to a  Mad Hatters Afternoon Tea Party as is to be served in the Royal Ascot Village.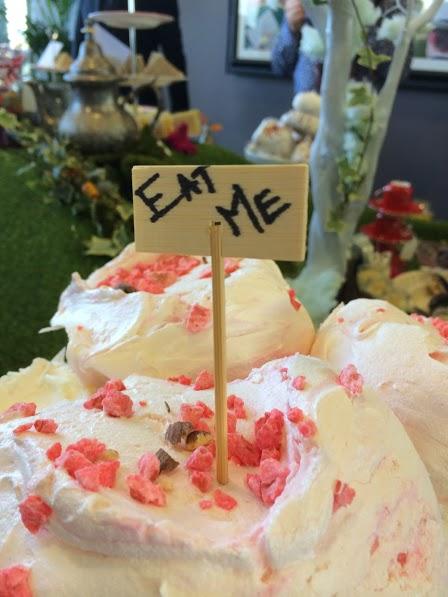 Meringues from Mad Hatters Tea Party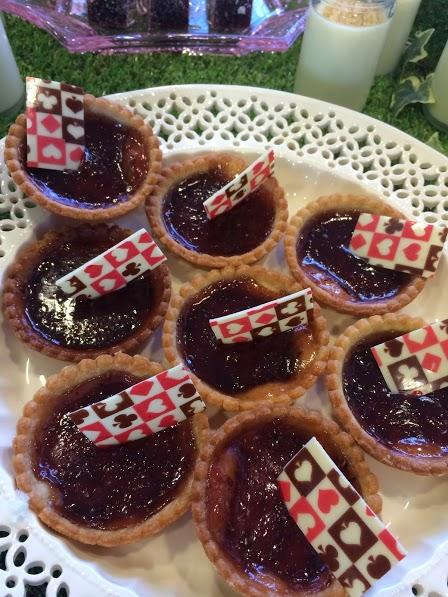 Old School Jam Tarts from Mad Hatters Tea Party
'On 5′ Restaurant
During the afternoon I was given a tour of the construction site of a new restaurant that will be opening for Royal Ascot called 'On 5′. On 5  will offer the very best of Granstand fine dining courtesy of Michelin chef Tom Kerridge. The design of On 5 celebrates the human stories of craft and dedication behind the raw power of the thoroughbred racehorse. The focus of this exclusive space is based on five craftsmen: the farrier, the trainer, the groom, the saddler and the jockey – affording guests a refined glimpse of the graft behind the Royal Ascot glamour.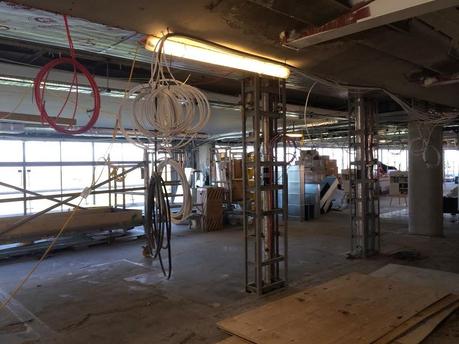 'On 5′ restaurant under construction.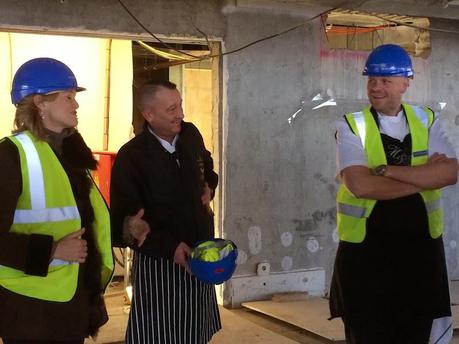 Steve Reynolds and Tom Kerridge donned their hard hat to see how things were coming along.
Other treats of the day included hand crafted chocolates from Lenotre and a sourced hamper to take home containing everything from pork scratchings to lager.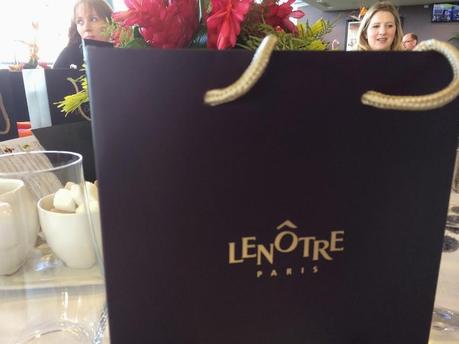 A Bag of Lenotre Chocolates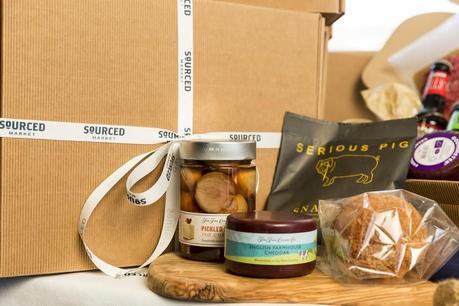 If you would like to attend Royal Ascot this year then please visit the website by clicking here. You can also find out about dining in style here. Of course you don't have to wait until Royal Ascot to enjoy Ascot. You can find the dates of other race meetings here.
If you decide to go to Royal Ascot this year then I hope you have a fantastic time.
Thanks for reading.
David Ridings
'If you always do what you always did then you always get what you always got'