Rob pick yet another Steve Martin, I guess some people find him funny so here it the latest film.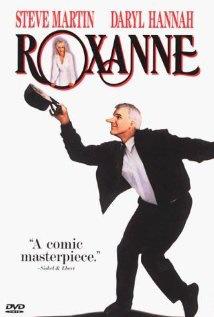 Director: Fred Schepisi
Writer: Steve Martin (Screenplay) Edmond Rostand (Play)
Starring: Steve Martin, Daryl Hannah, Rick Rossovich, Shelley Duvall, John Kapelos, Fred Willard, Max Alexander, Michael J Pollard, Damon Wayans
Plot: Based on the play "Cyrano de Bergerac", large nosed C.D. Bales falls for the beautiful Roxanne while she falls for his personality but another man's looks.
There may be spoilers the rest of the review
Verdict: Blah Comedy
Story: Roxanne starts as we follow C D Bales (Martin) one of the most popular guys in town, he knows everyone but he has one flaw, he has a huge nose (while this isn't an issue now a days), he is fire chief in the town. When a new local lady Roxanne (Hannah) finds herself locked out of her house naked she turns to the fire chief to help her get back in. Roxanne is trying to find herself a new man and C D could be one potential guy but fellow new fire fighter Chris (Rossovich) built like a stud could also be the right guy.
On a strange twist of events C D does fall for Roxanne but he ends up playing matchmaker between Chris and Roxanne where he clearly sees them being wrong for each other.
Roxanne is a comedy that could have a meaning about not worrying about what you look like but in the end it is all about taking chances. There does have the meaning about not picking on people because of their psychical appearance. In the end everything comes off very obvious and the support attempts of comedy just fall flat by the end of the film. This really is a very generically plain story that will not test you will not make you laugh and won't leave you with a smile on your face.
Actor Review
Steve Martin: C.D. Bales is the fire chief in town that gets on with all of the locals even though he has a giant nose which new people instantly get drawn too. He meets the beautiful and smart Roxanne where he instantly falls for but only ends up playing matchmaker for her and new guy in town. He has all the charm, he is funny but his nose holds him back. Steve gives the performance you would expect to see from him.
Daryl Hannah: Roxanne is the beautiful and intelligent new woman to the town who gets the attention from C D and Chris where she wants to meet a new guy different from what she is used too. Daryl does a solid job in this role but she isn't the best at comedy.
Rick Rossovich: Chris is the new attractive man who is turning all the heads of all the ladies in town, he strikes up an attraction to Roxanne. He turns to C D for advice getting a date with Roxanne but his true nature of having no ability to talk to the ladies shows through. Rick does a good job but seems to get stuck in the shadow of Martin shadow.
Shelley Duvall: Dixie is the local lady that helps with the gossip around town, she is the go to girl for C D for talk to and learn what Roxanne really is interested. Shelley doesn't give too much to the film really.
Support Cast: Roxanne has a supporting cast that is targeted for the added laughs and don't have much impact on the story.
Director Review: Fred Schepisi – Fred gives us a basic comedy that doesn't give enough laughs for my own liking.
Comedy: Roxanne has basic laughs that don't really work for me.
Romance: Roxanne has an uncomfortable romantic angles throughout.
Settings: Roxanne uses a small town for the setting which does help show how close the community is.
Suggestion: Roxanne is one for all the Steve Martin fans to watch but otherwise well you have to like the comedy. (Steve Martin Fans)
Best Part: The fire station group are funny in moments.
Worst Part: Awkward romance angles.
Believability: No
Chances of Tears: No
Chances of Sequel: No
Post Credits Scene: No
Oscar Chances: No
Box Office: $40 Million
Runtime: 1 Hour 47 Minutes
Tagline: Roxanne dreamed of a handsome, intelligent, romantic man. C.D. Bales is two out of three… but looks aren't everything!
Overall: Slow moving comedy that doesn't have a real sparkle.
Rating