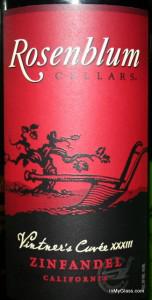 If you don't like lots and lots of fruit in your wine, this isn't your wine. Seriously.
If you love fruit, like I do, then this definitely is your wine.
I'm talking about the Rosenblum Zinfandel Vintner's Cuvée XXXIII. This is a blend of Zinfandel (88%) and Petite Sirah (12%) from various vintages and various regions in California. This wine has very minimal oak influence, allowing the fruit flavors to come through.
I'm tasting cherries, strawberries, and raspberries. Lots of red fruits. There's a bit of oak on the finish, giving a bit of vanilla to complement the fruit. I also get a hint of spice mid-palate. The tannins are very smooth, and the acidity balances the wine well. This is a great wine if you love fruity wines, but I could see that some people might find it too fruity.
Even though this is 14.5% ABV, I don't taste any heat at all from the alcohol. This is a very well-made wine. I'm giving this the "Excellent" rating.
Wine Details
Producer: Rosenblum Cellars
Vintage: Non-Vintage
Appellation: California
Varieties: Zinfandel (88%) and Petite Sirah (12%)
Designation: Vintner's Cuvée XXXIII
Alcohol: 14.5% ABV
Acidity: 6.5 g/L
pH: 3.75
My Rating: Excellent