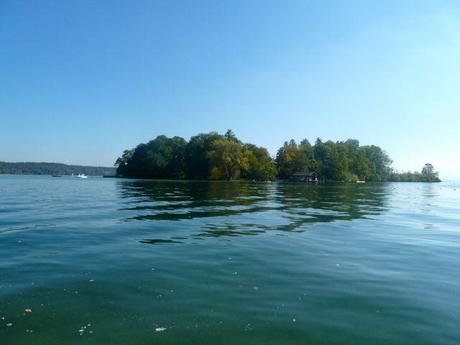 Rosen Insel looks like an exotic island from afar, but it's an island in Lake Starnberg, located near Munich.
Rosen Insel (Rose Island in English) is the only island in Lake Starnberg, located just outside of Munich. It has a rich history and was owned by the future king Maximillian II of Bavaria. Visitors to the island take a boat 170 m to the island for a price of €4 which seemed a bit steep, but we did it anyway, even though some short rail breaks would have been a better deal.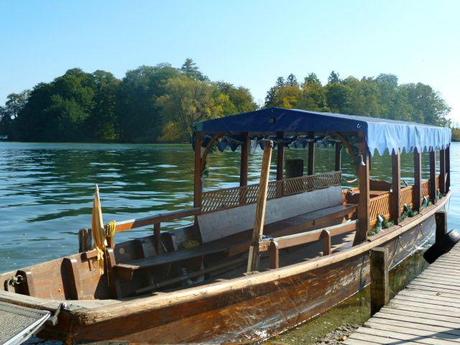 The traditional boat that visitors take 170m to Rosen Insel.
Rosen Insel is small, you can walk around the entire island in less than 10 minutes, but the views of Lake Starnberg are nice.
I was very interested in visiting the Pompeian Bavarian Casino (a summer house previously used by Bavarian Royalty). I was disappointed to see this: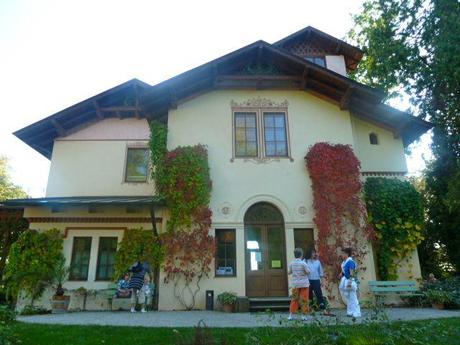 Bavarian Royalty's Summer Retreat on Rosen Insel.
To me it looked like a regular house, not a royal retreat!
Visitors can only enter the casino via a guided tour, only available in German which costs €3. After seeing so many grand and lavish castles in Germany, I was expecting it to be more lavish on the inside than on the outside, even if it was just a summer retreat, but it wasn't: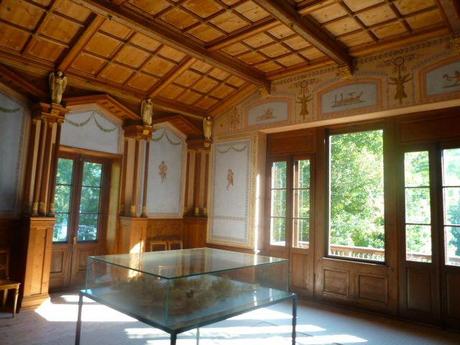 Inside the rather blah Bavarian Royalty Summer Retreat on Rosen Insel.
To be fair, the retreat was only used in summer and only during the day.  It was never slept in over night, but it just felt rather plain. Perhaps I've been too spoiled with King Ludwig II's more extravagant castles that he's so well known for.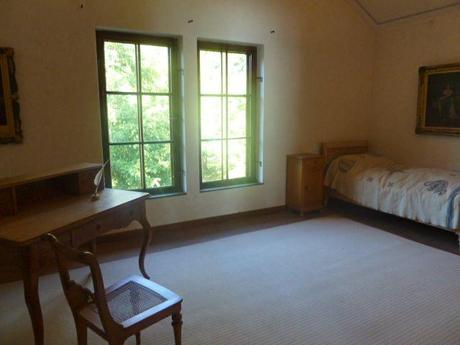 The rather plain bedroom where royalty took cat naps during the day.
Rosen Insel was named after the hundreds of roses that bloom in the garden. We were there in fall so most of the roses had finished blooming, but I'm sure it would be beautiful in summer.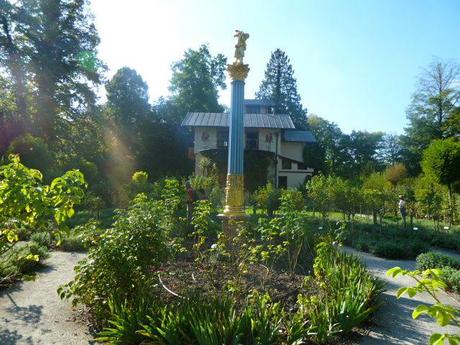 The rose garden with the summer residence on Rosen Insel.
The most interesting thing about Rosen Insel is what you can't see. Stilt houses dating back to 3720 are found just off of Rosen Insel, but unfortunately they're covered in 4m of water, making them impossible to see from land.
And if you're wondering about the population of one, it's the Gardner who is a year round resident.
I thought my husband summed up Rosen Insel quite nicely with "Rosen Insel is a cute little island, but nothing special." I would agree, and although I thought Rosen Insel was OK,  I think there are other places that offer more value for time such as the self-titled and self-guided Solving Mysteries of the Starnberger See tour we did, where visitors can view the spot in the Starnberger See where  King Ludwig II's body was found after his mysterious death, and the Votivekapelle, a memorial chapel constructed in his honor – all for free and  just on the other side of Lake Starnberg.  If you do go to Rosen Insel I would recommend bringing a picnic lunch since there's no place to buy anything on the island and if you're going to go you may enjoy the views for a little while.  The boat to Rosen Insel runs from May 1 – Oct 15 every year.  Check the Rosen Insel Wikipedia page for more info  in German).