My son used to love drinking Roselle Tea.  I like making it for him as it can protects his liver but recently after I bought a big packet of the dried roselle, he seems to lost interest in it.  
I have brewed Roselle Plum Tea 乌梅洛神花茶 before but recently I discovered a way to make it taste even better.
Besides all its vitamins and minerals properties, apparently, roselle not only aid you to sleep better, it also has a slimming properties.  Since I wasn't able to sleep well lately, I brew a pot of this tea to help with my insomnia. It also can lower blood pressure too.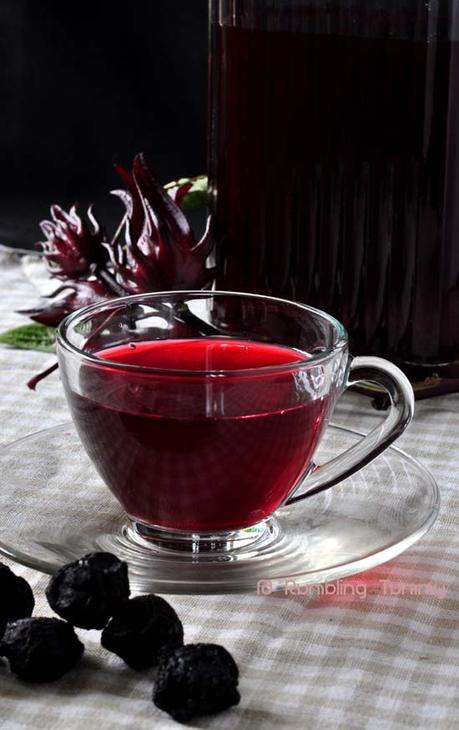 Now I can kill many birds with one stone! 😀
Having mentioned its benefit, if you are pregnant, please do not drink this tea.  Or if you have intestinal issues, also do not drink this.  This is also not suitable for the sick.  This is also not suitable if you are having cough.
There are two schools of thoughts, one being it is okay to drink 200ml daily as it claimed that studies had shown that it can lower blood pressure after a few weeks.  The other being that Roselle has cooling properties, it can be bad for those who has unbalance yin and yang.
Then again, excessive has never been good for the body even if it is a good source.  Right?  So drink randomly will be the safest, at least that is how I view it.
Here is a list of benefits that you can listen to.
Seems like this will be a perfect time to drink this after loading so much CNY goodies which is known to be heaty.
What you need:
50g dried roselle1.5 liter of water5 - 6 pcs dried plum 

乌梅


5 -6 pcs licorice roots (optional)
5 - 6 pcs dried hawthorn (optional)
Rock sugar to tastePinch of salt
Method:
Bring to boil the water and add in dried plum.  Continue to bring to a boil for 5 mins.
Add in dried roselle, cover.  Turn off heat and let it sit for 3 mins.
Turn on heat again and remove the dried roselle.
Add in rock sugar and salt.
Serve hot or cold.
Enjoy!


If you have enjoyed this post by Rumbling Tummy, be sure to follow her on Facebook, Instagram, Pinterest, Twitter and Google+ .