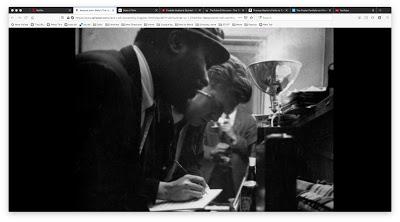 Monk and Overton at the piano
The Jazz Loft According to W. Eugene Smith
– by
Sara Fishko
– is based on photographs and recordings
Smith
made in a loft where he lived and worked in the flower district in lower Manhattan at 821 Sixth Avenue. Smith was a pioneering photojournalist who moved into the loft in the late 1950s when he was forced to sell his suburban home; he stayed there into the late 60s, when he was evicted. He wired the loft for sound and photographed and recorded everything – street noise, phone conversations, late-night radio talk shows, random chatter among people in the loft. Above all, he documented the jam sessions the filled the loft day and night.
Musicians would drop by and play. For awhile a young drummer, Ron Free, lived and kept his drums there, available 24/7 to keep the music spinning.
Hall Overton
, a pianist and composer who was on the faculty at Julliard, lived there as well, often paying the rent when Smith couldn't. Overton was adept in both classical (European) music and jazz.
Late in 1959 Overton entered into a three-week collaboration with
Thelonius Monk
that birthed the famous
1959 concert
in New York's Town Hall. Think of it as the
Beethoven's Ninth
of jazz. Smith got it all, in photos and on tape. There is more in this documentary, much more, but this is the heart of it (starting at about 56:10), centering on sessions where Overton and Monk turn Monk's recorded solo on "Little Rootie Tootie" into an arrangement for a small jazz band of unorthodox instrumentation: piano (Monk), trumpet (Donald Byrd), trombone (Eddie Bert), French horn (Robert Northam), alto saxophone (Phil Woods), tenor saxophone (tenor saxophone), baritone saxophone (Pepper Adams), Sam Jones (bass), and Art Taylor (drums) – notice how bottom-heavy it is, with string bass, tuba, and baritone sax.
I love the part where Monk and Overton are side-by-side at the piano, Monk teaching Overton, Overton writing it down – "their pianos talked", remarked
Carman Moore
, then a student of Overton's and now a distinguished composer. Monk made Overton learn the music "by ear" – but then, how else could Overton learn a recorded piano solo so that he could arrange it for a tentet? At one point Monk suggests they listen to the recording (1:03:09), and then again. That's very important, very, for it points up the importance of sound recordings in the creation, transmitting, and maintenance of jazz praxis (a much better word than "tradition", which is too heavily weighted with nostalgia about ideas, and about the past, about Platonic stasis in the face of Heraclitean flux). At another point (1:07:55) French hornist Robert Northam is having trouble getting the feel of his part; he's not used to playing jazz; the French horn, after all, is exceedingly rare in the music. Monk sees this, calls a break, makes eye contact with Northam, and then, without saying a word, dances the horn part. Dances the part!
Can't beat that with a stick.
This has become my favorite jazz documentary, displacing Straight, No Chaser, also about Monk, from that spot. Straight has archival footage, beautiful shots of the hands of contemporary pianists, and is straight-forward and dignified about Monk's mental illness. But it's only about Monk, hardly a defect. But Loft is about a scene, one which comes to center on Monk for a crucial three-week period in its eight-year life. As such it goes a long way toward decentering our (heavily European) obsession with genius as the property of individuals. Make no mistake, Smith, Monk, and Overton, and many others on view, were individually gifted, and fierce individuals. But they knew how to cooperate and collaborate – he danced the freakin' horn part! – and that's where the highest genius resides.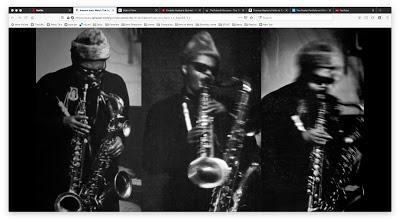 Rahsaan Roland Kirk