Rooster Cogburn is an easy to watch, enjoyable western.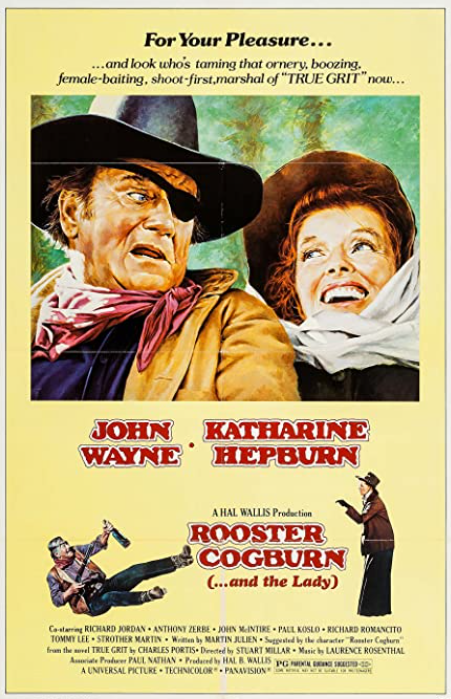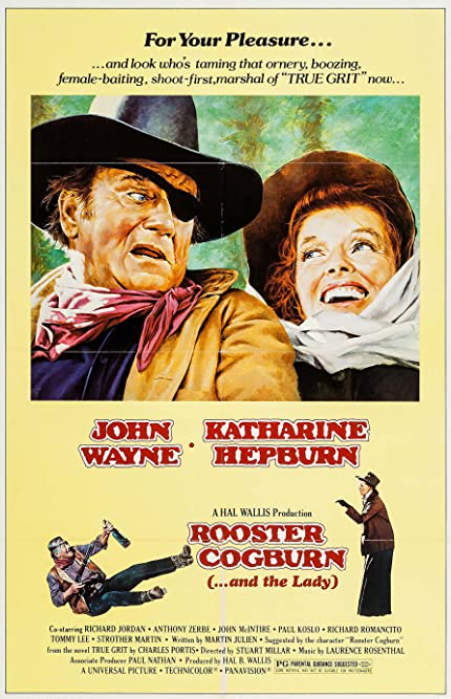 Director: Stuart Millar
Writer: Martha Hyer (Screenplay)
Starring: John Wayne, Katharine Hepburn, Anthony Zerbe, Richard Jordan, John McIntire, Paul Koslo
Plot: Marshal Rooster Cogburn unwillingly teams up with Eula Goodnight to track down her father's murderers.
Runtime: 1 Hour 48 Minutes
There may be spoilers in the rest of the review
Story: Rooster Cogburn starts as US Marshal Rooster Cogburn (Wayne) finds himself being sent away because of his actions. On Rooster's journey he comes across Eula (Hepburn) and her community. That have come under attack from Hawk (Jordan) and his men.
Rooster teams up with Eula, as they go on the hunter for the killers. In what becomes a deadly cat-n-mouse battle across the landscape that isn't forgiving on anybody.
Thoughts on Rooster Cogburn
Rooster Cogburn is a sequel to True Grit, where we get to see another adventure in Rooster Cogburn's career. Doing the right thing for someone in need against a larger group of outlaws. This will play out like most westerns. The journey not being easy and plenty of stand offs and shootouts going on. Without the peril being placed into them, as we know the main characters are always going to make it through. As it is more about the relationship between the two from opposite worlds.
John Wayne is everything you would expect to see and Katharine Hepburn brings the class to the film. Which is needed to step ahead of the typical westerns. It might not add anything new to the genre, it is still an enjoyable western from start to finish.