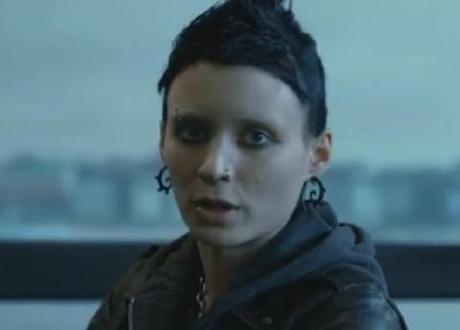 Rooney Mara as Lisbeth Salander
David Fincher's The Girl With The Dragon Tattoo is one of the most hotly anticipated releases of 2011. Starring Daniel Craig and Rooney Mara, the film is based on the first novel in Stieg Larsson's bestselling Swedish crime series The Millennium Trilogy. The book has already made its screen debut as a well-received Swedish movie; can the Hollywood version match up? The first reviews are in.

Problem with the source material. "The essential flimsiness of Larsson's million-selling whodunit is all too visible," wrote Robbie Collin in The Telegraph, arguing that the "surprise villain" is completely unsurprising. Collin praised Mara's performance as titular heroine Lisbeth Salander and admired the craftsmanship of the film, but felt that The Girl With The Dragon Tattoo suffers in comparison to Fincher's other films: "It's easy to see why the director wanted to make it, but hard to shake the feeling that perhaps he shouldn't have bothered."
Bleak but beautiful. "This is a bleak but mesmerizing piece of filmmaking," said David Denby in The New Yorker. Denby insisted that although the original novel is "pulpy and sensational", Fincher treats the more lurid aspects, such as Salander's brutal rape and subsequent violent revenge, sensitively and without exploitation. "Mara makes every scene that she appears in jump," wrote Denby, arguing that Craig's performance is quiet and restrained by comparison.
Still Swedish. "Fans of the book and film should rest easy at how this Dragon Tattoo is still inherently a Swedish tale," wrote Dave Calhoun in Time Out, saying Fincher's version is surprisingly similar to the Swedish movie in tone and plotting. Calhoun was very impressed with Mara's Salander: "It's a storming performance that gives the film its soul."
Conventional for Fincher. "For all the skill brought to bear on it, the film offers no surprises in the way it's told," wrote Todd McCarthy for The Hollywood Reporter, suggesting The Girl With The Dragon Tattoo is a rather conventional effort from the director of Seven and Fight Club. McCarthy said that although this is unmistakably a Fincher film, it lacks a certain magic: "Dragon Tattoo is too neatly wrapped up, too fastidious to get under your skin and stay there."