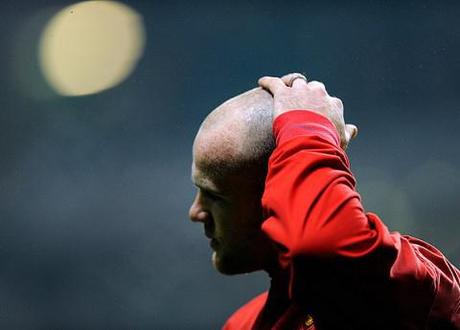 Wayne Rooney. Photo credit: Toksuede
The Barclay's Premier League 2011/2012 season may be only five games old but already clear indicators of how the season is likely to pan out have emerged. Here's what can already be gleaned from the games played so far.
Manchester United (and City) on fire. Manchester United's scintillating start – five wins out of five, 21 goals scored and only four conceded – has been spearheaded by wing wizards Nani and Ashley Young and a thoroughly rejuvenated Wayne Rooney. Rooney has netted nine times including back-to-back hat-tricks. "It is a remarkable turnaround for the 25-year-old, who had a huge fall-out with the club in October last year and publicly announced he wanted to leave," noted BBC Sport's Anna Thompson. Rooney made his peace with his employers, signed a new five-year deal and is now brimming with confidence. Man Utd's fast start has surprised even club insiders, who have grown accustomed to sluggish starts by the Red Devils. Legend Jack Charlton told BBC Sport: "It's a very unusual start for Manchester United, but it's fantastic. The fans are enjoying it and even those who are just general football fans because of the way we play." It's not just the red half of Manchester who've had much to cheer already this season. Manchester City are just two points behind their bitter arrivals after four wins and a draw. City's success has been built on the genius if playmaker David Silva and the destructive little-and-large front pairing of Eden Dzeko and Sergio Aguero. On present form, it looks like a straight shootout between United and City for the Premiership trophy.
Is the Premiership trophy staying in Manchester. Or are Chelsea, Arsenal, Liverpool or possibly even Tottenham genuine contenders?
Arsenal in (sort of) crisis. The loss of captain Cesc Fabregas and Samir Nasri has shaken the north London club to the core, and manager Arsene Wenger has a real struggle on his hands to deliver a top four finish this season. The somewhat panicky deadline day captures of Mikel Arteta and Yossi Benayoun have failed to quell rumblings of discontent at the Emirates stadium. And the shambolic loss to Blackburn Rovers – Arsenal were two-one up but scored two own goals and lost four-two – has ratcheted up the pressure on Wenger. The Sport Blog at The Guardian argued that "Arsenal's season is not yet in crisis – they remain in four competitions, the club's finances are still sound, their form is shambolic rather than irredeemable – but already there is an ominous waning, a sense that their fate may no longer be in their own hands. With the Manchester clubs and Chelsea arguably forming a breakaway, Arsenal currently look less well-equipped for the pursuit of Champions League football than both Spurs and Liverpool." Sam Wallace of The Independent urged Arsenal supporters not to panic and to remember that the club is built on rock-solid foundations: "If this is the end of an era at Arsenal, then their despairing fans would do well to remember that few Victorian institutions have survived like England's football clubs. They have outlived the industries and the original communities that gave birth to them … They are astonishingly robust. And if you happen to support Arsenal, then lucky you. Five periods of success, four of them post-war, is remarkable. Just ask Newcastle United fans … History shows that, for the great majority, success is the exception, not the norm."
Can Wenger weather the storm?
QPR: Top ten club? All three of the promoted sides – Norwich City, Queens Park Rangers and Swansea City – do not look out of their depth and look up for the fight for survival. All three recorded impressive wins on Saturday and none of the trio look like Premiership easy-beats. Not since 10 February 2007, when Reading, Sheffield United and Watford were victorious, had the three clubs newly promoted all won on the same day. Of the current crop, QPR look most likely to avoid the dreaded drop thanks chiefly to airline mogul Tony Fernandes' takeover of the west London club. On the eve of transfer deadline day, Fernandes freed up funds to let manager Neil Warnock make some noteworthy signings. And the results have been almost immediate; new signings Armand Traore, Anton Ferdinand, Shaun Wright-Phillips, Luke Young and Joey Barton all debuted impressively versus Newcastle United a week ago, and played key roles in QPR's three-nil thrashing of Wolverhampton Wanderers on Saturday. Per Twitter, QPR are now only 3/1 with bookmakers Fitzdares to finish in the top ten.
More on football

Fabregas goes home to Barca
QPR back in the big time
The Premier League needs a salary cap
Women's football scores big
Blatter: What FIFA crisis?
More football »