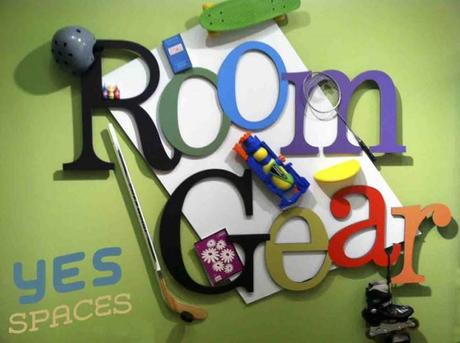 When I visited my sponsor Samuel Lawrence Furniture at High Point Market  I was excited to see their new kid's furniture line Room Gear. Room Gear will be available in furniture stores next Spring (2013), so I'll be letting you know when to keep an eye out for that!
Room Gear put a lot of thought into how kids really live in their rooms and how to help parents solve some of the most common dilemmas in these spaces. How many extension cords does it take to make a teen's room functional? How do you fit a twin bed with a safety, storage staircase into a small space? How does your child personalize his space with out pinning or worse taping things all over your walls?
Here's what I loved :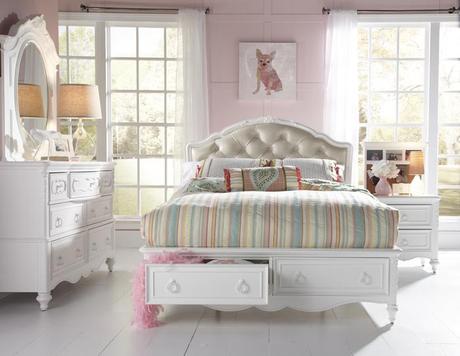 Image from Room Gear
Even on this stylish bed fit for a Diva where you'll find giant "diamonds" in the tufted headboard in place of buttons, there are very practical storage drawers. You know for all of those feather boas, tiaras, soccer shoes….hey, even Princesses have to run.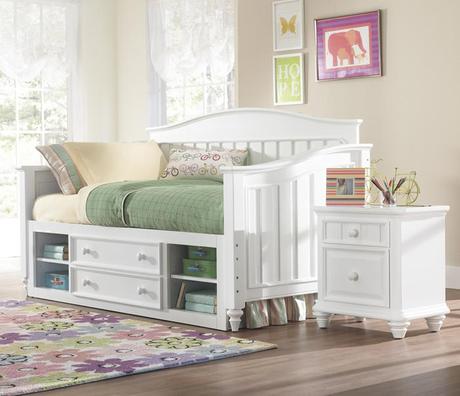 Image from Room Gear
The daybeds have an adjustable rail position: it can be raised as it is in this photo to accommodate for the optional storage unit, perfect for maximizing small spaces. Or it can be lowered to have room for both a box spring and mattress, your choice.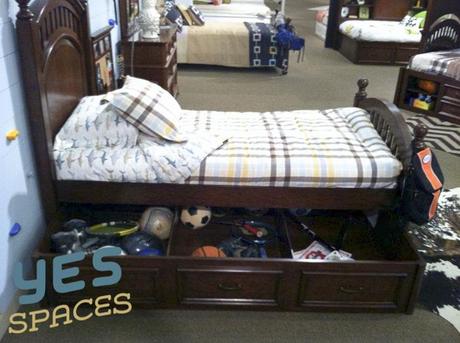 The twin bed (also available in a double) is available with an optional trundle unit that gives you more choices. If you add the divider slats there is oodles of toy storage or you can remove the slats, store them in the bottom of the trundle and add a twin mattress for an extra bed. I love furniture that gives you choices without having to make every decision about how you will use it when you make your original purchase. When your child is 2 and moving into their first big kid bed it is hard to know exactly how your family will evolve or what kind of activities you will need to accommodate as they grow.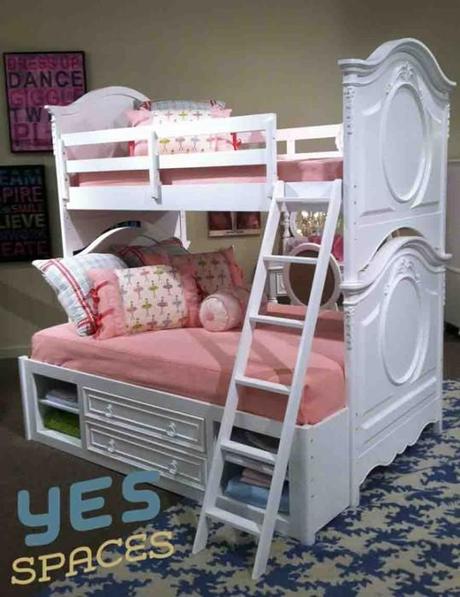 The same kind of choices are available in the bunk beds. Notice how you have two identical twin beds stacked on top of each other so they can be separated down the road. But Room Gear goes one step further. Look at the extender piece that can be installed on either end of the bottom bunk to take that bed from a twin to a double. You don't have to choose whether you want a twin or a double for all time! A simple adapter allows you to change the bottom bunk for a larger mattress if you need it for a growing child – so clever!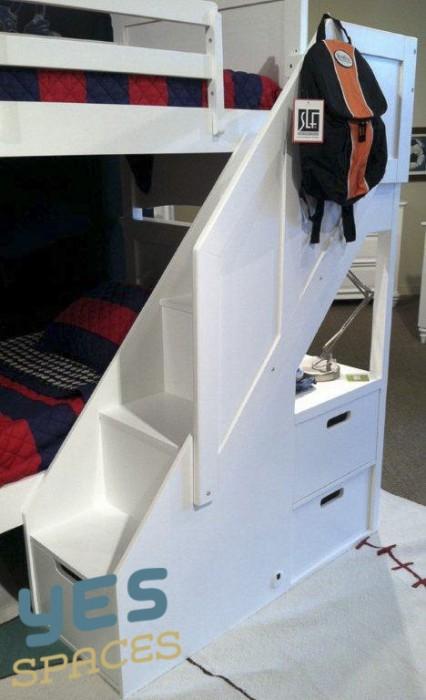 Room Gear's patent pending safety stairs are also extremely clever. Usually stairs are attached at the end of the bed requiring a very long wall, but these stairs take up just a little bit wider space than a traditional front ladder  and make the bunks no longer than your standard twin bed. Plus you have the safety of a railed staircase for small bunk sleepers, built-in storage drawers and a built-in bed side table for the bottom bunk WITH an electrical socket: perfect for clocks, docking stations, reading lights whatever your wired child might require right at his fingertips.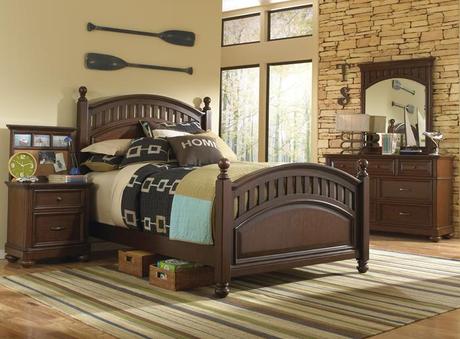 Room Gear
The night stands are an easy way to allow your child to personalize their space – a cork board and built-in photo frames are attached. There are also built-in electrical outlets on the back side of these pieces – mom's hate too many cords! Kids love being able to have some freedom about where they put their special photo,s mementos, notes. One of my boys collects ticket stubs from every special event or opening night movie he attends, this kind of board would be perfect for him. His special items would be constantly on display in a prominent location  but it would be easy for him to add to them – great solution.
Room Gear furniture will be available in two styles of white as well as the darker finish pictured above – I'll share more details of particular pieces and finishes when they are available in stores! As well as where you can find them.
As the mom of 5 it is important to me that furniture be a good value, for most of us it is an investment. I found the Room Gear pieces to be sturdy and nicely finished furniture for a reasonable price. Their standard twin beds will be approximately $399, pretty good for furniture adaptable, clever, stylish and able to stand up to the wild rumpus of childhood!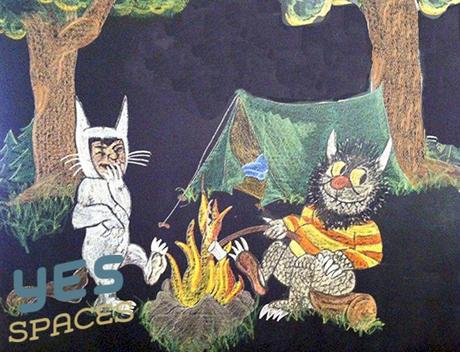 Chalk mural from Room Gear Show Room, High Point, NC
"Let the wild rumpus start!" With style of course.
xo Barbara