Posted by The Canvas Prints
Colours are an integral part of our lives and have varying effects on human nature and human mind. They have a psychological value as well as the power to create an aura or energy in the atmosphere due to which they can affect moods and thoughts. Depending upon their age, gender and climate, color selection in a room décor can affect people in different ways.
Apart from psychological effects of room color on your personality, colours also possess the power to visually change the shape and size of the room. The choice of colours can do the magic of making a small space look more spacious or a huge space look cosier and intimate. The paint color chosen for you room, the color of the furniture and accessories; all help to create or recreate your mood and energy.
Besides the choice, importance and effects of colours, shades or tones of the colours used are also very important. They have the power to alter your experiences and their correct choice and application in a room can allow you to decide and decorate according to 'how you want to feel' in a certain space. To master this, you need to first know and study the distinctive power of colours and their meanings so that the colours you choose become the direct reflection of your personality and help you to enhance your moods. Let's find out about different room colours and décor ideas to help you decide what color you want in your décor.
Red
Red, the color of romance and passion. A stimulating red color can act as a powerful design tool to heighten up your senses and to take the room's energy to another level.
A versatile color that helps depict a wide range of emotions ranging from cheery and happy to angry and aggressive, depending upon the quantity, shade and style it is used in. This powerful color has the power to change the look and feel of the room. A small pop of red can warm up an otherwise cool color pallet or can look amazingly dramatic as a main color in a small room. People generally consider 'less as more' when it comes to red.
The versatile Red can feel traditional, contemporary or rustic depending upon the choice of shade and the décor of the room.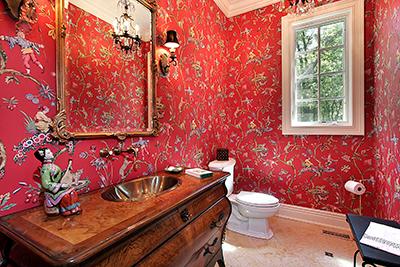 Red Rest Room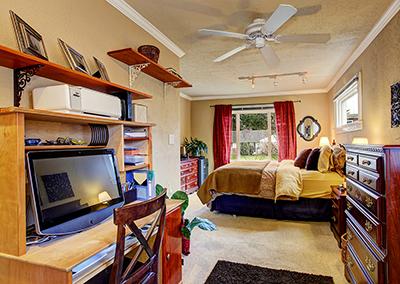 Colourful red
Red chairs combination
Ready to embrace red? This beautiful red brings warmth and cosiness to this oriental living room. A symphony of red shades and different patterns along with coordinating accessories are adding depth and interest to the interior. This design is an example of an ideal living room as the red color used here is said to possess the power and warmth to connect people together. So it is an ideal choice for living room décor.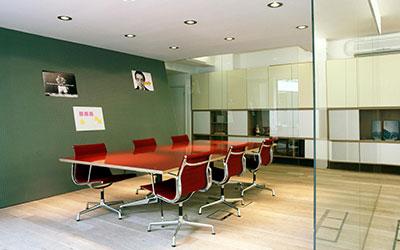 Red chairs office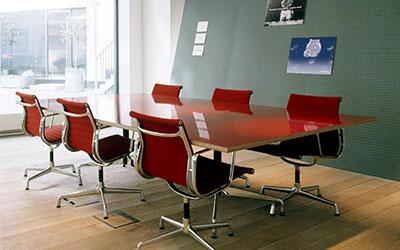 Venture3 by Brinkworth
The above design from brink worth adds a dose of bold and vibrant red to this office décor through chair upholstery and takes the energy of this room to another level. Choosing to go this bold? Always ensure that your space can handle it. A high ceiling, a muted tone of green wall color and the use of lots of glass in this office space has helped to tone down the bold hue.
Yellow
The colours you pick are an expression of your personality. The color Yellow withholds the joy of sunshine and communicates happiness, optimism and confidence.  Yellow has the power to activate memory and spark creativity. Yellow can bring energy to any space and is considered ideal for kitchens, dining room and bathrooms.  Yellow can be an amazing, energizing and welcoming color for halls, entering spaces and stair cases. It can also look dramatic in small spaces.
Although yellow being a cheery colour, it's too much use in the environment or use of it as the main color can sometimes create an air of irrationality and anxiety and can create feelings of frustration and anger. The same rule 'less is more' works for the color yellow also as it is not a very good choice for the main color in a color scheme. 
The wide spectrum of yellow shades gives flexibility and versatility to this color and can create traditional, contemporary or rustic interior depending upon the shade and proportions of colours that are used. Yellows range from the soft creams, daffodil and sunflower yellows to bright acidic yellows. Soft and muted yellows can work well as a soothing neutral base colour; a pale yellow can visually make a small space look/feel larger whereas a bright sunflower or sun-kissed yellow color can bring the effect of a warm summer inside a room. Use the right shades in right proportions and in the right rooms to get the best effects and benefits of this color.
This oriental design combines different patterns on yellow to create a warm and beautiful look. The yellow printed wallpaper along with theme coordinated furniture, like the beautiful detailed desk, same color but different patterned chair upholstery and the grand fireplace, all create a cosy and warm living room. The beautifully laid out patterns along with well coordinated oriental accessories add to the beauty of this room.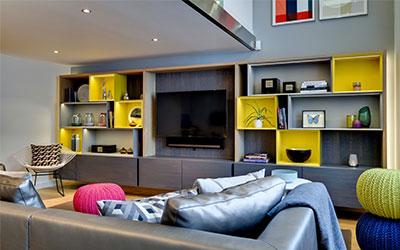 Colourful Revolution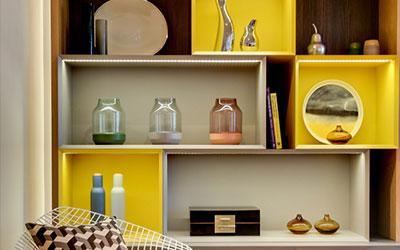 Bookshelves Bertoi
This beautiful interior by danielhopwood.com combines pops of yellow along with pops of blue and pink to a basic gray coloured interior. The vibrant and bright yellow shelves add life to the interior and make it more interesting.
Blue
The color Blue stands for trust, honesty, logic and reason. It is considered to be calming, relaxing and serene. The intensity of the tone affects the mood the blue color creates. Softer shades of blue bring calmness to the interior, improve concentration and aid restful sleep. Intense dark blues on the other hand are said to stimulate clear and focused thought.
The color Blue can also be perceived as cold, unfriendly and unemotional depending upon how you feel and perceive the colour, its intensity in the environment and the shade chosen; as these are considered to be the negative psychological qualities of the color. From pale ice blue to deep indigo, blue décor always made its place. So be bold and intelligent to use the color in proportion and in combination with other colours to create the right feel you want. The feel that expresses your personality the way you want.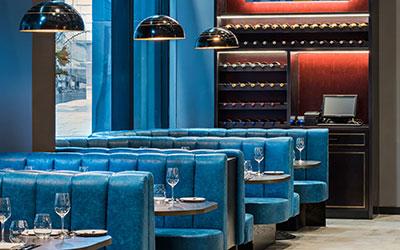 Threadneedle Walk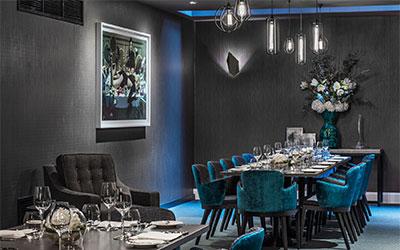 Blue Restaurant
This beautiful interior of a restaurant by renedekker.co.uk is equal parts glamorous and retro. The beautiful blue interior with a deep red wall and dark furniture add to the feel of glamour.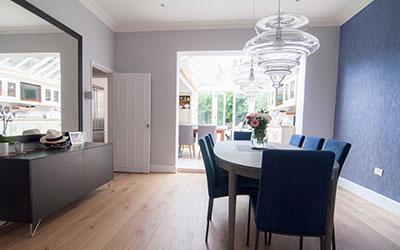 Bishops Park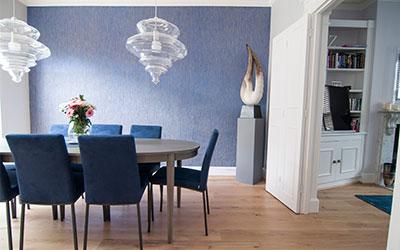 Blue Dining
This beautiful design by kiadesigns.co.uk is casually elegant. Neutral walls as a backdrop, blue upholstered chairs on an oriental rug along with coordinating accessories give this space an inviting and attractive look and make it a comfortable seating space.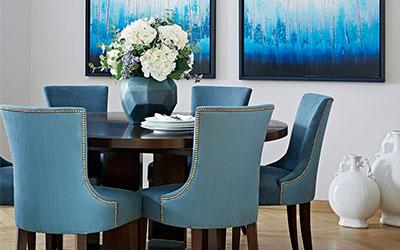 Kensington Dining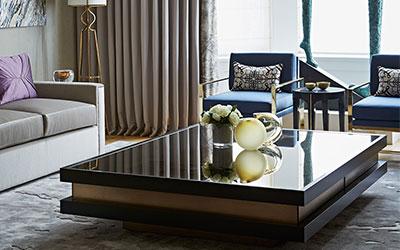 Blue Chairs Living
A blue and white color palette in this design by taylorhowes.co.uk brings a calm and coastal feel to this dining room. The true showpiece of the space is the breath-taking monochromatic, blue-white paintings on the wall. The blue upholstered chairs with a matching table centrepiece, the dark wood on frames and furniture along with coordinated accessories and a sparkling chandelier look amazing.
Purple
Purple, the color of royalty and creativity. It is luxurious, elegant and diverse. This versatile color in its dark shades looks rich, dramatic and sophisticated. Lighter versions of purple such as lavender and lilac on the other hand are soothing and calming. Associated with luxury and creativity, it adds depth to the color scheme when used as an accent or secondary color and can add an exotic flair to your interior.
The color purple is considered regal and eccentric in interiors and can affect our moods in different ways by standing for wisdom, superiority, power, influence and inspiration. The trick for using purple in your interior is by making the choice of the right shade to be used at the right place as purple can be both dramatic and quiet, depending on the tone or shade you use. Choose light shades, such as lilac and light violet for wider application on walls. If you're more into darker shades and want it on the wall, then go ahead and make one focus wall in the room and keep the other walls neutral or in lighter shades. Purple colours range from light lavenders to solid plums. Choose the shades wisely to reflect your mood and personality. Remember that with the darker shades 'less is more' so going for a few strategically placed purple accents will take your interior to another level.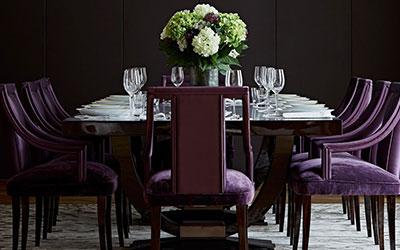 Purple Dinning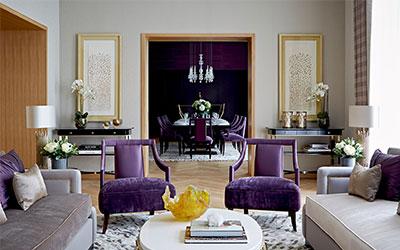 Purple Chairs Combination
This beautiful and regal interior by taylorhowes.co.uk is rich, glamorous and stylish. The largely neutral interiors with purple upholstered chairs in silk and velvet speak for class of their own. Beautiful purple wall in the backdrop, coordinated accessories and the crystal chandelier in the dining area pull the majestic look together. Balancing the colours, as always, is the only key to getting this or any other perfect look. 
White
The color White stands for light, goodness, innocence and purity, White is known as the color of purity and natural beauty. White is totally reflective, awakening openness, growth and creativity. The color white is calm, inviting and creates a relaxing atmosphere. White can help create any look in the room; be it vintage, retro or romantic.
Create an air of peace and relaxation in your bedroom with white. Even pure white on its own looks beautiful. Colourful accents can also be added to any space with white to look more dramatic and modern.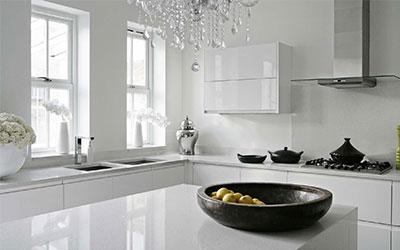 White Kitchen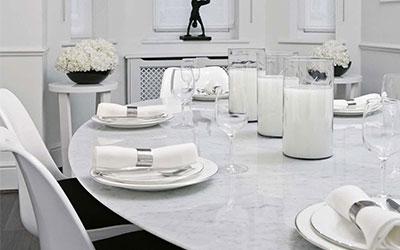 White Dinning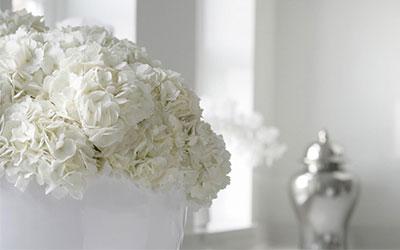 White Flowers
This beautiful kitchen by boscolo.co.uk, in brilliant white, looks sophisticated, chic, and timeless. Pops of dark colours in the fruit bowl, dishes and amazing shade of green in the salt and pepper grinder along with the metallic silver pot and tap stand out in the white interiors and make the look more interesting.
Copper
Copper color is basically a reddish brown color that resembles the metal copper. It helps creates looks that are extravagant and rich. It is a warm color and accents of this color added to interior make the interior more glamorous.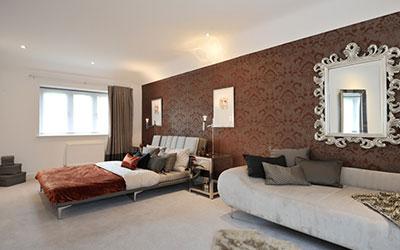 Copper Bedroom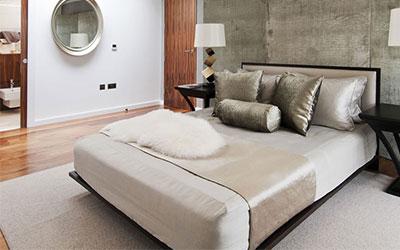 Copper Bed
This glamourous design by new-id.co.uk express the glitz and glamour of copper color. The patterned copper wall paper along with the rich touch of velvety texture in copper color on the bed tie the look together. Shades of neutral colours and gray in the room are balanced with the beautiful mirror on the wall.
Grey
Grey can be considered as a cool, neutral, and balanced color for interior. The color gray is generally considered to be emotionless and moody color and is said to create a formal, conservative, and sophisticated feel in the interior. Grey is a timeless and practical choice as it can help create many moods with the change of shades. Light shades of gray can create a serene, calm and sophisticated look whereas the darker shades of gray symbolize strength. Darker shades like the Charcoal gray can make powerful statements. 
Grey is considered a favorite neutral for many designers today as it creates amazing and glamourous looks when combined with its own darker shades and also with other pops of bright colours.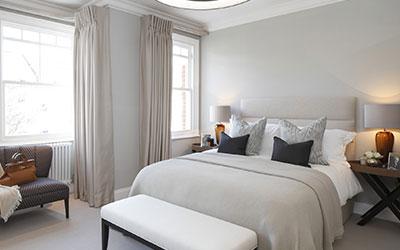 Grey Combination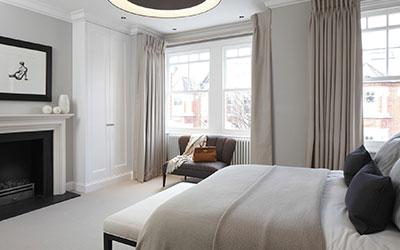 Grey Bedroom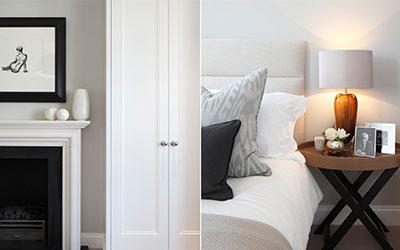 Grey View
This amazing design by laurahammett.com combines shades of soft greys with pops of dark gray and dark wood. The charcoal gray cushions on the bed create a focus. The soft gray creates a perfect backdrop to allow brown coloured accents shine out in front. The beautiful pattern on the seating furniture along with coordinated colours and accessories create a beautiful bedroom.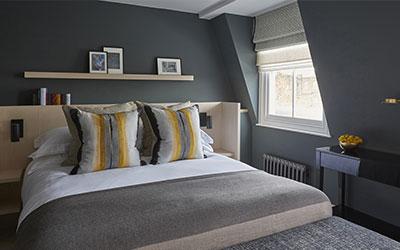 Dark Grey Bedroom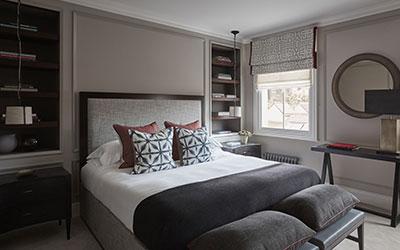 Grey Bed
This beautiful design by helengreendesign.com create a romantic and beautiful effect by combining different tones of grey, light and dark wood along with splashes of yellow gold color. Deep charcoal walls of this room create a quiet background for vibrant colours to pop out. The beautiful textures in gray on the bed and front seating make the design even more interesting. Cushions on the bed with pops of color along with coordinated accessories in yellow gold and other colours tie up the look together.