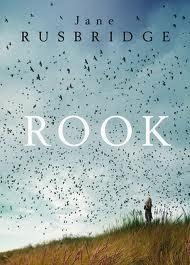 For all of us in the Northern hemisphere, plunged into the bleak midwinter, what happens if you try to imagine summer? In my mind's eye, I find a series of vignettes, slices of memory brilliant with light and heat, intense and real and yet oddly distanced, too. Well that feeling dominated the reading of Rook by Jane Rusbridge, a novel thick with the atmosphere of sultry midsummer heat and deeply imbued by the landscape in which it takes place, the mud flats, shallows and sand dunes surrounding the pretty village of Bosham in Sussex. It is an exquisitely lyrical novel whose rhythm is based on the ebb and flow of time and tide, of memory and history and of the relationships between the characters.
Nora has come home and no one, least of all her aging mother, knows why. She has abandoned an international career as a cellist and is now teaching locally, promising schoolgirls and game middle aged ladies with whom she cannot really connect. In fragments of memory we begin to learn something of her trouble; an affair with a charismatic teacher, which resulted in a pregnancy, unwanted at least by him. There is clearly no baby now, though, which begs a question whose resolution Rusbridge will tease the reader with until the very end. In the meantime, there's Ada to look after, her fragile but determined mother whose grip on rationality is slipping but whose interest in the young men around remains all too lively. An odd-job man, Harry, seems to have moved into a caravan on their property, helping out with changes to the garden, and, Nora fears, plying her mother with too much drink. And then jogging in the dunes one day she spots a man getting out of a smart car and mistakes him for Isaac, her former lover. Instead he turns out to be a producer from London, down to make a television programme about the unmarked graves in the local church.
There are two graves; one smaller belonging to King Cnut's illegitimate daughter, according to local legend, and another larger one belonging, some suggest, to King Harold. Nora's father was an archaeologist, and Ada who still has his archives, and her own racy memories of the dig team, feels importance finally beckoning. The arrival of Jonny from London will bring to the surface all the tensions between mother and daughter, as Nora silently but relentlessly undermines Ada, telling Jonny about the possible link to King Harold and stepping into the flirtation that her mother would dearly like to have with him.
The unspoken battle with her mother is one of a number of ways that Nora blindly but instinctually tries to come to terms with her past. The other is in her adoption of an abandoned fledgling rook, which she frees from the cruel teasings of a gang of young boys and takes home as her own. Rook becomes her endearing, eccentric baby, the chance he offers her for nurture and companionship providing a counterbalance to the losses and sorrows in her life.
This is quite a tricky book to talk about as a lot happens in it, but it's not about the plot. The events that take place are often ways of rehearsing possibilities that turn out to be dead ends for the characters, or of releasing ghosts from the past. Elements of the narrative recur and echo, illegitimate children, passionate affairs, the elusive truth of what lies under the surface, the impossibility of reversing tides or fate. Atmosphere and sensuousness dominate the narrative, which pays delicate and close attention to physical things: an arrowhead dug out of the mud flats, the first glamorous dress Nora performed in, Rook hiding scraps of food in the crumbling plaster walls of the kitchen. It's a mosaic of a story, in which scenes are vividly rendered but little is explained, the physical world carrying the freight of memory and meaning. This isn't a book for psychology or even for abstract truth, it's a book to live in and to feel in all its textures and layers. Jane Rusbridge can do this because her lyric writing is excellent – accurate, potent and evocative. Definitely a book for the connoisseurs of language.
On this unseasonal note, I will wish everyone a very happy Christmas – I'm going to have a brief blog break now until Christmas has passed as there's just too much to do to blog properly. However, I really hope to catch up with you all over the holidays and with your comments. Have a wonderful festive season!