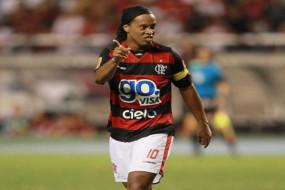 Ronaldinho has had his ups and downs in his short time of Flamengo. That does not mean that he has not had his moments of brilliance.
They have been so many in this first season, that he earned a spot yet again in Mano Menezes most recent callup.
If that wasn't enough, his performance in Wednesday's 3-2 loss to Avaí knocked them all the way down to fourth place. Still the Brazilian media are raving about his performance, more specifically his brilliant "olimpíco" that equalized the match the 37th minute in Florianópolis.
His brace now finds him in second place in the leading scorers table, behind Santos forward Borges who currently has 14.