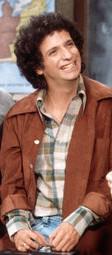 Ron Palillo, who portrayed the goofy high school underachiever Arnold Horshack in the hit 1970s sitcom "Welcome Back, Kotter" with such definitive oddballness that he had trouble for years afterward finding work as an actor, died on Tuesday in West Palm Beach, Fla. He was 63.
The apparent cause was a heart attack, said his agent, Scott Stander.
Horshack typified him as a character.
"I know him, love what he does, not right for the part," Mr. Palillo said in a 1997 newspaper interview, repeating what he said was the mantra of every casting director he met after his years on "Kotter," which was on ABC from 1975 to 1979. "Everybody thought of me as Arnold Horshack. I resented Horshack for so many years."
Mr. Palillo had supporting roles on television series like "The Love Boat" and "The A-Team." But the Horshack typecasting became chronic.
"I think producers could smell the desperation in me," he told The Akron Beacon Journal in 1997.
In 1991 he moved to New York to be in the daytime drama "One Life to Live"and he also had the lead role in an Off Off Broadway production of "Amadeus." He taught drama at the University of Connecticut, his alma mater. In 2010, in West Hartford, Conn., he directed the first production of "The Lost Boy," a musical he wrote based on the life of J. M. Barrie, author of "Peter Pan."