When the boys were little, it was never easy to find a babysitter on Valentine's Day so we would put the kids to bed early and have an intimate dinner with a good bottle of wine and these amazing mustard-coated lamb racks served rib ends up and gently interlocked on an heirloom silver platter. A simple dessert of fresh strawberries capped off a quiet romantic evening.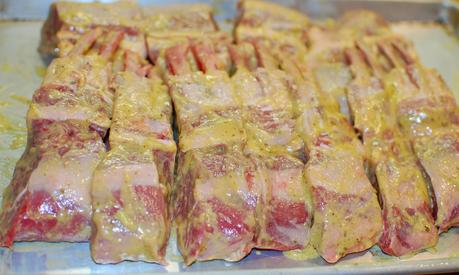 The boys are older now and enjoy these lamb chops as much as we do. The racks can be cut into individual servings as well, then coated and roasted in the same manner. which makes serving a bit easier. You may want to have extra napkins handy because it is impossible to resist gnawing the bones to get every last tidbit.
2 racks of lamb about 7 ribs each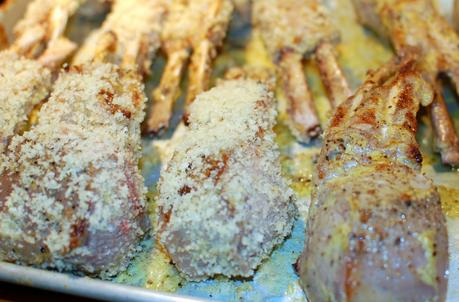 2 tablespoons Dijon mustard
2 large cloves of garlic
1/2 teaspoon kosher salt
1 1/2 teaspoon oregano (or rosemary or thyme), fresh or dried
2 tablespoons lemon juice
1/4 cup olive oil
1 cup coarse breadcrumbs, fresh or Panko
2 tablespoons melted butter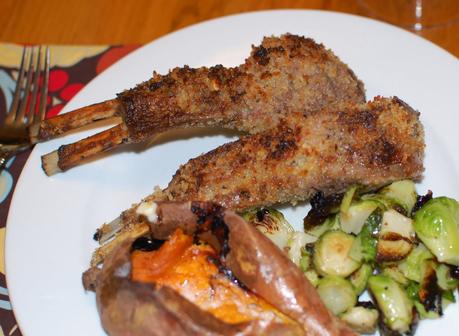 Mix the mustard, garlic, salt, herbs, lemon juice and olive oil and whisk together until it reaches the consistency of mayonnaise.
Your racks should be frenched for the best presentation. If your butcher did no French the racks, do this first. Then, score the fat side of the racks lightly by making shallow crisscross cuts. Leave the rib ends free and coat the tops and sides of the racks with the mustard mixture. This can be done up to a day in advance and kept refrigerated until ready to cook.
Melt the butter and mix with breadcrumbs.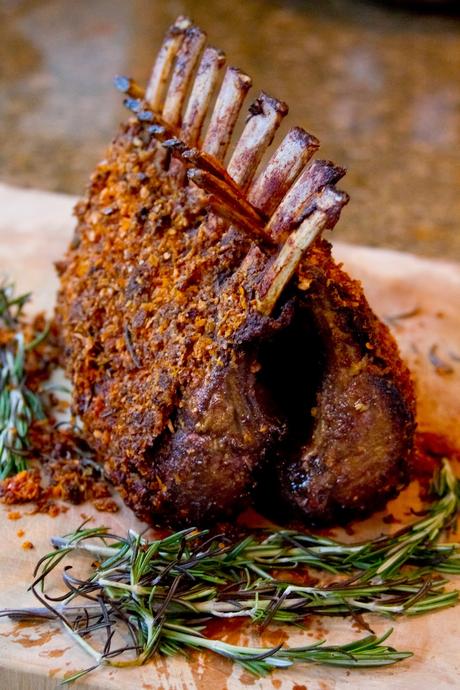 Preheat your oven to 500°F. Roast the lamb for 10 minutes at 500°F to sear. Reduce the thermostat to 400°F removing the lamb from the oven to spread the bread crumbs over the top of the lamb racks and return to the oven. Roast the meat for another 20 minutes, to rosy rare. A meat thermometer insert into the center should read125°F. The meat should be just slightly springy when pressed. Remove the racks from the oven and let rest 5 minutes serving.


2/14/14