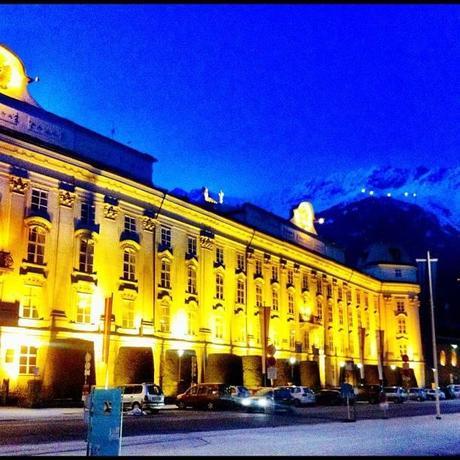 How's your love life these days?
Don't worry, you don't have to answer if you don't want to. But let's face it, January isn't exactly the most amorous month. The weather can be chilly, many of us suffer from the "holiday hangover" and residual holiday stress still remains. On top of that, I'd just been diagnosed with whooping-cough! Whooping cough of all things, which I had assumed had gone the way of the horse and buggy. J.P. my husband will be the first one to tell you there's nothing sexy about sharing a bed with someone with whopping cough dressed in what I call my comfortable pyjamas.  He calls them just plain ugly.
Safe to say we were in need of a romantic weekend getaway and Innsbruck proved to be the perfect place to do so.
Located ~150km south of Munich, the 90 minute drive didn't cut that much into our weekend. Plus, I'd heard rave reviews from a ton of travel bloggers who can been there for a conference.
Innsbruck is situated between high mountain ranges, which is perhaps why it's been the host to the Winter Olympics a whopping three times.  We had planned to snowshoe, but that's not so easy with whopping cough, so we first headed to the Swarovski Kristallwelten (Crystal World).  It wasn't really J.P.'s thing, but he was a good sport about it.  To be honest, it was a lot different from what I was expecting as well.  Clearly, I had not done my research as I was expecting to see huge crystal displays everywhere.  In reality it was versatile artistic interpretation of the material crystal.  I.e. very artsy. But we were together, our phones off, not working.  Just being together was romantic, even if we weren't doing something overly romantic.
Our time in Innsbruck quickly improved.
We strolled through the Alt Stadt (Old Town), which is VERY ROMANTIC!
The pedestrian only zone is lined with historic buildings, some of them dating back to the late 1500s.  We walked hand in hand admiring the buildings: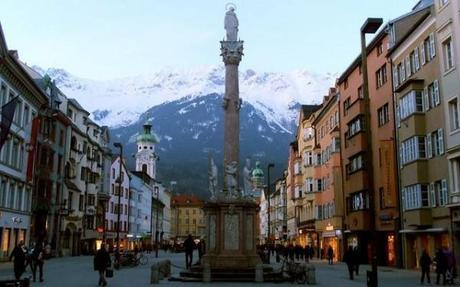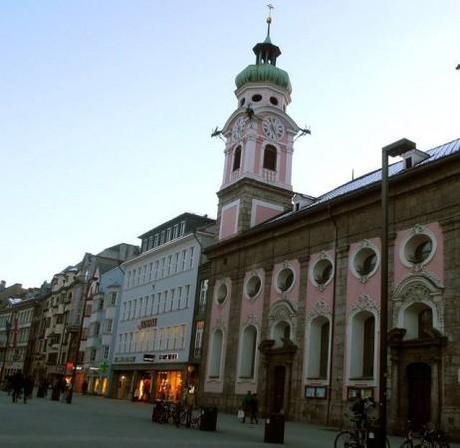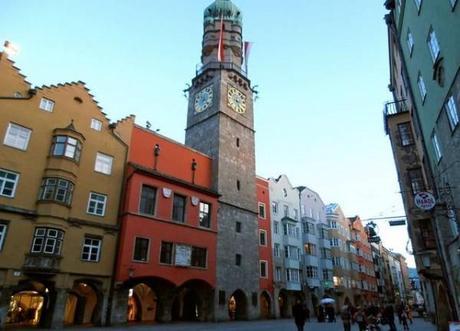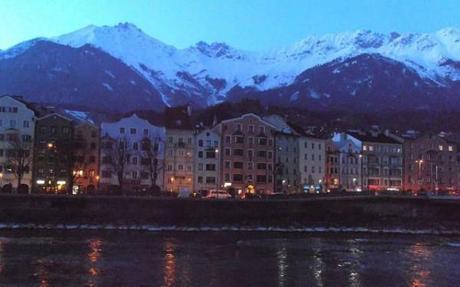 Nothing says
romance
like food, especially a Käserei!  A shop dedicated entirely to cheese!  Needless to say we had to stop.
As did we at a cafe.  Austria is famous for its coffee!
We then headed back to our Romantik Hotel Schwarzer Adler (Black Eagle) where we enjoyed the relaxation area and some cocktails.
We had a leisurely morning the next morning, but not worrying about taking everything in, as I sometimes do on vacation. I kept eyeing up the mountains longing to be out snowshoeing, but knowing that I would be back.
If your love life is in need of a tune up, I'm happy to report that Innsbruck is a perfect romantic getaway – just leave the comfy pyjamas at home!
Just in time for Valentine's Day check our more romantic places in Europe!