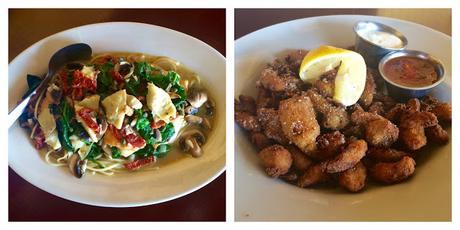 Roma's is celebrating National Artichoke Day with items such as Chicken Capri and Fried Artichokes 
Every day is a new reason to celebrate something and today, March 16, the nation will celebrate National Artichoke Day! According to Greek mythology, Zeus can be credited for creating the artichoke. After being rejected by a beautiful woman, Zeus got angry and turned her into a thorny and difficult thistle. According to folk lore, artichokes are tough on the outside and soft on the inside, and well equipped to play the game of hard-to-get, but their history as an aphrodisiac is mostly due to legend. Another artichoke tidbit is that Catherine de Medici, known for her insatiable appetite for both food and romance, brought artichokes to France when she married Henry II in the 16th century. In the 17th century, French writer and sexologist Dr. Nicolas Venette, documented that Swedish women who were feeling neglected in the bedroom would serve their husbands artichokes in an attempt to increase their desire and stamina. Whether or not you believe in the romantic properties of the artichoke, eating one certainly can't hurt. Studies show that they are packed with healthy antioxidants and are mighty delicious too! A medium sized globe artichoke is fat free and has only 25 calories. And lastly, did you know that the artichoke is a variety of a thistle? 
Why no, I did not.
 So many reason's to celebrate this succulent veggie!
Roma's Pizza & Italian Restaurant
 in Lake Highlands invites diners in on Wednesday, March 16 to celebrate National Artichoke Day. Dishes include a
Fried Artichoke
appetizer made with fresh artichoke hearts breaded and fried golden brown,  
Chicken Capri
 made with sautéed fresh mushrooms, fresh garlic, artichoke hearts, capers, sundries tomatoes and spinach in a white wine and lemon sauce over spaghetti pasta,  
Chicken Carchioffi
 made with artichoke hearts, garlic, mushrooms in a sherry wine and cream sauce, or you can add artichokes to any of Roma's Signature Pizzas. For the past eleven years, Roma's has been serving Dallas diners traditional Italian favorites made with the freshest of ingredients. I have eaten here several times and give this place two thumbs WAY UP. Everything they make is fresh and you can taste the difference. Roma's is located at 7402 Greenville Ave, Dallas, TX, 75231, 214-373-0500, http://www.romas-italia.com