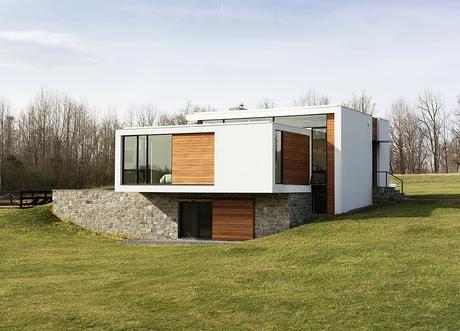 Located about two hours from Washington, D.C., architect Jordan Goldstein's retreat is series of stacked volumes comprised of granite, stucco and mahogany siding accents.
Project  Rappahannock House Architect 
Jordan Goldstein
In their years of trying to build a modern home in Washington D.C., architect Jordan Goldstein and his wife, Laurie, encountered ruthless bidding wars, restrictive zoning laws, and tiny lots. Then they looked beyond the Beltway. "Both my wife and I felt we should find a raw piece of land so we can start from scratch instead of dealing with constraints and existing infrastructure," Goldstein explains. 
The Goldsteins discovered 23 acres of former farmland in Rappahannock County, Virginia, enveloped by rolling hills and forests. "The second we pulled up to the property, the first words out of my daughter's mouth were, 'This is awesome,'" Goldstein recalls.
The managing director and principal at the Washington D.C. outpost of Gensler, an international multidisciplinary design and architecture firm, Goldstein had fond childhood memories of spending time at his parents' cozy Hidden Valley, Pennsylvania, retreat. "There were bedrooms, but everyone always hung out in one room and it was the kitchen, it was the dining room, it was the living room, it was the family room," he says. "I wanted to modernize that experience but have a similar kind of sensation, with everyone being together in one room, surrounded by beautiful scenery."
The 3,200-square-foot house offers plenty of space for Goldstein, Laurie, and their two daughters, Sari, nine, and Alexa, 13. Goldstein oriented the structure to the west to capture afternoon sun. The master suite is on one side of the living area and the two kids' rooms on the other. A guest room and a media room occupy the basement level. 
As striking as the house is—a boxy, white outcropping in a verdant field—it's the invisible features that make it stand out. Goldstein installed a fleet of tech products to increase energy efficiency, offer peace of mind, and help the family enjoy the house more. "Connectivity was a driver when we set out to do this," he says. "To have greater connectivity as a family, and then connectivity to the land." 
Technology allowed Goldstein to better understand the building itself, too—how its systems performed and how secure it was. "If I'm aware of my energy use, I can actually do something about it," he says. "If I'm able to have a level of audio-visual control that's easy to use, that is very fluid, then I have more ability to affect the ambiance."
Goldstein advocates discussing technology goals early on in the planning process. He and his wife prioritized seamless integration with the design. They also wanted the house to operate itself when the family is away. For example, the furnace turns off if it starts to operate inconsistently; a fire-suppression system recessed into the ceiling turns on automatically if it detects excess heat and smoke. 
Having reliable Internet service in a rural area was a challenge, so Goldstein factored that into his decision making. "It's not like I can plug in FiOS because Verizon doesn't run cable this far out," he says. He discovered a home security company called SimpliSafe, which operates from a cellular network. From his mobile phone, Goldstein can monitor temperature, carbon-monoxide levels, smoke, and flood status (for leaks). All of the devices in the home communicate over a Local Area Network, a difficult system to penetrate and an extra layer of security for the family.
"I can't be there all the time, so how do I keep an eye on things and how do I, even when I'm there, still have the ability to understand what's going on in different parts of the property?" he says.
Because of his work as a commercial architect at a prominent firm, Goldstein is often privy to new product announcements. "I approached this as, let's not just look at the residential items out there," he says. "Let's throw commercial products into the mix and develop a palette that feels right for this house." He was familiar with Lutron and, after learning about the Caséta system before it officially came on the market, specified the wireless dimmer system to control the LED lighting—set to a warm color temperature. 
Goldstein researched both the Honeywell and Nest programmable thermostats, but preferred the latter because of its interface. The television is recessed into the living room wall and attached to a pivoting wall-mounted bracket so people in the kitchen can view what's on the screen. Security cameras, with white housing virtually indistinguishable from the structure itself, help the Goldsteins keep an eye on things outside. An Apple AirPlay–based system provides audio throughout the property.
"It's about creating great architecture or a great experience that matches with your lifestyle," Goldstein says. "We wanted a modern house that would be a gathering point for our family, a place to celebrate the property. The technology that we chose to integrate affords us the ability to do that with ease." 
Knowing that technology changes rapidly, Goldstein housed many of the control units in a feature he calls "the Brain." About four feet tall and enclosed in glass, the niche is easily accessible. "I was concerned with inflexibility in the design—where changes require a hard construction project versus a do-it-yourself task," he says. "If I ever need to swap something out, it's easy."
The way Goldstein mapped out the structure's orientation demonstrates how modern devices factored into the home from the outset. After completing the drawings, he met his contractor on the lot and, with an iPhone and string in tow, outlined where the house should go. "Who would've thought a compass app would be used for landing a house?" he says. "Talk about technology driving design."
Log in or register to post comments