Me, part of the bourgeoisie? You already know! How, I felt the Seine's nature as I walked along the riverside during that first morning in Paris, France. Fresh from my hectic journey from the airport, I fully embraced those sunshine moments as I headed towards Paris's own Notre Dame. That injection of culture truly felt like the best medicine, England felt like a million miles away!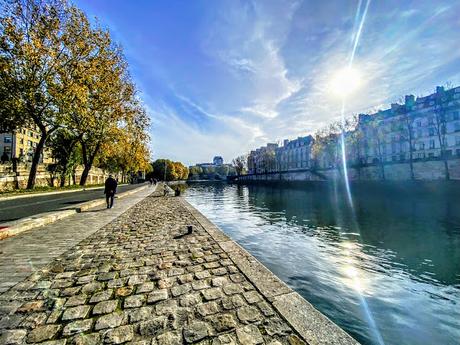 Enriched by that November glow, I headed towards 'Île Saint-Louis' with those period French buildings serving the most! Being a Saturday, I was expecting the riverside to be extra busy with people doing their thing. Lively and moving to a Parisian pace, the air legit smelled sweet like a scented perfume. The glistening waters of the Seine River welcomed me to soak up every fiber of that experience. Strolling along Paris's 'Voie Georges Pompidou' gave me everything and more, that European notion had me taking note of every single movement that was in my direct view. No, I did not intend to cross any bridges that would connect me with Île Saint-Louis'because I only had eyes for 'Île de la Cité'. Period! River facing cafes impressed me much, putting England's Londoners to utter shame, those Parisians knew how to embrace that alfresco moment with their coffees in hand. An adventure was it? Truly I felt like that Seine pursuit had me living once again! The morning had me 'Flying High...', thankfully France had plans for me! 
Merging from one 'Quai' to another, I actually still couldn't believe that I was in Paris! I had originally thought to myself that would have to shelve such plans for a future homeward bound stopover on the way back to England from China. With the ever-changing Mainland China epidemic guidelines, a later 2022 return to China allowed me to walk down that autumnal Seine situation. I hope to return to the Far East but for that moment in Paris there was no way that I had any qualms about that European stance, everything happens for a reason if its meant to be. Meant for that moment, my walk along the Seine River had me feeling hungry, I knew that a cheeky glass of wine would need to be enjoyed alongside some much needed scran! Feeling so good, Paris's Seine riverside was all that I wanted with those chic Parisians out in force enjoying their early afternoon drinks with such a beautiful view to boot. Touching my heart and blessing my sense of sight, Paris's Seine had me 'Rollin' on a very pretty river scene! Une belle journée!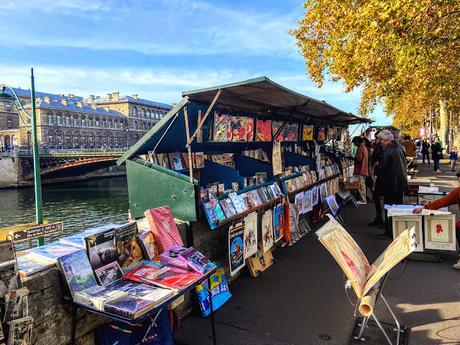 Paris had truly received an all important memorandum notice because the weather had snapped into a sate of autumnal bliss, those blue skies were very much appreciated! My walk along that famous Seine path didn't require me to check my maps because a whole host of visual prompts had me on the right track. Truly, I adored the architectural buffet that my eyes were being fed, those French period details looked on point without any question! Was I walking in my sleep? No, I was very much awake but those real-time Paris gems saw me living a travel dream come true! Yes, I clocked those riverside vendors selling Paris essential items as I neared 'Pont d'Arcole'. Those timeless Parisian prints stopped me curiously in my tracks, I wanted to take a glance but I didn't desire any of them. Straight up, those riverside stalls gave me a film-worthy scene in real-time without a doubt! That artistic view was enough for me. The headlines suggested that the Notre Dame was in my sights, that report was true. Paris's Seine saw right!
My morning had been like organised chaos, from my Channel crossing flight to that eventful bus trip from Roissy's own airport. Paris's Seine had guided me from my hostel without any more planned mishaps, the November glow had me falling in love with a city that I had longed to be a part of. Mentioning before that the air around that waterside moment smelled like perfume, maybe I needed a slap in the face to bring me back down to reality? No, feeling like a million miles away was the medicine I desperately needed to be prescribed. Truly feeling part of the 'Continental' vibe, 'Pont Louis Philippe' had me gooped and unprepared for that injection of culture! It almost felt and looked alien to see people embracing that riverside moment without anything or anybody getting in their way! Paris didn't need me but I knew that I needed Paris, to be honest I didn't get one single touristic vibe during that sector of my walk! No, I did not and I was at peace because of that! Esmeralda and Quasimodo knew I was on my way! A fire? No, no!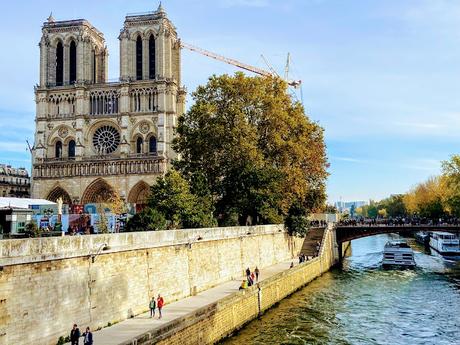 Lord Jesus! I had already told myself that the legendary Notre Dame Cathedral would be off limits due to the current closure. The French icon burst into flames during April 2019 due to a possible 'cigarette spark' or 'electrical fault'. I call it as one massive insurance job! It makes you wonder because currently as the restoration projects continues, the already controversial plans look to completely overhaul certain parts of the basilica. Such plans have being much contested, claiming that the Notre Dame will rise from the ashes after being destroyed by the fire. As I stood still to take my photo of that imposingly beautiful focal point along the Seine River, I did think whether a deeper plan had been behind the fire caused at the Notre Dame? Regardless of that, my time spent within that area equally transported me to a different place entirely. Paris had locked down hard during the Pandemic, to see things so alive and busy felt correct to see. Yes, I thought about the 'Hunchback Of Notre Dame!' I clocked those 'Montréal' similarities, P!  
Sure, both Esmeralda and Quasimodo had eateries named after them across the river! Officially, I had entered a tourism honeypot so having such restaurants named after two of the main characters from that Disney adaptation made pure marketing sense! For me, I made sure that I took advantage of that Notre Dame viewpoint with the Seine River in-sight. People were taking their group photos and selfies in every possible direction, it felt correct to once again see people embracing travel and the world without limits! Being in such a busy Paris beside the Seine River had me feeling some kind of way, I noticed the absence of those Mainland China tourists and tour groups. It's been three years and quite frankly like myself and anybody else, mark my words though because they will be back with their cash money in 2023 like never before! Wholeheartedly, Paris had my whole beating heart and I had no issue about that, no feelings I wanted to fight. The morning had been nothing short of a dream! Seine, seen, done! Incroyable!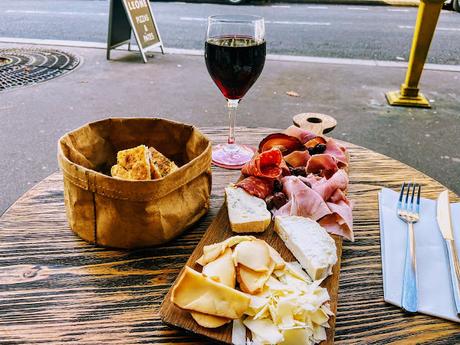 After those steps, I was starting to feel mighty hungry, that in-flight breakfast biscuit and coffee that had been served earlier that morning no longer sustained any feelings of fullness. Located not so far away from the buzzing area around the Notre Dame, I found a curiously helpful street. Making my way back towards 'Pont d'Arcole' allowed that previously mentioned street to make itself known to me. 'Rue d'Arcole' held the key to my first meal in Paris, France! 'Café Leone' caught my attention for sure, serving 'Parisian Realness' without a doubt! After checking out the street-side menu board, I sat down at one of the street-facing tables before a waiter came over to me, sure I was ready to make my order. Ordering the 'Charcuterie Mixte' with a medium glass of 'Pinot Noir' from the Bordeaux wine growing region of France. I had no idea how gorgeous my lunch would look, if any lunch could have looked gorgeous? Now, that was the question! You already know that the waiter had that 'Je Ne Sais Quoi?' Like my lunch, he himself looked tasty! 
I had no shame, I luxuriated within that 'foodie' moment with no cares in the world. I had waited the longest time to experience some pedestrian style dining in France, that is exactly what I was served! Those fine meats and cheeses were the best, complimented forever more with each sip of that deliciously rich red wine! Even a passerby by said in a British accent that my food looked 'gorgeous', I had to agree with her with my whole beating heart! Dramatic? Well, that's on you! My lunch was amazing, the views were even more and that wine had me feeling wavy! Kissing goodbye to the Seine River, I headed back towards the Notre Dame, that felt like the right thing to do. From the Notre Dame I embarked onto the next phase of my first afternoon in Paris with the 'Latin Quarter' set in my sights. The whole walk and experience along the Seine River that morning had been 'the most', everything fell into place without any issues to write home about. Of course, I asked for that lunch bill in French! 'L'addition s'il vous plaît?' Oui, je parle français!
Quelle Rivière Incroyable!
Desperarely Seeking Adventure