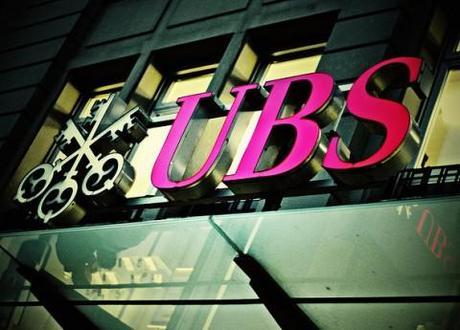 UBS. Photocredit: twicepix http://www.flickr.com/photos/twicepix/3295459278/sizes/z/in/photostream/
Another rogue trader, another bank in trouble. There was Nick Leeson, who managed to pull down the entirety of Barings Bank in 1995 with an £800 million loss; then there was Jérôme Kerviel, who brought Société Générale to its knees in the mid-2000s to the tune of £3.7 billion. Now there's –well, we don't know quite who it is yet. When we do, though, there's no doubt a film will follow soon – as happened with Leeson, whose story was made into a movie starring Ewan McGregor, called, aptly enough, Rogue Trader.
On Thursday, Swiss bank UBS reported to its investors that it had found a possible $2 billion loss thanks to the actions of a lone gunman. The matter, said Haig Simonian on The Financial Times, was "under investigation." UBS has been in trouble, losing $50 billion in the credit crunch and having to be bailed out by the Swiss government; and though recently stabilised under Carsten Kengeter (a former Goldman Sachs executive), it has failed to convince investors that it's still got the goods.
The police arrested a 31-year-old man at 3.30 am this morning in London. He's being held in custody on suspicion of fraud. The Daily Telegraph reported that Swiss newspaper NZZ claimed the man worked in the bank's equities division.
Though analysts had predicted that the UBS group would gain a profit of about $1.5 billion, the consquences could now be a loss, when the group posts its third-quarter figures in October. Information, however, was thin on the ground, as according to The Financial Times, officials at the bank could not find where the unauthorised trades had happened, when they'd happened, and couldn't say when they'd know more. Business Insider was nonplussed: "All rogue trader stories are murky, with big questions about what actually constitutes a rogue trade, but this is just strange." Maxkeiser.com posted the tweet that suggested the trader was trying to exit a "naked silver short."
Simonian on The Financial Times took the angle that this will inevitably cause Swiss politicians to call for a downgrade, or even an end to, the bank. Shares in UBS have fallen by 9.6 per cent in Switzerland. The bank insisted that no client positions had been affected.
"For the time being, we have nothing to add," said a UBS spokesman to The Financial Times.
"I wonder if his gamble had paid off and made the bank a tidy profit would we still be reading about it?" commented gloucester-lad on SKY NEWS