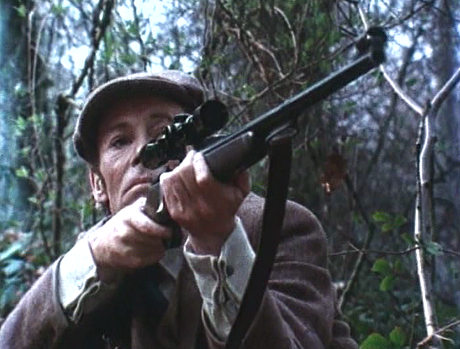 Geoffrey Household's novel Rogue Male inspired Fritz Lang's Man Hunt (1941), whose anti-Nazi stance was controversial in still-neutral America. In 1976 Clive Donner remade it for the BBC, now less topical drama than straightforward thriller. Bolstered by Peter O'Toole excellent performance, it's an overlooked gem.
Hunting in the Bavarian Alps circa 1939, Sir Robert (Peter O'Toole) stumbles across Adolf Hitler and nearly assassinates him. Tortured and almost murdered, Sir Robert escapes back to England. He finds that British officials are none-too-keen on his activities; Sir Robert's soon run to ground, fleeing London for the Dorset countryside. And his Gestapo tormentor, Major Quive-Smith (John Standing), pursues him to England with more than a "sporting stalk" in mind.
Rogue Male jettisons Man Hunt's romance and elides the Nazi-bashing, focusing instead on its thriller mechanics. Writer Frederic Raphael shapes a hunter's battle of wits. Sir Robert is hounded, hunted, driven into the woods like an animal; Quive-Smith, able to move among both British and German society, makes an implacable adversary. Regrettably, Donner gives Sir Robert a facile revenge motive undercutting his idealism: why he can't defend freedom rather than avenge a lover?
Rogue Male reduces Lang's antifascist speechmaking: 1976 viewers needed little persuading of Nazi evil. Instead it's the British upper class who comes in for ridicule. Sir Robert seeks solace with an unhelpful Uncle (Alastair Sim) who chides that "shooting heads of state is never in season." He's benign compared to Foreign Office officials, who connive in tracking down Sir Robert. Quive-Smith seeks to convert Sir Robert to fascism, a genteel Oswald Mosley decrying democratic decadence. He's misjudged his opponent, who's seen too much to coddle government complacency.
Donner's direction stresses suspense and violence. Rogue Male opens with a brilliant juxtaposition of "civilized values": German aristocrats slaughter partridges then sit down to a genteel luncheon. Other moments, like a torture scene scored by a German ballad, are less effective. Sir Robert's final standoff with Quive-Smith takes up nearly a quarter of the film; the slow-burn suspense and snappy dialog makes it gripping, Sir Robert having to think his way out of trouble. The photography is sadly pedestrian, but this is a '70s TV movie.
Peter O'Toole gives a top-notch performance, making Sir Robert an unflappable aristocrat with O'Toole's trademark neurotic tinge. John Standing is an intimidating villain, though not as suave as George Sanders. Alastair Sim gets a funny cameo; Harold Pinter plays a duplicitous official; Ray Smith, a friendly German fisherman. Michael Sheard marks his first of five portrayals of Adolf Hitler.
Rogue Male is a respectable remake. Not as stylish or innovative as Fritz Lang's original, it's different enough to be worthwhile.