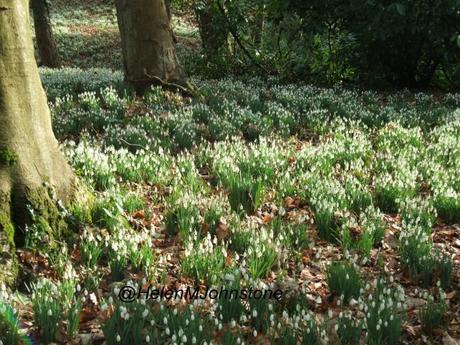 It was with a sense of relief today that I took a day out  of work and drove cross-country to the Cotswolds to meet up with two blogging friends, Michelle and Victoria.  We had arranged to visit Painswick Rococo Garden between Gloucester and Stroud to see the snowdrops.  Michelle and I had originally planned to do this some three years ago but life and bad weather had intervened.  Why was I relieved?  Well it felt like this was the first garden visit of the year and that winter was starting to recede.  It was also nice to catch up with two friends I made early on in my blogging life and a return to that aspect of blogging which I used to enjoy so much.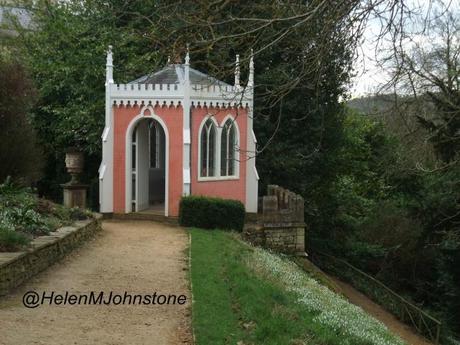 Now none of us are galanthophiles so we weren't looking for somewhere which would have lots of rare and special snowdrops.  Painswick has the benefit of not only having an extensive display of snowdrops but also a range of interesting follies.  The garden was developed in the 1740s in a period when garden design was moving away from the formality  and Baroque of the previous century.  Instead of elaborate parterres and hedges the garden follows the style made popular by Alexander Pope twenty years before. This was composed of a garden walk during which various decorative buildings, follies and sculptures were encountered.  Richardson in 
The Arcadian Friends 
describes Painswick as follows:
"Painswick in Gloucestershire, for example, is a garden with a unique feel: an associative or symbolic landscape garden squeezed into a modest valley, with lots of tight corners, deceptive vistas and delightfully tricksy buildings. Painswick is really a miniature version of what had gone before, with the emphasis on decorative incident, and this has led to its being billed a 'rococo' garden – a rather misleading appellation."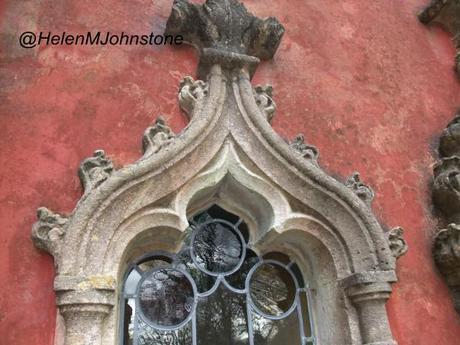 What I found interesting was the detail on the follies.  I know from studying garden landscape history last year – most of which seemed to have left my mind today – that often follies were merely a frontispiece to look good from a distance but had no real substance.  However, if you take the Red House it comprises two rooms with a fireplace, stained glass windows and intricate moulding as you can see above.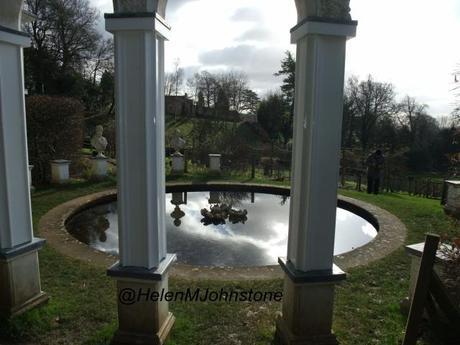 The follies, like the Exedra above, certainly added interest and I can see that they would draw you on a walk through the garden; sadly much of the symbolism's mean isn't so obvious to the modern visitor.  We did find some of the views and vistas a little strange and reading the garden history on my return home it turns out that by the 1970s the garden was completely covered in an overgrown wood.  Although the garden has since been restored based on a painting made at the time of its original creation the house is no longer part of the garden and therefore the approach to the garden and some other views weren't as original and although not jarring it did at times feel a little strange.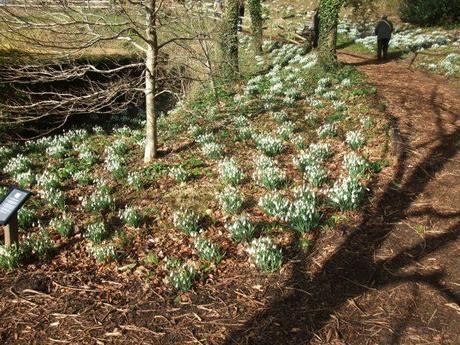 In the summer there is an extensive Kitchen Garden surrounded with trained apple trees and herbaceous borders.  Whilst there are lots of snowdrops planted amongst the shrubs in the borders for me the nicest area was the  woodland area where the land rose and fell and the snowdrops smothered the ground.  Occasionally we were lucky and the sun filtered through the trees causing interesting shadows and lighting up the flowers.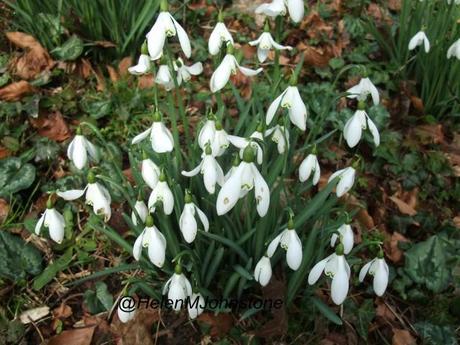 All in all I had a delightful and fun day with lots of much needed fresh air and a feeling that Spring is definitely on its way.