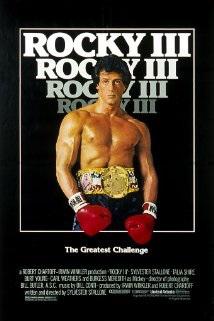 Director: Sylvester Stallone
Writer: Sylvester Stallone (Screenplay)
Starring: Sylvester Stallone, Talia Shire, Burt Young, Carl Weathers, Burgess Meredith, Tony Burton, Mr T, Hulk Hogan
Plot: After winning the ultimate title and being the world champion, Rocky falls into a hole and finds himself picked up by a former enemy.
There may be spoilers the rest of the review
Verdict: Career Continues
Story: Rocky III starts with Rocky (Stallone) going on title defence after title defence becoming the biggest name in boxing. Rocky is living the high life with his wife Adrian (Shire), trainer Micky (Burgess) and friend Paulie (Young) but the challenger in the wings Clubber Lang (Mr T) keeps get over looked for event like charity match against wrestler Thunderlips (Hogan).
When Rocky learns the truth that he has been handpicked opponents he is determined to face Clubber Lang to prove he can beat anybody. When Clubber defeats Rocky it is the loss of a personally friend that is what hurts Rocky the most but it also motivates him to want to come back stronger and defeat the arrogant new champion with an old enemy Apollo Creed (Weathers) supporting him.
Rocky III brings us full circle as we now see the underdog Rocky having to be the guy everyone wanting a shot at. This works we get to see the rise to fame and all the benefits and problems along with how determined people are to take their shots. Sure we do see how easily a champion can be defeated and need to change his game to win again. This will always go down as the beginning of the downfall of the Rocky films but still does hold its own compared to later issue.
Actor Review
Sylvester Stallone: Rocky is now the world heavyweight champion of the world, he beats a string off opponents before wanting to announce his retirement. Rocky gets pushed into a fight against hot shot Clubber Lang who defeats him and a close friend dies Rocky must put his difference with Apollo to come back and retain his title. Sylvester gives us a performance you would expect to see in the role of Rocky now.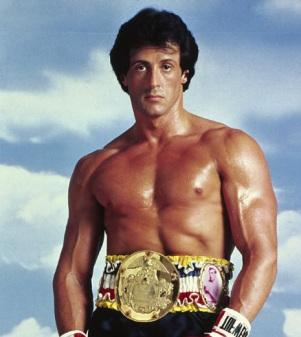 Talia Shire: Adrian is Rocky's wife but really doesn't get much to do in this whole film, she is there to support him but that is about it. Talia hardly even used which is disappoint because of how important her character is meant to be.
Burt Young: Paulie wants to be part of the Rocky team and is delighted to get a chance in the position that Rocky gives him. Burt also falls into supporting role without really doing to much.
Carl Weathers: Apollo is the former enemy who steps in to teach Rocky how to defeat Clubber Lang, he pushes Rocky in a way that Mickey never could. Carl does a good job in this role where he ends up being training.
Mr T: Clubber Lang is the arrogant boxer who wants a chance at the title, he was the number one contender and defeats Rocky but his attitude has made himself enemies in the industry as he must face Rocky in a rematch. Mr T does actually give u a good performance showing this is how a lot of boxer act now.
Support Cast: Rocky III continues to have the standard supporting cast for all boxing films.
Director Review: Sylvester Stallone – Sylvester is one actor that knows how he wants to make a film and he is does what you would expect from him.
Sports: Rocky III is your typical sports films where we do end up having extra boxing than previous day.
Music: Rocky III continues to use the iconic music which gets used more than we heard in the previous films.
Settings: Rocky III keeps the settings similar but doesn't make a point of them like previous films.
Suggestion: Rocky III is one for all the franchise fans to watch but don't start here. (Franchise Fans)
Best Part: Training.
Worst Part: You know where it is going.
Believability: No
Chances of Tears: No
Chances of Sequel: Yes
Post Credits Scene: No
Oscar Chances: No
Box Office: $122.8 Million
Budget: $17 Million
Runtime: 1 Hour 39 Minutes
Tagline: The Excitement… The Power… The Man..
Overall: Solid addition to the series.
Rating