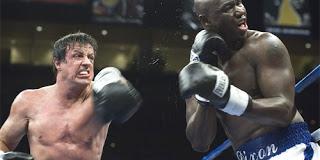 "It ain't about how hard you hit. It's about how hard you can get hit and keep moving forward."
After
Rocky V
, Sylvester Stallone fell into self-parody (
Demolition Man
) and ignominious flops (
Judge Dredd
). Even his well-reviewed turn in
Cop Land
(1997) couldn't restart his career. Finally, in 2006 Stallone revisited his most famous character. To everyone's surprise,
Rocky Balboa
was both a success and a respectable movie.
Now pushing sixty, Rocky Balboa (Sylvester Stallone) manages a restaurant in Philadelphia. Adrian is dead, son Robert (Milo Ventimiglia) is estranged; Paulie (Burt Young) hangs around, vulgar as ever. Rocky considers rejoining the fight game, encouraged by a computer-simulated match between him and contemporary champ Mason Dixon (Antonio Tarver). Dixon, whom boxing fans don't take seriously, challenges Rocky to a match. Despite the decades-age difference, Rocky determines to go the distance.
As expected,
Rocky Balboa
plays heavily on nostalgia. Rocky's working in the old neighborhood, befriending Marie (Geraldine Hughes), a minor character from the original
Rocky
who becomes a platonic friend. Burt Young plays Paulie for pathos, losing his job and choked up over Adrian's death. Milo Ventimiglia proves pitch-perfect, trying to distance himself from Dad while ducking his own failures. Stallone writes and performs these scenes brilliantly, allowing Rocky to call out Robert and soothe Paulie while confronting his own demons.
Some elements don't work as well. The premise is a stretch, even by series standards - though in fairness, the training montage shows Rocky overcoming his age. Meanwhile, Antonio Tarver's Mason Dixon never shows much personality beyond resentment; he's among the series' least memorable antagonists. It's also distracting to see Jim Lampley and Max Kellerman commenting on the fight, but this shouldn't shock in our age of product placement.
Still an imposing physical presence, Stallone gives an excellent performance. He's convincing whether in the ring, chewing out Robert or visiting Adrian's graveside. The final bout isn't exciting for its bizarre monochrome visuals, hectic editing and HBO shilling, but Stallone's conviction. After two sequels of slumming, he's clearly invested in doing Rocky justice. By film's end, he's recaptured the character's dignity and the audience's respect; Rocky, and Stallone go out on top.
Rocky Balboa
's good enough to wash away memories of
Rocky V
. Sadly, it taught Stallone he could relive his action roles ad nauseum; hence
Rambo
(2008),
The Expendables
(2010) and other senile excretions. But why begrudge Stallone his vanity? With Rocky Balboa, he created an iconic hero who endured six films, forty years and endless parodies and imitations. Here's hoping
Creed
keeps the tradition alive.