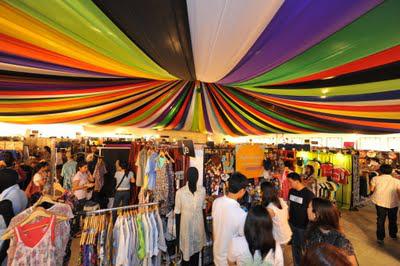 Rockwell's annual Urban Bazaar runs this year on April 15-17 and April 29-May 1, 11 a.m. to 9 p.m., at the Rockwell Tent. The bazaar offers unique gift items, home décor, trendy dresses and clothes, sweets and food stuff, sports gear and baby things. Chic picks from Naked Sun, Suelas, Summersault, Soak, Ichigo and a lot more are all on display at Rockwell Tent and the Power Plant bridgeway.
This year, the tent has a sun-kissed beachfront feel. Stall after stall carries hip swimwear or cool cotton blouses, quirky fashion accessories, sandals, bags, shades and other summer must-haves.
Food and refreshments include Bubble Tea Boy, chicken wings at Sunrise Buckets, ice cream and milk teas, cocktails and juices. Isaw, fish balls and peri-peri chicken are available, as are capoeira and reggae performances in the afternoon.
For more information, call 8981702 or visit www.facebook.com/PowerPlantMall.
Also, Rockwell's Hawaiian-flavored summer takes on a Disney twist as Stitch brings his special presence to The Power Plant Mall on April 11-26.
Designed and set up by MINDstyle, a leading lifestyle and art toy collectible company with an expansive network of licenses from Disney, the mall display brings back the Disney tale of a young Hawaiian girl and her search for a perfect pet, who just happens to be the galaxy's most wanted extraterrestrial--Stitch.
Gigantic Stitch art figures are on display amidst tropical trees, island rocks and totem poles, greeting mallgoers from one end of the mall to another.
"The Power Plant Mall is all about innovation and novelty, and the MINDstyle brand offers products that are internationally recognized and sought after by the most avid collectors worldwide. This MINDstyle display at The Power Plant will delight Disney fans of all ages," says Malou Pineda, VP and General Manager for Retail, Rockwell Land.
Call 8981702 or visit www.facebook.com/PowerPlantMall.