Pros
1 WordPress Install
25,000 Visits
10GB Storage
Free SSL, CDN, & WAF
Free SSL Certificates
Web Application Firewall
Global Server Locations
Money Back Guarantee
24x7 Live Chat Support
Brute-force Protection
Hassle-Free Migrations
Cons
Supports only English language
UI can be improved
In this article, I will be reviewing WordPress hosting company named Rocket.net. With Rocket.net, you can host your website on their fast cloud platform with an incredible loading speed.
Google made it official by launching its core web fundamentals that speed has a direct effect on the search engine ranking. Google also went ahead by introducing it in the search console as well.
Hosting a site on WordPress is a pretty crucial thing as it defines the success and ranking of your site on the search engine. So if you choose a cheap or inefficient and bad hosting company, it can cause you a lot of problems. On the other hand, choosing the right company for hosting your site can prove out to be a table-turner for you in making the website a successful venture.
Overview Of Rocket.Net Hosting: In Nutshell Rocket.net Hosting Review
Rocket.Net Hosting made everything super easy for websites of any size and comes with numerous instant benefits. The hosting offers a pretty blazing speed as well as provides in-built security. With its incredible speed, it localizes your website and finds the nearest city as compared to the visitors. With Rocket.Net hosting, you will find infinite levels of freedom and scalability.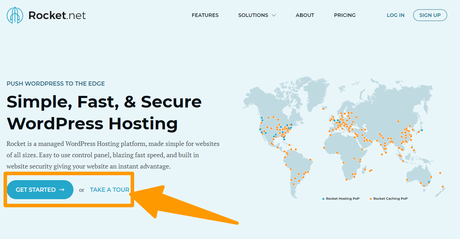 It comes with an incredible and appealing interface and is easy to use even for people with zero experience of working with a complex hosting provider. All in all, it is an astoundingly, simple, and straightforward interface to use that comes with many exciting and remarkable features.
Now that we have a brief idea about what Rocket.Net Hosting is, I will be listing its incredible features.
Features Of Rocket.Net Hosting
Now I will be listing some of the incredible features of Rocket.Net Hosting.
Panel Control
It is one of the most significant and best features of Rocket. Its control panel for WordPress is pretty easy to usage. With its control panel, you can deploy the WordPress websites and also manage plug-ins that include both themes as well as backing up whenever you need them.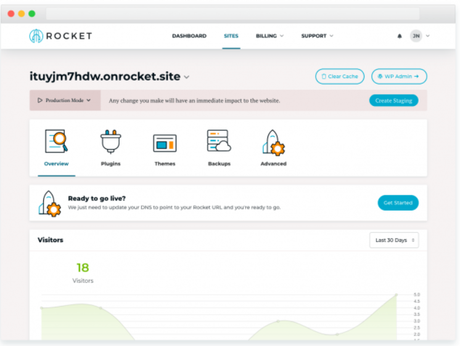 Security Of The Applications
It is pretty imperative to keep your website secure and safe from the malicious tools and online threats that are lurking around. Keeping this in focus, the tech team onboard with Rocket.Net made their hosting with the security of an advanced level.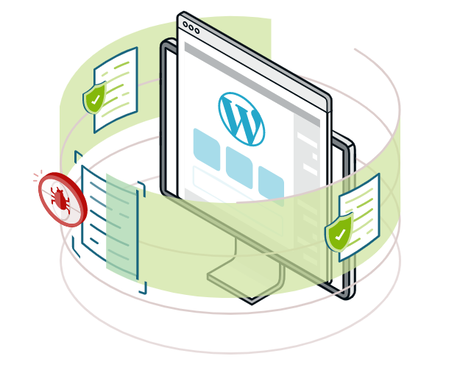 Offers A Robust Server Stack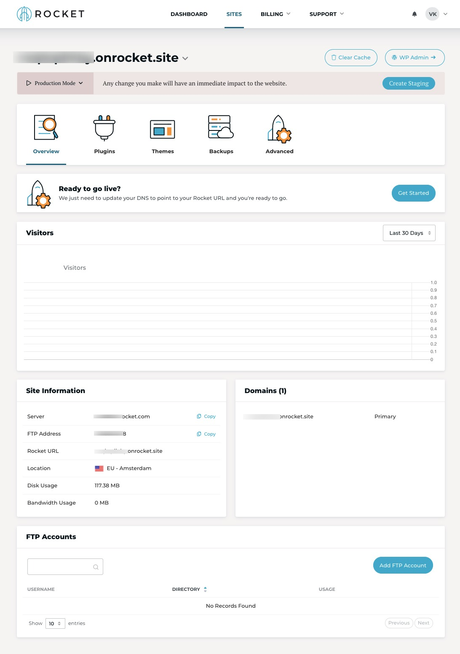 Rocket.Net Hosting is built with the NGINX server that has the ability to segregate the content pretty quickly in comparison with other servers around. Rocket is empowered with PHP Version 7.4 that makes the website work really, very fast.
One Of The Best Customer Support
Rocket.Net has a team of dedicated professionals on board who are 24*7 ready to support you in the issues you are facing regarding the hosting. They are also ready to offer help on emails, phone calls, and even live chat. Their response timing is excellent on the ticket system and emails. Phone calls and live chat is a recommended option if you are looking for instant support.
Speed
The websites that are hosted on rocket hosting are pretty sufficient for any type of utilization. There is no need for customization in order to get your content optimized. It offers the ultimate speed with full-page caching.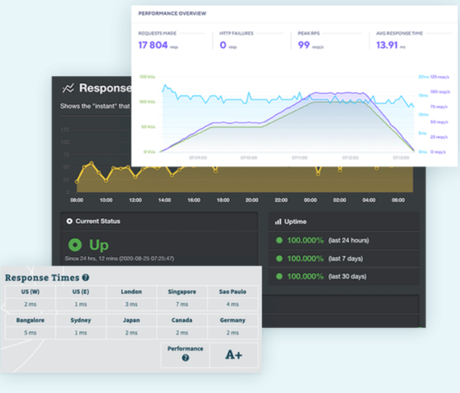 Performance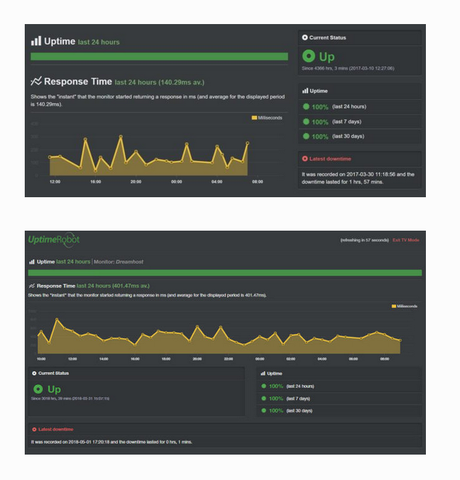 When it comes to the Managed WordPress Hosting of TTFB, the performance of the Rocket.Net is one of the fastest in the world. It also has an outstanding page speed performance to offer and also shows a loading speed of 2.15 seconds on average. You get an exceptionally great execution of a WordPress site. All in all, it is great to have your WordPress site built on the WordPress hosting offered by Rocket.Net.
Facility Of BackUp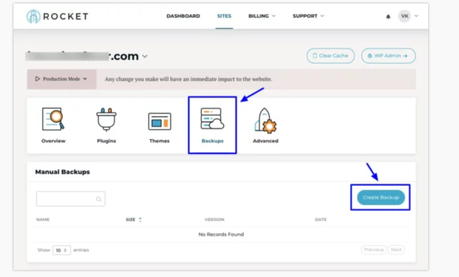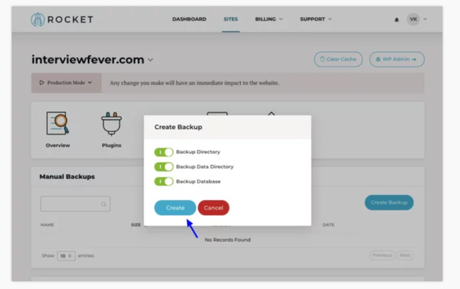 It is imperative to create a backup in order to avoid unforeseen events. Though it is not possible to prevent this, you can simply reverse it with the help of restoring options. With the Managed WordPress Environment of Rocket.Net, you get options of both Automatic Backup as well as Manual Backup on your dashboard. All you need to do is click on the "Create Backup" tab, and your entire site will get converted into a backup file of compressed zip format.
Staging At Just One Click
This feature is pretty unique that you get with only top-notch premium level hosting services. But, Rocket.Net offers you this feature even with their basic plan at no extra cost. You can simply configure it in a single click without any hassle. If you do not have an idea about what exactly staging is, then to put things in perspective for you, the staging environment is the dummy environment where you can test the functioning of themes, plugins or any sort of changes that you wish to make on the website. At times a plugin update might break and damage your site. Thus it is better to test an update in the staging environment before you go live with that particular update.
Plugin Management
With the Rocket.Net hosting, you can simply add, update, or even delete a plugin directly from your control panel without any hassle.
Analytics Of Your Visitors
It is pretty easy to check all your daily visitors from your dashboard directly. You are offered three options viz the last 24 hours, 30 or 60 days. This makes it an incredible tool to monitor the trends as we all know how important it is to keep a track of your traffic.
Things To Like About WP Rocket Hosting
There are various things that make it a worthwhile choice to choose from. Some of the features I liked the most are mentioned below: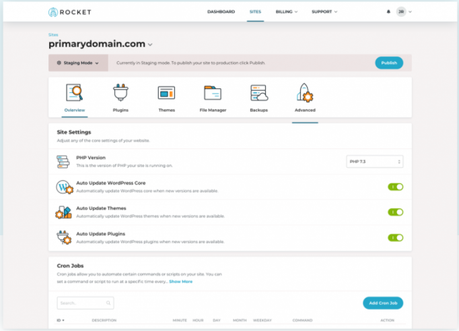 The UI of the dashboard is very clean and interesting and feels one of the best. Better than some of the competitors too.
The CDN provided with this hosting service is a very nice and high performing one.
The pricing plans are very flexible. You can choose your plan according to your need, and you won't feel left behind with these pricing plans.
The uptime of this hosting service is also very trustable and reliable. Generally, this hosting service records an uptime of around 99.99%.
Things I Did Not Like About WP Rocket Hosting
WP Rocket Hosting is very nice and reliable, with numerous features and advantages. However, that does not mean that WP Rocket Hosting does not have its shortcomings. As with everything, it has a fair share of shortcomings too. I will list out the things which I didn't like below:
The hosting does limit the number of persons who can access the hosting and the settings panel of the hosting. This is problematic for some people who may have multiple admins to a website.
The hosting works out only for WordPress websites.
The middle plan is for up to 3 websites, while the top plan is for an infinite number of websites. However, if you have 4 websites, then you would have to pay for the top plan, which is somewhat expensive and not worth it.
Pricing Rocket.Net
WP Rocket Hosting has very flexible and comfortable pricing plans suitable for everyone wanting to get this.
WP Rocket Hosting has a total of three hosting plans available at your dispense. The first one is the Single plan. This will cost you around $49 for a year. This includes a year of support, and the hosting is available for one website. This plan is suitable for those having only one website and do not have to handle much.
The next plan is the Plus plan. It will make you shell out around $99. This includes support for a year, and the hosting will work for three websites. Thus if you have more than one website, you can go for this plan.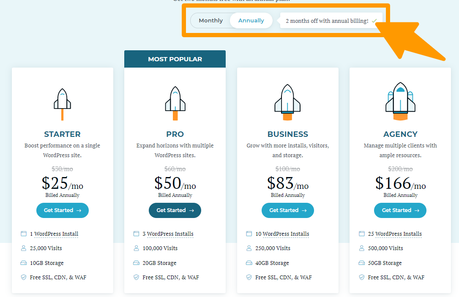 The last plan is the infinite plan. This plan will make you take out $249. This includes support for a year, and the hosting is valid for as many websites as you may make. This is a perfect plan for those having to handle numerous websites since they won't have to pay for the hosting of each website individually.
WP Rocket Hosting has plans made to your comfort according to the number of websites you need, and you won't feel feature-less since all the plans are the same.
If you feel that the hosting is not up to your liking, you can easily claim your money back within a period of 14-days from buying the service.
FAQs Related To Rocket.net Hostign Reviews
👉What is WP Rocket Hosting?
WP Rocket Hosting is a fast, reliable hosting service dedicated to providing WordPress website owners with an efficient hosting option.
👉 What are the payment methods available to pay for the hosting?
The site uses Stripe and PayPal as their payment options. Hence, the cards working with these services are accepted here.
👉What if a WordPress update prevents the hosting from working properly?
The support team at WP Rocket Hosting constantly works towards providing updates so that these kinds of issues are not faced by the user.
Testimonials Rocket.Net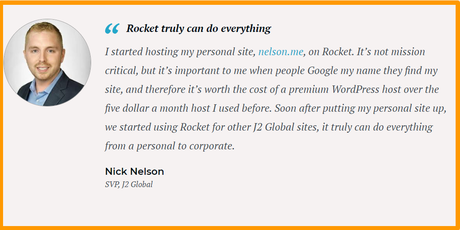 Quick Links:
Conclusion: Rocket.Net Review 2020 | Ultimate Reliable WordPress Hosting
WP Rocket Hosting is really an excellent choice when it comes to choosing a hosting for your WordPress website. However, it is not available when choosing a hosting for non-WordPress websites.
If you are looking for hosting for your WordPress site, this indeed is an option to consider.