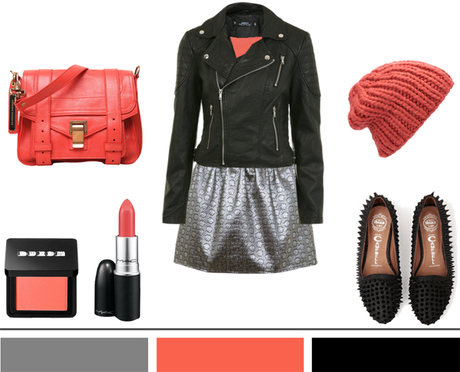 I always end up investing in a lot of dresses over the winter. Which I know seems weird, especially since I live in Wisconsin, where yesterday we experienced -20 wind chills.  And by "we" I mean the rest of the state, because I stayed in my house bundled in layers.  Anyways, when winter starts to wind down I pair my favorite dresses with jackets + flats for casual events and date nights.

Miss Selfridge Petites Biker Jacket
($91.00),
Miss Selfridge Petites Jacquard Skirt
($61.00), Digi Spike Loafer ($198.00), Bench Kerana Ribbed Beanie ($24.00), Buxom True Hue Blush in Euphoria ($24.00), MAC Lipstick in Fresh Salmon ($15.00), Proenza Schouler Cross Body Bag ($1,325.00).