There are many products in our everyday lives that we simply put up with, never considering that there might be someone out there redesigning them in a way that will make us think "how did I ever put up with the way it was?" Take, for instance, the garden hose. How often have you thought about the design flaws of that tangled, faded green snake that you've run over in the driveway too many times to count? Well, the people are Great Stuff Inc. have so they did something about it and now we have the
RoboReel
.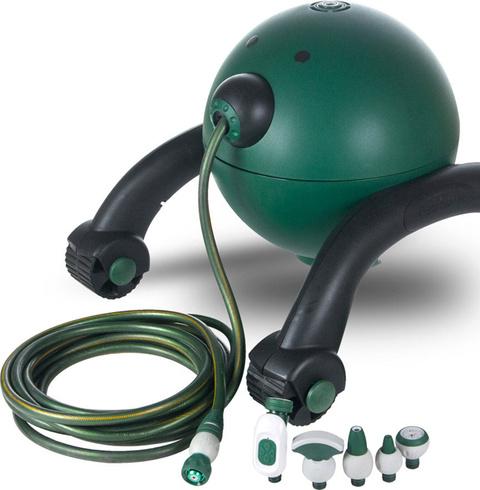 RoboReel has solved all the shortfalls of the original hose design. You never have to reach into prickly shrubs to turn the water on or off as there is a remote on the end of the hose that manages water flow and that same remote winds the hose with just the touch of a button. The water also spins 360 continuasly allowing watering in a 360 degree radius. The reel is easy to move around and has kick breaks so you never have to bedn over to set them and unlike some other reel hoses this one is built with industrial grade materials so it's going to last.
Now, as much as we all want our gardens green and lush we can't forget the environment and water conservation so RoboReel has double O-rings on all connections to prevent leaks and get this, just like the new smart technology for your home, the water will shut off automatically after one hour if the reel is not in use and the remote lets you program a timer to water for set periods of time for up to 30 days before shutting off nad winding itself up when unattended.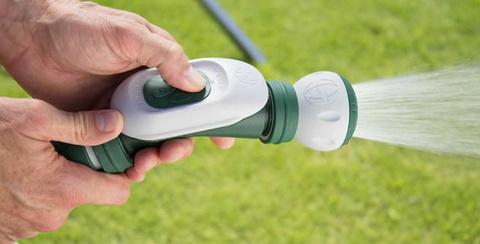 On top of being super functional and environmentaly thoughtful the RoboReel's modern and clean design means no more eyesore laying limp and lifeless in the front yard. All in all we'd say they've hit the ball out of the park in redesigning this everyday product to make a smart, modern hose that's handsome to boot.