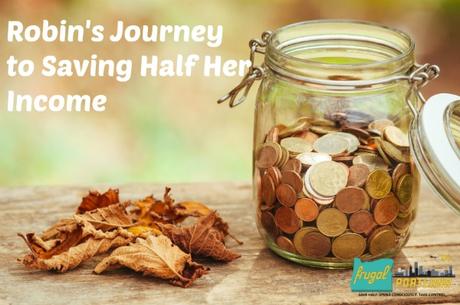 Editor's note: I am of course interested in the savings goals (and plans!) of the fine folks writing here. One of my favorite things about Robin's story is how she DIDN'T EVEN MISS HER SALARY once she started paying attention to her finances. If you get nothing else out of this story (and that's unlikely), think about Robin the next time you buy the new iGadget, pair of shoes, or even dinner out. If you're anything like Robin, you won't miss those things when you're able to save as much as you can.
Take it from here, Robin!
Our personal journey towards saving 50% of our income was clearly not something that happened overnight. I firmly believe that everyone trying to better their financial lives has to grow and move forward at their pace. Most people aren't born financially savvy, after all. It's all the mistakes made along the way that help you grow.
My journey to hard-core saving was sparked by my desire to leave my corporate job behind after I had my daughter. I had a job that I disliked, but I stayed because I was making great money. The problem was that I was also spending a lot of money, too.
I always used to say– the more money you make, the more you spend, but now that my outlook on money has changed, I've realized that it doesn't have to be this way.
My Journey
My first job out of college, I was making peanuts, but I was thankful to have a job, and I was surviving just fine. I had a lovely (shared) apartment, and I went out with my friends to (half price) wine nights regularly. I had a decent car and plenty of gas and food. I simply made do with what I had, and I was fine. I wasn't saving much, but I hardly felt deprived during that time of my life, and I was more than content with my lifestyle.
Fast forward a few years, and I found myself newly married with a cushy management position in the banking industry. I was making great money, and I felt like I had made it, but I was miserable at work.
After we had our daughter, reality smacked me in the face. We were financially responsible for another human, and we needed to live financially responsible lives in order to ensure her comfort and to teach her from a young age about the importance of managing finances.
We began to toy around with the possibility of me becoming a stay at home mom, so with that prospect on the horizon, we started making some calculated financial decisions to see if we could commit to being a one-income family. We started trying to live off of one income to see if we could manage, and before we knew it, we had sizable savings set aside, to the tune of one year's worth of living expenses.
That made the decision easy at that point, and I quit my job to stay at home and pursue other interests.
That experience was a huge turning point in our lives, and it has completely changed our outlook on money. I knew that I wanted to make this work for my family, and I didn't want to have to touch that emergency fund, so I started reducing expenses like crazy– eating out, trips to Target, grocery bills– you name it. If it was an expense, it was on the chopping block. I then realized that even though I had lost a sizable salary, I was really good at curbing our spending, so much so that we didn't even notice a change in our lifestyle after I left my job.
Game on.
We continued to save hardcore after I quit, and then it just became easy after that, almost a no-brainer. Learning to save money, for us, was like learning any other habit. Once you do it for a while, it becomes the norm, and you can't imagine going back to your old ways. Watching your assets grow becomes addictive, and we began to get excited to talk about how we could save our money as opposed to spending it.
So with this newly formed habit of ours, we got another crazy idea– let's pay off our mortgage while we're at it! It's a lofty, but very worth endeavor, so we started throwing all of our extra income at our mortgage. The fact that we manage to save so much and have such a sizable emergency savings set aside makes this possibility a reality to us, and it's all we can think about. Talk about a worthy obsession!
Some couples get excited over shiny new cars and lavish, all-inclusive vacations. But us? We now dream wistfully of a financially free future and whisper sweet nothings of the amount of our mortgage payoff to each other.
It's way sexier than it sounds!
So today, part of our income is funneled to our retirement account, then a chunk goes to our savings account, part is deposited to our checking account where we keep money for our expenses, and all the extra income is thrown at our mortgage. We consider ourselves lucky, yes, but we've also made a lot of good, intentional moves with our finances in the last few years.
Don't get me wrong, though– getting there wasn't always easy-breezy. It comes with its challenges, but it is so worth it.
Surviving on a Variable Income
Let me go ahead and assure you that we are not making boat loads of money over here, especially since we no longer have my salary. One of our biggest challenges, and the reason I wanted such a sizable emergency fund before I would quit my job is that my husband is on a commission-only income.
Let me tell you, it can be very intimidating not knowing from month to month what your paycheck is going to be. Sometimes we might miss an entire paycheck if he has a slow month, but those are (luckily) few and far between. When those occasions do arise, we know that we will need to stretch our budget for the following month (and possibly not make it to our goal of 50% savings.) If we don't manage to hit 50% for a particularly slow month, we don't beat ourselves up about it. We acknowledge it, suck it up, and remind ourselves that we will probably reach our goal next month. Sometimes you have to give yourself a break.
Frugality is Not About Deprivation
Many people tend to associate frugality with deprivation, and that's simply not true, at least not for us. Saving heavily and reducing our expenses has served to enhance our lives, and we are much happier because of it. We had grown to realize that those expenses that we spent so frivolously on before didn't enhance our lives or make us any happier. We don't miss driving new cars, eating out every night, or the ridiculously expensive boat we used to own finance. I can't even imagine going back to blowing our money like we used to!
Learning to be frugal and finding new ways to save money allowed me to leave my job, which gave me the chance to try something new (freelance writing) without worrying about the amount of my salary. Talk about freeing. None of that would even be a remote possibility if we were still strapped with debt from a lifestyle we couldn't afford, turning a blind eye on our mindless spending.
I learned that being able to buy more goods– new cars, tchotchkes from Target, a bigger house– was not enough incentive to keep me away from my daughter to go work at a job that I disliked. That's not living.
Money is a tool to be used for freedom, and freedom is absolutely priceless.