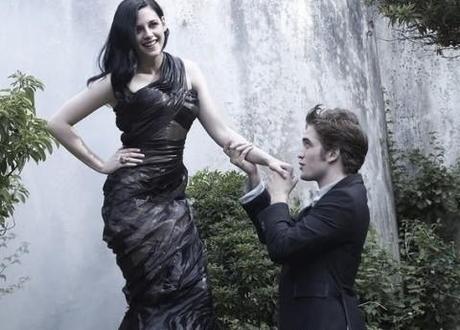 It wasn't Jacob who came between them: Kristen Stewart apologises for cheatingon Robert Pattinson.
The background
Robert Pattinson has reportedly moved out of the Los Angeles home he shared with Kristen Stewart after the actress publicly apologized for having an affair with a married British director. And Twilight fans are not taking it well.
The actor, 26, best known for playing Edward Cullen, the romantic "vegetarian" vampire of the Twilight saga, is reportedly deeply hurt by Stewart, 22, who plays his on-screen wife, Bella, and insiders say the couple may not recover. Stewart issued a public apology this week acknowledging the affair with Snow White and the Huntsman director Rupert Sanders. Sanders, 41, is married and is the father of two children. She was forced to make the statement after photos of the two kissing and cuddling in her car surfaced, according to The Telegraph.
But hell hath no fury like a Twihard scorned and Stewart is facing a social media lambasting from all angles.
Batten down the hatches
"Prepare yourselves, folks," declared celebrity blogger Perez Hilton with glee. "The Twi-pocalypse has arrived EARLY!" The Twilight fanbase "imploded" at the news and took to Twitter, he reported, to air its grievances. Judged Hilton, "[T]he anger – and HIGHlarity – is being directed all over the place!" He continued, "YEESH! And yet something tells us only this is only the beginning! In the immortal words of Catwoman in The Dark Knight Rises, 'There is a storm coming…' And that storm is going to be filled with A LOT of sparkly vampire TEARS!"
Lady Gaga defends KStew
Pop queen Lady Gaga tweeted to Stewart's defense, "Geez this kirstew rob stuff is brutal. Makes me sad the way press acts," adding, "Hope they're ok," referring to the couple. Maybe not: Pattinson has remained mom on the subject, despite Stewart's public declaration that she loves him. Gina Serpe, writing at E! Online noted, "Time will tell if he offers her forgiveness. Meantime, at least she's got one famous shoulder to cry on."
Can this relationship be saved?
Doesn't look like it, experts say. No, really, experts: Leslie Gornstein at E! Online spoke to Dr. Gilda Carle, a "relationship specialist and psychotherapist who works with celebrity clientele". Carle said that at 22 years old, Stewart is too immature and doesn't belong in a committed relationship. "She's been in a committed relationship for 4 years—much too young to making a commitment. She's a child. She did this very public thing with director in order to be found out. It was self-sabotage."
Tears of a Twihard
Waaaah! I can't believe Bella cheated on Edward! Soooooo sad!

— Anne Curtis-Smith (@annecurtissmith) July 27, 2012
This fan is clearly devastated by the news.
Of course, not everyone is particularly heartbroken or sympathetic
Unfortunately Kristen Stewart can't show she's sorry for cheating on Robert Pattinson because she has no facial expressions… — Goblet Of Tweets ϟ (@GobletOfTweets) July 25, 2012
I'm not surprised Kristen Stewart couldn't act faithful. She can't act happy, sad, frightened, mad, shocked or aroused either. — Katie Dawson Lynch. (@EternalKatie) July 27, 2012
Robert Pattinson needs some alone time to heal. Alone with his mirror. — John Podhoretz (@jpodhoretz) July 27, 2012
Kristen Stewart apologizes for cheating on Robert Pattinson. Both of them should apologize for Twilight.

— Professional Heckler (@HecklerForever) July 27, 2012