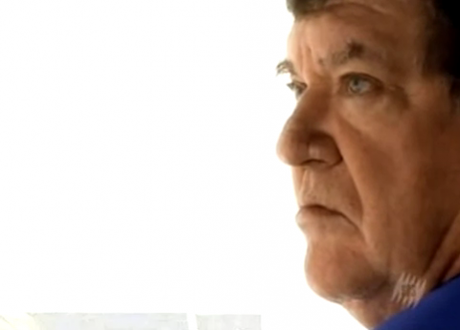 Art critic Robert Hughes in The Shock of the New.
The background
Robert Hughes, the art critic, died this week at the Calvary Hospital in the Bronx, New York, at the age of 74, after a long illness. He was most famous for The Shock of the New, a television series and book which followed art from the Impressionists to Andy Warhol. It garnered 25 million viewers when it was shown on the BBC and PBS. He was described, by Robert S Boynton, as "the most famous art critic in the world." He also wrote over a dozen books, including The Fatal Shore (1987), a history of Australia, though he'd left the country in the Sixties. He had a near-fatal car crash in 1999, which left him with health issues. He was driving on the wrong side of the road, and crashed into another car – whose occupants he described as "low life scum." This did not make him popular in Australia.
He was born in 1938, in Sydney, into a family of lawyers; his father was a flying ace in World War I, and died when Robert was 12. He studied art and architecture at the University of Sydney, associating with such figures as Germaine Greer and Clive James. He enjoyed the London of the Sixties, and married three times; he lived out his years in America, where he was Time magazine's art critic. He occasionally attended parties with a cockatoo on his shoulder.  Obituaries are celebrating the life of a critic who pulled no punches; a Renaissance man and a bon viveur.
"[Jeff] Koons is the baby to Andy Warhol's Rosemary." Robert Hughes, quoted on The New York Times.
Robert Hughes was Australia's Dante
Hughes' friend Peter Carey wrote about him in The Guardian: he may, in Britain, have been "happy to seem the descendant of an Irish policeman", said Carey; in Australia, they knew he grew up "in a fancy house." He was no "Irish pub brawler", but a "patrician." He was also "unashamedly elitist", yet kept his Australian "eye for bullshit." When Australia, after his car crash, turned on him, he "suffered in private." But this was the man "who had shown us who we were." Hughes was "our Dante." We cast him out to our shame, and now "we have missed our last chance to tell him that we loved him."
Hughes was the 20th century's Huck Finn, but he was also flawed
He certainly gave off the image of a "street-brawler", said Judith Flanders in The Telegraph – he loved "leather jackets." He "had no patience with restraint, or charm." He demanded "engagement", and thus was "thrilling to read," especially watching him "lash out, devastating the wastrels and slackers." He understood the role of a critic, and conveyed brilliantly the ebullience of early 19th century art. Despite being Australian, he was an American in spirit – the "20th century's Huck Finn." He was often "obnoxious", said Mark Hudson in The Telegraph, and was "flawed." But he may be the only art critic "who mattered." He had a television authority like no other, the "gerontian nemesis of all that was facile and fraudulent." Whilst the jury may be out on his significance as a writer and critic, there's no doubt that nobody else "comes remotely close to stepping into his shoes."
"He was elitist when it came to evaluating art but he was absolutely egalitarian when it came to communicating why certain works mattered," said Catharine Lumy, quoted on The Independent.
Hughes knew when to praise and when not to
Randy Kennedy in The New York Times said Hughes had a "Hemingwayesque build" and was a "traditionalist scourge." Kennedy commended Hughes' ability to praise artists when they met their expectations as much as his tendency to get angry when they didn't. He didn't necessarily approve of Andy Warhol, arguing that his "corrosive shadow … ultimately did more harm than good." He admired Lucian Freud; but, said Kathy Marks on The Independent, he hated "conceptual artists such as Damien Hirst."
Hughes was one of Australia's great exports
The Independent's editorial called him "one of Australia's great exports, a world-class public intellectual." He was "forthright, acerbic, unimpressed by pretension." He hated "the shallowness of much modern art." "Robert Hughes, we will miss you."