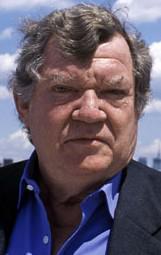 I remember him most for The Shock of the New, his evaluation of 20th century art, and The Fatal Shore, his history of the settling of his native Australia.
Hughes attended Sydney University, an architecture major, where he was academically undistinguished. In his words:
"I actually succeeded in failing first year arts, which any moderately intelligent amoeba could have passed."
A the age of 28 he wrote The Art of Australia, which he later dismissed as "juvenalia."  After its publication the popular historian Alan Moorehead advised him to go to Europe.
Hughes traveled around the great art capitals of the world, landed in London and wrote art criticism for the Sunday Times. He wrote a book called Heaven and Hell in Western Art (1969) that bombed. However, a Time magazine executive read it, and promptly hired Hughes as art critic. In 1970 he moved to Manhattan and wrote for Time for the rest of the century.