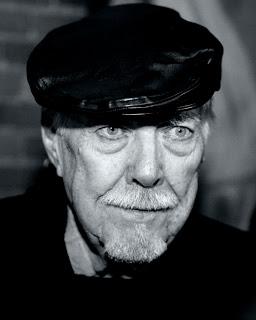 Director Robert Altman.
ROBERT ALTMAN: ECLECTIC MAVERICK
By
Alex Simon
Editor's note: This article originally appeared in the April 1999 issue of Venice Magazine.
It's the Fall of 1977 and I'm a bored and rebellious ten year old in search of a new movie to occupy my underworked and creativity-starved brain, feeling far too mature for previous favorites Wily Wonka and the Chocolate Factory (1971) and Return of the Pink Panther (1975), and wanting something more up-to-date and edgy than Chaplin's City Lights (1931). I needed a movie to call my favorite that would be symbolic of my own new-found manhood (and something that would really piss off my parents and teachers). Mom and Dad were going out for the evening, leaving me with whatever unfortunate baby-sitter happened to need the $10 badly enough to play mother hen to an obnoxiously precocious only child like myself. I scanned the TV Guide for what the evening's entertainment offered and that holiest of holy phrases in the world of the suburban 10 year-old boy caught my eye in the ad for the big Saturday Night Movie on channel 5: "Parental Discretion Advised." Praise be to God! When my parents happened to catch me looking at the ad for the movie, they very sternly said to my baby-sitter and myself: "Under no circumstances let him watch this. He's too young." That clinched it, this movie must be the coolest thing ever! The minute my parents left, the baby-sitter, Lisa, said that I could watch whatever I wanted, as long as I didn't tell my parents that her boyfriend was coming over to make out and smoke a little grass. A deal was struck. We shook on it. She smoked and smooched. I watched the movie. It was called M*A*S*H. It was directed by a guy named Robert Altman. And it changed my life.
I sought out Robert Altman's films feverishly after that. Altman's work made me aware at a very early age what the medium of cinema had the potential to do in terms of transporting the viewer to another world--that is, another very real world. Never before had I seen a film that seemed so much like real life. Instead of one central character, there were dozens. People interrupted each other, talked over one another, left thoughts and situations unfinished and unresolved. They had sex without love, exposed hypocrisy and made the hypocrites themselves pay dearly for it. People bled when they were hurt and seemed to be hurt when they bled. Everyone in a position of authority was portrayed as something of a buffoon. People seemed to move through his films without a shred of sentimentality, but instead with a weary ambivalence. No crocodile tears in sight.
Robert Altman was born February 20, 1925 in Kansas City, Missouri, the son of a successful insurance broker. Educated in Jesuit schools, Altman served as a bomber pilot in WW II, and was stationed in Southern California during his stint with the Air Force. Following his discharge, he attended the University of Missouri, studying engineering and attempted a number of aborted business ventures, including a dog tattooing machine of his own invention. At the same time, he began writing screenplays and stories in collaboration with George W. George, with some minor success. Altman also did some extra work in the Danny Kaye classic The Secret Life of Walter Mitty (1946, look carefully for young Altman smoking a cigarette during the nightclub scene). Unable to make a go of it in Hollywood, Altman returned in 1947 to his native Kansas City and began work with the Calvin Company, a leading producer of industrial films. The Delinquents (1957), his first feature, was followed by The James Dean Story (1957), a docudrama that mapped out his intentions of using film to explore the reality behind pop culture icons.
From 1957 to 1965, Altman worked in Hollywood on a wide variety of TV programs including "Combat," "Alfred Hitchcock Presents," and "Bonanza;" his resistance to conformity, however, delayed his progression into feature filmmaking for another decade. Countdown (1968) and That Cold Day in the Park (1969) garnered some critical attention, but Altman's career took a dramatic turn with M*A*S*H (1970), a box-office and critical smash which won the Palme d'Or at Cannes. Success led him to form his own Lion's Gate production company—complete with state-of-the-art editing and sound recording facilities—where the creative process was once described as "controlled chaos."
Altman's ensuing films, Brewster McCloud (1970), McCabe and Mrs. Miller (1971), Images (1972), The Long Goodbye (1973) and Thieves Like Us (1974), added to his reputation as an artist, but were all disappointments at the box office (most are available on video, and are highly recommended!). They also demonstrated his interest, doubtless nurtured during his restless TV days, in revising genre conventions, hence the downbeat turns of the grim yet humorous Western McCabe, and the oddly relaxed quality of his excursion into noir with The Long Goodbye.
Nashville (1975), though, won back the audience, was nominated for several Oscars, and invariably appears on critics' "Best of the 1970s" lists for its layered narrative, breezy character treatment and witty music. Technically, the film was perhaps most remarkable for its dense, multi-track sound, which enabled Altman to subtly merge a diverse and often satirical group of stories set in the world of country music and contemporary politics. The accolades stopped with the still underrated Buffalo Bill and the Indians, or Sitting Bull's History Lesson (1976), Altman's bicentennial film, which explored the marketing of American history. His feud with producer Dino De Laurentiis over its editing led to his dismissal from Ragtime(1981), eventually directed by Milos Forman.
Altman debuted as a producer with Welcome to L.A. (1977), by his protégé Alan Rudolph, and The Late Show (1977), by screenwriter Robert Benton, both films echoing his fondness for quirky characters and situations. Altman's own directorial style continued to evolve and diversify with 3 Women (1977), which won Shelley Duvall the best actress prize at Cannes, the freewheeling satire A Wedding (1978) and Quintet (1979), an obscurely poetic film set in a snowbound post-apocalyptic world. Two comedies of this period, the offbeat romance A Perfect Couple and H.E.A.L.T.H. (both 1979) were not widely seen. His final Lion's Gate film, Popeye (1980), was a curious cartoon recreation that, like all Altman films, has its champions and its detractors.
In 1981, Altman sold Lion's Gate and turned his attention to the theater. He staged and then filmed the drama Come Back to the Five and Dime, Jimmy Dean, Jimmy Dean (1982); Secret Honor (1984) portrayed Richard Nixon (Philip Baker Hall) delivering an "mea culpa" monologue; and Streamers (1983), a film of David Rabe's play about stateside barracks life in the early days of the Vietnam War, garnered some critical support and a Venice Film Festival award for its ensemble cast. Paradoxically, Altman returned to carving a niche in the small screen, working on several made-for-TV productions including The Caine Mutiny Court-Martial (1988) and Tanner '88 (1988).
Treading water as a film director for much of the 80s, Altman helmed such little-seen misfires as Beyond Therapy and O.C. & Stiggs (both 1987) before regaining critical attention with his handsomely filmed, quietly intense portrait of the Van Gogh brothers, Vincent & Theo (1990). He followed up with his most acclaimed film in years and one of his most commercially successful ever, The Player (1992), a bravura, scathingly satirical look at Hollywood opportunism that reunited Altman's restless camera stylistics with his ironic take on popular culture. Short Cuts (1993), meanwhile, suggested a return to the collage of portraits from Nashville, as 22 actors in nine different tales enacted Altman's take on writer Raymond Carver's stories of families and marital problems in a darkly rendered vision of Southern California life. Altman continued in a lighter but similar panoramic vein with Ready to Wear/Pret à Porter (1994), as another highly varied collection of current and past stars and character players enacted roles in a satirical look at the world of couture fashion during the Paris shows. Altman followed this with Kansas City (1996), a homage to his hometown and the 1930's subculture of jazz and gangsters, and an adaptation of John Grisham's bestseller The Gingerbread Man (1998) starring Kenneth Branagh.
Altman's latest, his 35th film, is the delicious black comedy Cookie's Fortune, a southern fried treat that tells the serpentine story of what happens in tiny Holly Springs, Mississippi when town matriarch Jewel Mae "Cookie" Orcutt (Patricia Neal) is found dead from a gunshot wound. Everyone from the inept local authorities (Ned Beatty, Chris O'Donnell) to Cookie's estranged nieces (Glenn Close and Julianne Moore, both brilliant), to her handyman and best pal (Charles S. Dutton) try to unravel the mystery, with delightful chaos ensuing. The screenplay by Anne Rapp is a delightful mix of William Faulkner-esque southern eccentricities and homespun humor, and the film itself resonates with auteur Altman's own distinctive signature, as always. The October Films release also stars Liv Tyler, Donald Moffat, and Lyle Lovett and is being released in Los Angeles April 3.
In person, Robert Altman is as genuine a person as the characters in his films, exuding the boundless energy of someone decades younger than his 74 years. Mr. Altman sat down recently with us to talk about Cookie's Fortune, his other legendary films, and the rich life he has led as one of the world's premiere filmmakers.
This film, like all your work, can be categorized into a genre on the surface, but still retains your very distinctive style. What was it that drew you to Cookie's Fortune?
Robert Altman: Anne Rapp, who wrote it, has been under contract to me and we developed it together. She's from the south, from Texas, and is writing my next film as well. It's called Dr. T and the Women, about a gynecologist who's pussy-whipped (laughs). It's a Texas story. Anne is very good at this type of story.
Your work seems to have a very specific painterly influence, with your fluid camera, as well as a strong literary influence with your John Dos Passos-style ensemble of colorful characters.
I'm sure I've been influenced in both areas (by different artists), but with the multi-character thing, mainly what I'm trying to do is make the story dense, fill the corners, rather than deal with just one or two characters. The problem is, of course, to really get the most out of it, you've got to see these pictures a couple of times. With Cookie's Fortune, for example, on the first viewing it's a whodunit. You want to know who's responsible for the mysteries that unfold. Then the next time you see it you know all those questions and you can then deal with all the details. But you can't ask audiences to do that, especially nowadays. Although I think it's always been like that. It's a shame that anything that's complicated seems to turn many audiences off, but I don't know how to do it any other way.
You've always done that, though. Even as far back as The James Dean Story, which was also very dense with characters.
Yeah, George W. George and I did that together, shot it, edited it...The thing I think that made that film interesting was the way still photos were used.
And that style is still being used on news magazine shows and in documentary films today.
Yes, that's true.
Let's talk about your early TV work. I just saw your famous episode of Combat, where Vic Morrow surrenders to the dead German soldier. It's now regarded as one of the greatest episodes of television ever. Is it true that doing that controversial episode got you fired?
(laughs) Yeah.
It sounds like you've always had a maverick sensibility.
Well, that's what I've been labeled as, but I certainly don't think of myself that way. What happened with Combat was I produced the episodes that I did, and really liked those. The executive producer at the network turned the script down flat, said it would stir up too much controversy. He went out of town one week and I said "to hell with it," and just went ahead and did it while he was gone. He came back, found out, and fired me. And it turned out to be the show's premiere episode. I think it was nominated for an Emmy.
I've also always loved the ambiguity of the endings in many of your films, especially in Cookie's Fortune. We never know whether (a certain character) is aware of what they did or not.
Yeah, and I'm still not sure myself. Sometimes I think they knew exactly what they were doing, other times I don't. I don't know the answer, so how can I tell you?
In many ways Cookie's Fortune could be looked at as the portrait of a culture war--the old south ways grappling with more up-to-date values.
In many ways it's a comment on the culture that exists, especially the notion of family pride. And it's true, suicide in those small communities is considered a disgrace. And most suicides, and this is true in all cultures, which are done in a reasonable way, like taking pills or putting a pillow over your face, many family members don't know that the person has committed suicide. It's kept hidden...the old south values are colliding and disappearing every year. The population of the town, Holly Springs, where we shot the film, is 50% black and 50% white. There's no racial problems there, but there's also no mix. It's silent. The chief of police is black. The mayor is black. But I had a situation there where I had a knee problem, and I called this woman who was our sort of coordinator and contact to the city, and I said "I need a doctor. Do you have anyone you could recommend to me?" The lady said (southern accent) "Well...there's two doctors, and they're both very good, I hear. Either one would be good." I said "Could you recommend one?" She said "Well...one of them is black, and the other one is white." And I said "Well, could you recommend one, please?" She said "Well...that would be your preference." Finally I said "Who's closer?" (laughs) It's amazing that that's still there, and I guess it always will be.
You grew up in the midwest. How did you fall in love with film?
I don't know, I just did. I went into the Air Force when I was barely 18 and started writing when I was overseas. Long letters to my family members...I had a cousin who worked in Hollywood as a secretary to a big agent, and I was pretty impressed with all that. I was stationed here at March Field before I went overseas, and just ate all that up. I thought all those beautiful starlets were just delicious, you know? (laughs) That's what really attracted me.
How did you get that bit part in Walter Mitty?
The director, Norman McLeod, was a friend of my dad's. I was paid as an extra. It was fun.
Where did you see your action during WW II and how did it affect you?
I flew B-24's in the South Pacific, Borneo. I don't know what affect it had on me. I didn't think about it very much. I flew 40 some-odd missions...I got out, was stationed at March Field in Riverside and got a taste of the glamour of it all, more than anything else. Then I started doing writing for the radio. I was a big fan of radio. Norman Corwin was my big hero then. He was a great artist. Radio, after the war, of course, lasted about six years, then television came along and dumbed it all down to zero. Then I went back to Kansas City and got a job with an industrial films company for a few years. I was always pushing toward setting up dramatic scenes in those, things like that.
Is there any one film you saw as a kid that made you say "this is what I have to do with my life"?
Yeah, there were a couple. But the film that, I think, changed my attitude and showed me what film was, was David Lean's Brief Encounter (1945). Before that, films were all flash and action, pussy, and all that stuff. I remember seeing Brief Encounter here, somewhere in the Melrose/Fairfax area, and leaving the theater and just walking for blocks, and blocks. Lean really opened up the medium. The British films of that time were the best. Then later, Kazan did it here, in the theater first, then brought that sensibility to film, the naturalism in the acting. I was influenced by all those kinds of films and consequently my films, I guess, reflect that. I'm the last person who really knows what it is my films do. Most of this stuff is just instinctual and I don't pay much attention to it. I don't know and I don't really want to know. I find myself during the last 30 years of having a lot of accolades and so forth, and I'll be on the set and asking myself "Wait a minute, am I doing this because this is what the critics expect me to do? Am I trying to follow that, or am I dealing with this honestly?" And it's very difficult. You tend to believe your own publicity. It's hard not to, because it's very pleasant. Suddenly you're the expert and you begin to believe it. And that's very destructive.
Is the only way to balance that out to stumble a few times?
I think you just have to keep working, which I have. There's not a filmmaker who's ever lived who's had a better shake than I have. I've never been without a project since I started. And they've all been things of my own choosing. A lot of times I've been offered things that initially I think are awful, but then after taking some time, I think I see something. Nashville, for example, was a dreadful script. But I had been working on a project for several years called The Chicken and the Hawk, about WW I fliers. But I saw in Nashville and in M*A*S*H something where I could to an ensemble piece and not have to zero in on "stars." So much so, that Elliot Gould and Donald Sutherland halfway through shooting (M*A*S*H) went to the studio and tried to get me fired, saying I was paying more attention to the extras than I was to them. And they were right! I never knew about that until years later. Had I known, it would have broken my heart. Gould is the one who told me about it. I offered him the lead in McCabe and he turned me down. Then after he saw McCabe he came to me and said "Listen, I have to tell you something..." and told me the whole story.
Even in your first feature, Countdown, you used an ensemble.
Yeah. I had been very comfortable in television. I had been offered features before, but most of the scripts were just dreadful, dreadful things. I wasn't going to do a feature until I found the right one. But I had read this book by Hank Searls called "The Pilgrim Project," about the first moon mission...Warner Brothers at that time had a program for doing films for around $1 million, or under. Bill Conrad (TV's Cannon) was the executive producer and he offered it to me. Normally I would have turned it down, but I loved the book so much.
I also heard the studio cut about half an hour from your version. True?
I don't know. I doubt it was a half hour, but they did change the ending. Jack Warner had been in Europe the whole time I was making the film. He returned just when I'd finished the final day's shooting. I got a call saying "Don't come in the studio tomorrow. Warner's seen your footage and he's barred you from the lot." I said "Well I have my cut, per the Director's Guild rules. I get to do that." The guy said "Even if you do that, he'll just recut it anyway. Don't bother." So I went to the studio, and sure enough, they wouldn't let me in, and they had all the stuff from my desk sitting outside in this cardboard box...the original ending had James Caan going off in a direction on the moon, using his son's toy mouse for a compass. As he was going off, the camera pans back and you see the shelter in the opposite direction. So you know that he missed it. No happy ending.
M*A*S*H was really the first film to address what was happening in Vietnam, even though it was set during the Korean war.
Yeah, and I did everything I could to hide the fact that it took place in Korea. They made me put that legend (Gen. MacArthur's speech) at the beginning so that people knew it was Korea. Most people missed it, but in our minds, it was all about Vietnam.
Almost all of M*A*S*H was shot right here on the Fox ranch, right?
All of it was shot here. There had been, on the Fox ranch, a dreadful fire and some floods that went through that place. When we went out to look out it, it was really virgin material, with all the vegetation coming in. Before that there had been pieces of tracks, and old sets, shit like that all over the place. They were willing to send us far away on location to shoot it, but we shot it all here and it worked out well.
You got a lot of high-profile offers after the success of M*A*S*H, but you chose the quirky and offbeat Brewster McCloud as your next film.
Yeah. I thought it just a really crazy, interesting story. All these things are really capricious, you know. It's all about how you feel at the time...and unfortunately Brewster was released the same year as M*A*S*H was (1970), M*A*S*H in January and Brewster in December. And I remember MGM just threw Brewster away. A new studio chief had just come in. I don't think it ever would have been a mainstream success anyway. It was just too bizarre.
With McCabe & Mrs. Miller, you re-thought the western. Many experts on the period site it as the first film to capture the old west as it really was.
Yeah. All those people in the west were first generation Europeans. They didn't have that Texas drawl. Most of them spoke with Irish, Italian, German accents. They carried their own stuff and styles with them, also. Nobody wore those big, ten gallon hats! The thing that really gave me the kick-off on how to do McCabe, because the book had all these classic elements of the western: the hero, the whore with the heart of gold, the three gunslinger villains...so I knew that people would pay attention to that, then I could pay attention to the detailing. The genesis of all that was the logic of how much a photographic plate cost in those days. You didn't have instamatic cameras with guys running around taking 40 pictures back then. Photographic plates were glass negatives, and very expensive, so nobody wasted what went into them. So in the book, you'd see pictures of this cowboy with this huge hat on. What happened was, a cowboy would wear this sort of hat on purpose, to get noticed by a photographer, so they'd take his picture! So when all the classic westerns were made, this is what the makers used as reference, never thinking for moment that it was very rare. So that's the premise that we used.
What struck me about it as a kid was the grubbiness of it, how all the people looked like they smelled, had bad skin, like they had head lice and bad teeth. No John Wayne with capped teeth in sight.
I got Warren (Beatty) to go as far as to put a gold tooth in. Leon Erickson, who was our production designer, was up in Vancouver with us building the town. It was all done organically, being built as we shot it. I shot it in sequence. Warren came up for a visit. Leon was there, looked at his teeth and said "You know, we've got to put some stuff on there and dirty those teeth up. Nobody looked like that back then." Of course Warren was horrified at this prospect, called me back later and said "I'll wear a gold tooth up front, but that's it. That oughta satisfy your friend." (laughs)
Let's talk about Images, which is a very overlooked film. I have an interesting story about this. Phil Ochs, who was a famous folk singer in the 60's, went to see Images with a friend of mine. Halfway through the film, when it's still not quite clear what Susannah York's visions are all about, Phil turned to my friend and said "I get it now. This chick's gonna kill herself." And three years later, Phil committed suicide. I can't think of any other film before or since that's captured the psychology of a suicidal mind so vividly.
That's very interesting, I didn't know about that. I like that movie a lot. (Susannah York's) character was going through all that, and the images that she kept seeing led to that confrontation with herself. So I think we did succeed in capturing that psychology. The only thing that dates it is that goddamned wardrobe, with the boots and the mini-skirts, all those Carnaby Street fashions. Susannah York did her own wardrobe, and again, that's the only thing that I don't like about the film today. The clothes just date it so badly.
Nashville remains one of your signature films and doesn't seem dated at all today.
We're coming up on its 25th anniversary. We're hoping to get it re-released theatrically and on to DVD, but the trouble with doing that with so many of these pictures is that it's hard to find out who really owns them now. They don't even know themselves. We've chased Nashville down to get new prints made for the year 2000, and we couldn't figure out who the fuck owned it! We finally figured out that the real owner is Disney because they own ABC...but with most of my films it's very difficult. Many of these executives at the studios don't know that these films of mine ever existed, let alone do they know that they own them!
Was Nashville a difficult shoot? I'm thinking especially of the freeway scene.
It took seven weeks to shoot. I did a lot of set-ups each day, but it wasn't a terribly tough shoot overall, no. Quintet and The Gingerbread Man were probably the toughest just because of the weather we had to deal with.
Quintet is another film that was overlooked.
It was very badly distributed, and received even worse. People just think it was junk. As was Popeye. Oddly enough, more eyes have seen Popeye than any of my films, because it's been used as a baby-sitter for 15, nearly 20 years.
The question is, are you happy with them?
Oh of course, all of them. But that really doesn't matter to me. I don't think there's one person who can look at my films and say "I love them all." But I have to like them all, or I wouldn't have done them.
You tend to work fairly quickly. What's your average shooting schedule?
40-45 days. Cookie I shot in 36 days, but I've never worked so many hours on a film before, ever. Nashville was shot for under $2 million. I didn't have an art director. I just used two cameras and shot it.
I noticed a lot of your films are family affairs: your son Stephen is your production designer...
Yes, I have another son who's a camera operator. My youngest son Matthew works in the art department, props and set-ups.
And your grandson played Swea-Pea in Popeye, right?
Yes. He's now in his second year at the University of Michigan.
The Long Goodbye is dedicated to Dan Blocker (Hoss on Bonanza).
Dan was supposed to play the Sterling Hayden part, then died right before we started shooting. I canceled the picture. I wasn't going to do it. This agent calls me the day after Dan dies, saying "I've got the perfect guy for the part." Disgusted, I said "Don't even tell me his name!" and I hung up. Then John Huston was going to play the part, and I agreed to start the picture again. Then John got sick and couldn't do it. Then that agent called back, and told me about Sterling Hayden. By that time I had already started shooting the picture, so we went with Sterling. And I'm glad we did.
I think The Long Goodbye would be a great double-bill with The Player, because both pay homage to Hollywood in different ways.
Absolutely. In the beginning of The Player we had the opening shot from Touch of Evil (1958) and in the end of The Long Goodbye we had the end shot from The Third Man (1949).
I also loved the fact that you changed the ending from the one in the book. Every time I've seen The Long Goodbye with an audience, there's nearly a standing ovation when Terry gets his comeuppance from Phillip Marlowe.
That wasn't in the novel, but it was in the script that Leigh Brackett wrote. I said "I'll do this picture, but I want it in writing that nobody will change this ending, otherwise I won't do it." I remember one of the first screenings we had of it, there was this publicity woman who brought her sister with her, they were both little old ladies, and the sister came up to me and said "Oh Mr. Altman, that was such a wonderful film, but tell me, isn't (Marlowe) going to get in trouble for that?" (laughs) She was so concerned...
Tell us about Leigh Brackett (screenwriter of The Big Sleep (1946), Rio Bravo (1959) among others). Not much is known about her.
I never got to know her that well. We had kind of a mutual admiration going on. U.A. wanted me to do her script of The Long Goodbye with Elliot (Gould). They didn't want me to use Nina Van Pallandt, but they gave in after I shot some tests with her. Sterling Hayden was great, though. He was stoned all the time, drunk all the time. As a young man, at 20 or 21, he was the best merchant captain in the world. He'd run those routes and would drive his crew so hard...but he made all those routes on schedule. Then he was discovered for the movies, met Madeleine Carroll (The 39 Steps), who was 10 years older than he was, and they got married...he was really remarkable. I was very fond of him. Remember the party scene where Henry Gibson comes up and slaps him? I was actually living in that house where we shot. Sterling lived in an apartment three doors away on the beach. He would just walk to work. The wardrobe he wore in the film was just the clothes he happened to wear to work that day. Anyhow, he'd gotten drunk the night before we were going to shoot the party scene. The next day he showed up, carrying a bottle of scotch. Henry Gibson was scared to death of slapping him, because Henry's this little guy and Sterling was this giant, 6'5, 225 pounds. Sterling just started improvising through the whole thing "You little albino prick..." (laughs) just letting him have it. He had a little Irish cap on that he always wore. We had two cameras on it and it was going well, but then I looked down and noticed how badly Henry's hand was shaking. I said "Henry, there's only one way to do this: you've got to hit him as hard as you fucking can. You're not going to hurt him, and he's too drunk to know it, anyway. Just let him have it." And he did, in such a way that Sterling's hat went off of his head, turned around and came back on his head, and the bill was now facing backward, and that was in the shot. Then he takes the scotch bottle, and slams it down on this redwood table. That thick glass bottle of Johnny Walker just disintegrated! Just disappeared! Nobody was even hurt because it was just powder! I've never seen anything like it. He went into the house, flopped down on the couch. I had two angles on him, one master shot. I went in and said "Sterling?" He went "Aarrgghhh!!!" and he hit me (on the arm)! I said "Sterling we've got to do this again. Can you do it again?" He said "Aaargh, you fuckin' son of a...aarrggh!!" So he gets up and I use a tighter lens to shoot the close ups. He was saying not the same things, but kind of the same things. So Henry hits him again, only this time, the hat doesn't turn around. So I'm thinking "Oh, shit!" Now Sterling's playing the scene with a wine bottle, made of breakaway glass, because we weren't going to see the bottle in this shot. I said "Just throw the bottle on the table, otherwise you're going to hurt somebody." I knew by that time he was completely drunk. So we do the scene again. Henry slaps him. The hat doesn't turn around again. I thought "Shit, I'm dead." Sterling smashes the bottle, turns around, and turns his hat around with his hand, and played the rest of the scene like that. How he remembered, I don't know. He went back inside and passed out on the couch, and we shot the rest of the day without him. The next day, it was a Saturday, I think, and we weren't working. I woke up late and he was down having coffee with my wife. I came down, he walks up and says "Bob, I'm so sorry. You can have my whole salary. I'm sorry for not showing up yesterday. I'll repay whatever it cost you." He didn't remember that he'd done the scene the day before! He did the whole thing in a blackout! I said "Sterling, you showed up," and we had to show him the dailies before he'd believe me. Something in his instincts kept him going.
Tell us about adapting stage works such as Jimmy Dean and Streamers for the screen.
When I did the play Jimmy Dean, we did 60 some-odd performances, but (critic) Frank Rich just killed us and we had to close down. So I decided to film it with those six ladies (Sandy Dennis, Cher, Karen Black, Sudie Bond, Kathy Bates, Marta Heflin). We just put four walls on the set and did it. I loved it and got interested in that, did Streamers, Secret Honor, and Beyond Therapy, I shot in Paris, but redid it as a screenplay. That was fascinating work, opening up the medium for the screen. I did it for a couple years. With Fool for Love, I adapted the screenplay and opened up the set of the motel outside to the courtyard, but still tried to keep it claustrophobic.
The Player is considered the best Hollywood satire ever made. Tell us how you came to it.
It's not as tough in the picture as it really is in real life. These people are much uglier in real life than they were in that film. There's a lot more buck-passing that goes on. They actually came to me with The Player while I was putting Short Cuts together. The success of The Player allowed me to do Short Cuts.
How difficult was it arranging all the cameos in The Player?
Not that hard. I just got on the phone and called these people up. The big coup was when Julia (Roberts) and Bruce (Willis) agreed to do it. Julia did it because she and Tim Robbins were friends and Bruce did it because Bruce just does that kind of thing. We had a list of who could show up on what day and shot accordingly. I actually had Jeff Daniels and Patrick Swayze in a scene that didn't make the final cut (you can see it on the DVD version). Most of the people did the cameos, I think, because it made them look human. The scene where Malcolm McDowell attacks Griffin Mill in the hotel lobby, for example, or when Burt Reynolds is sitting with (critic) Charles Champlin, calls Griffin an "asshole." That was all improvised, by the way.
How much time do you rehearse before you shoot?
It depends on what is required in the rehearsals. Is it for lighting, for the prop man, for the crew, for the actors? Whatever seems to be necessary...most improvisations, unless you're doing a big scene like the church burning in McCabe, you improvise in rehearsal, and then it becomes set by the time you shoot.
Do you storyboard?
No, except for certain scenes, like when Sterling walked into the ocean in The Long Goodbye. Logistically that was complicated, so it had to be fairly well-plotted. I don't do them, but my son Steve storyboarded the whole chase on the dredger in Gingerbread Man. So I shot it that way, based on his storyboard.
Your battles with studio execs have been legendary. How would you advise young filmmakers to handle situations like that, to not let their work be compromised?
Well, I think you either fight for your child, or you don't. You also have to be prepared to suffer the consequences if you start the fight and lose.
Any advice for first-time directors?
The same advice I give my children and anybody else: never take advice from anybody! Anybody who gives you advice is giving you what they think is correct for them if they were in your position. But they're not you! And you're not them.