Oh quinoa.  When I first met you I did not know ho to pronounce you, but just like Joaquin Phoenix, I finally got it right.  If you were just a little more dedicated and kept your name leaf the whole world would rejoice in your easy pronounceable name, but just like quinoa, I finally figured you out.
This salad is a great protein packed salad, that's easy to whip up and tastes really good.   For added goodness and way more yum for your taste buds the creamy avocado dressing just makes this a show stopper.
ROASTED VEGETABLE QUINOA SALAD WITH AN AVOCADO DRESSING - serves 4-6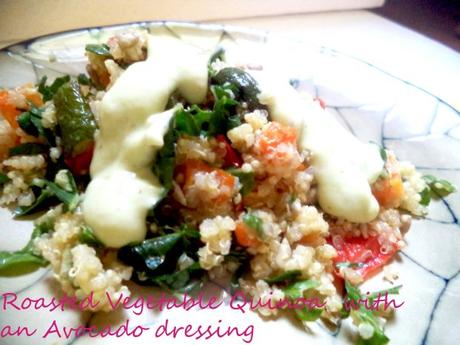 Ingredients
1 cup quinoa
2 cups vegetable stock
1 cup diced butternut
1 small zucchini , diced
1 small red pepper, diced
1 red onion diced
1 cup baby spinach, chopped
Avocado dressing
Ingredients
1 avocado,  peeled and pitted
1 small lime, juiced
1 clove garlic
3 tbsp olive oil
dash of cayenne pepper
salt and pepper to taste
Directions
Preheat oven to 180 degrees C/356 F.
In a medium sized pot add the quinoa and vegetable stock let simmer for 20 minutes until light  and fluffy.
Place the butternut, onion, zucchini and pepper on a baking sheet. Drizzle with olive oil and roast for 20 minutes, or until the vegetables are tender.  Remove from heat and let cool.
In a large serving bowl add the quinoa, vegetables and spinach. Toss.
In a blender add all the ingredients for the dressing and blend until smooth  if its to thick add a little bit of water.
Drizzle of quinoa salad and enjoy.