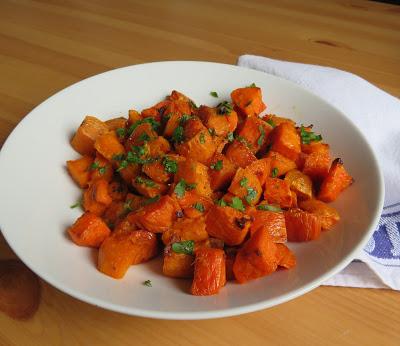 You are going to love the recipe I am sharing with you today.  Roasted Sweet Potato Salad with Lime & Honey.  Do you love sweet potatoes as much as I love sweet potatoes?  If so, then this recipe is sure to become one you will turn to frequently in the summer months!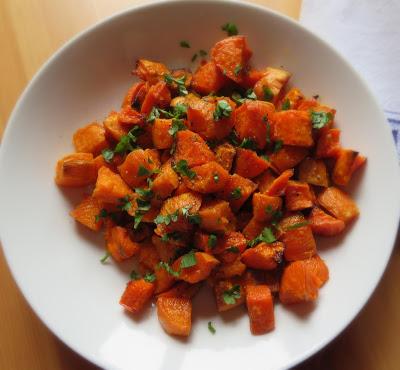 Sweet Potatoes are a wonderful vegetable.  Members of the Morning Glory family, they are an underground tuber and are filled with plenty of nutrients.  Rich in beta carotine, and high in fibre, these delicious tubers can be enjoyed boiled, baked, roasted, steamed or fried.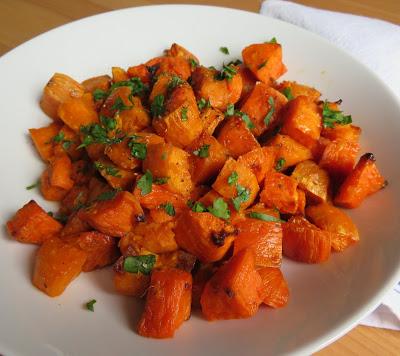 They range in colours from white to orange and everything in between.  I have not actually seen the pink, yellow, purple or white ones, but I am quite familiar with the red/orange ones both dark in color and lighter.  The ones you need to be using for this recipe today should have a dark red skin.  They have the orangest flesh and look the nicest.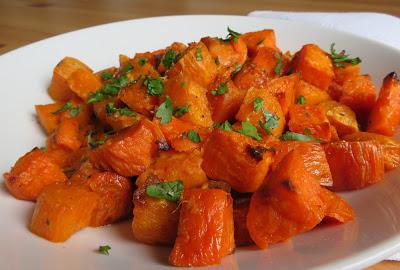 They have been called a super-food and are not at all the same as regular potatoes which come from the night shade family.   Until today I had always thought they were better for me than regular potatoes, but I have learned today that they are not really that good for Type 2 Diabetics, so I am really disappointed to read that.  *sniff *sniff*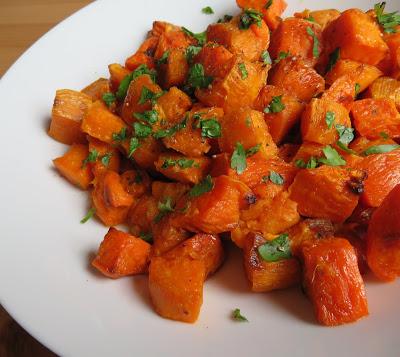 I don't know where I got the idea that they were low GI, because they definitely are not. Oh well, you learn something new every day!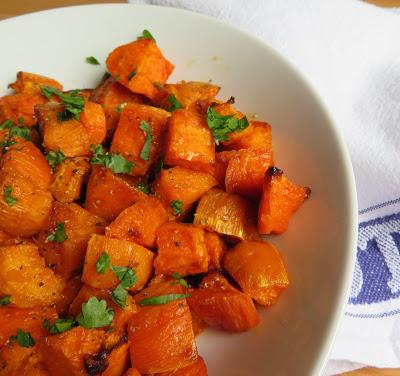 As I said, you will want to use sweet potatoes with the darker orange coloured flesh for this recipe. They will be the most attractive.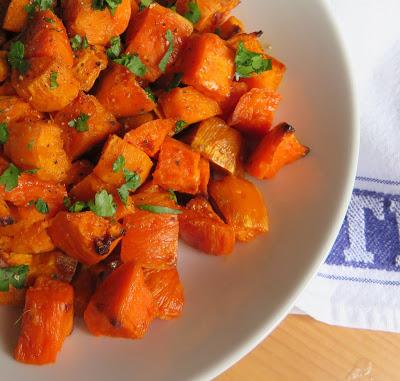 Relatively few ingredients are needed, just the sweet potatoes, some olive oil, salt, a lime, honey and some chopped coriander to garnish.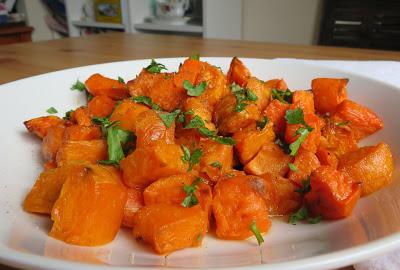 Peeled sweet potatoes are cut into 1 inch chunks and tossed together with some olive oil and salt before roasting in a very hot oven until they are fork tender and just beginning to caramelise.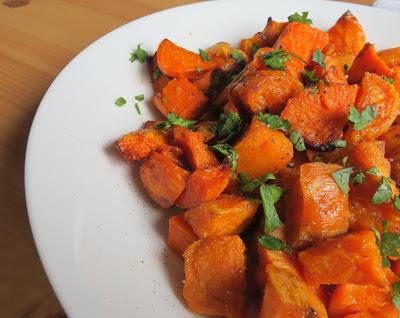 They are dressed with a simple dressing of honey, fresh lime juice and lime zest.  The flavours of this are amazing.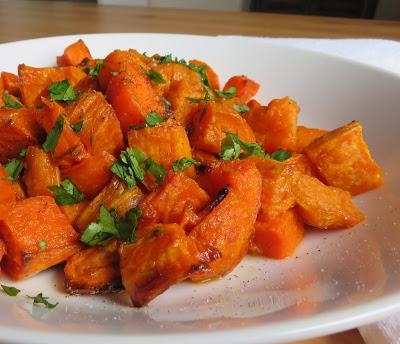 Very simple and yet delivering the perfect balance of sweet and tart . . .  I do so love lime, don't you?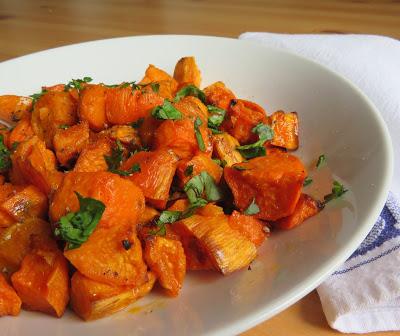 The roasted sweet potatoes are tossed lightly in this dressing and then garnished with some chopped fresh coriander leaf (cilantro). You can leave that out if you are not a fan.  Just garnish it with some chopped parsley.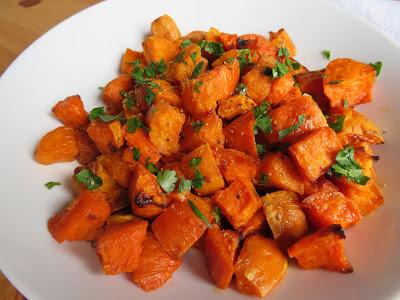 Alogether this is mighty delicious.  So simple.  Quick and easy as well.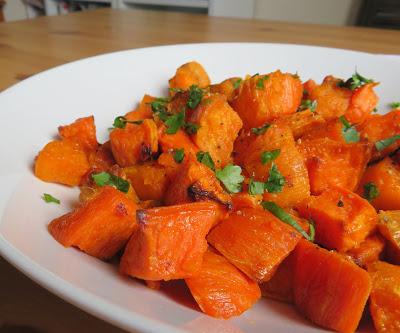 It went down a real treat with some grilled chicken and an
Avocado and Tomato Salad
.
Roasted Sweet Potato Salad with Lime & Honey
Print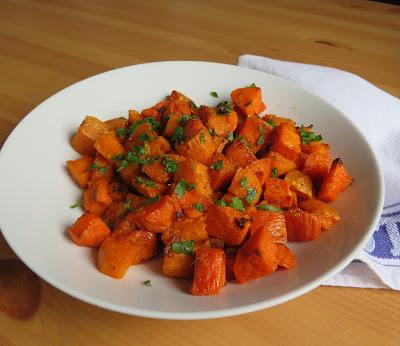 Yield:
6
Author:
Marie Rayner
Cubes of roasted sweet potatoes are dressed in a tangy sweet and beautifully balanced dressing of lime and honey
Ingredients:
3 pounds of red skinned sweet potatoes (these have the orangest flesh)
60ml olive oil (1/4 cup)
fine sea salt to taste
2 TBS lime juice, plus more if need be
2 tsp finely grated lime zest
2 TBS honey
2 TBS chopped fresh coriander leaf to garnish (cilantro)
Instructions:
Preheat the oven to 230*C/450*F/ gas mark 7. Line one or two large baking trays with aluminum foil. Spray the foil lightly with nonstick cooking spray.
Peel the sweet potatoes and cut into one inch cubes. Toss them together in a bowl with the olive oil. Spread them out onto  the baking tray(s).  Sprinkle 2 tsp of salt over top.
Roast the sweet potatoes in the preheated oven, stirring them every 10 minutes for 20 to 25 minutes, until they are fork tender and lightly gilded.  Watch carefully so they don't burn.
Allow to cool to room temperature.  Transfer to a serving bowl.
Whisk together the lime juice, zest and honey. Pour over the sweet poatoes and gently fold together to mix.  Taste and season with more salt if required and up to 1 t 2 tsp of additional lime juice if you think it needs it.  Scatter the top with the coriander leaf and serve.
Did you make this recipe?
Tag @marierayner5530 on instagram and hashtag it #EnglishKitchenCreated using
The Recipes Generator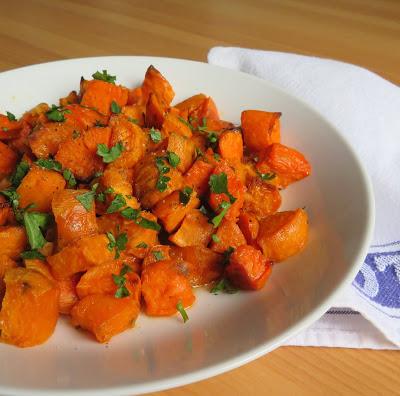 I am so, so, so disappointed to learn that I shouldn't really be eating sweet potatoes.  Here, all along, I was thinking that they were really good for me.  I guess I shall have to treat them as a rare treat as well.  Getting older is not for sissies, that's for sure! 

Follow my blog with Bloglovin