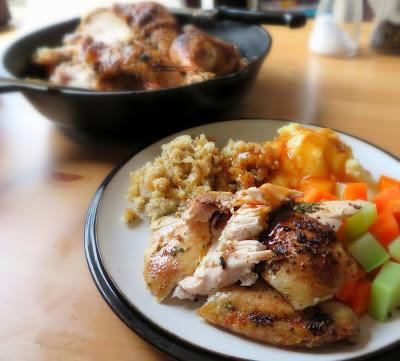 Here in Chester we are lucky enough to have an indoor market right in the mid-town by the town hall.  It is filled with some cafe's and a variety of small businesses, butchers, cheese monger, fish monger, greengrocers, etc.  They have been a God-send during this time of quarantine and lock-down.  Each one are offering packages of their goods for home deliver, which has been a real blessing to me.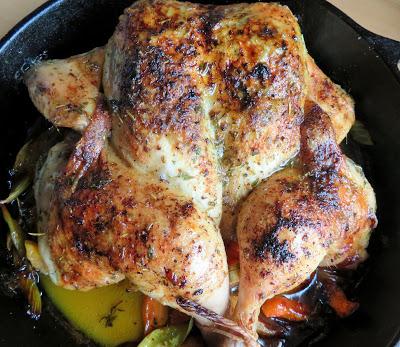 The other day I got a meat pack from the butcher. 
Geoff Hughes Family Butchers
.   I got the healthy eating pack which was filled with lean meats, sausage and chicken, and I added a medium roasting chicken to the order.  I have always been really happy with any meat that I have gotten from them. Contactless pay, and free contactless delivery.  Safe. Safe. Safe.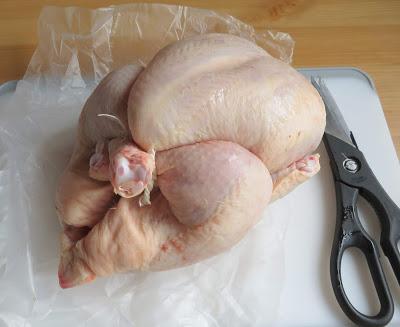 Just look at that beautiful roasting chicken.  Free-range and organic.   Lovely and plump.  I decided to spatch cock it for roasting.  Quite often I will spatchcock a chicken when roasting it. There are two great benefits to spatchcocking a whole chicken.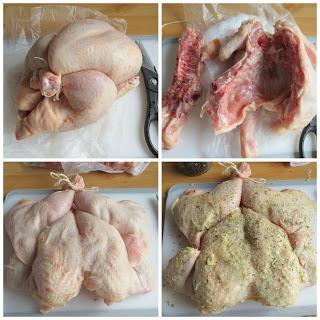 The first is that a spatchcocked chicken cooks faster and more evenly than a chicken left in its naturally state. This is fantastic for when you want to cook a whole chicken on a barbecue, but its aa method that is as equally good when you're wanting to roast the chicken in the oven.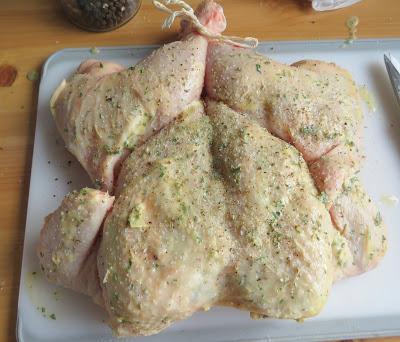 The second advantage is that, with a spatchcocked chicken, all of the skin gets lovely and crispy, not just the bits facing upwards in the oven. Even in a convection oven, roasting an unflattened chicken won't give you the same uniform browning as roasting a butterflied chicken. Salty, crunchy, golden skin is one of the best things about a roast chicken.  (Tell me I am not alone in this)  So you get a nice crisp skin, whilst maintaining the moist delectability of the roast chicken meat itself. Win/win!  (Complete nstructions are in the recipe on how to do this.)  Today I  inserted a mix of butter, herbs and lemon zest beneath the skin and rubbed a bit on top as well.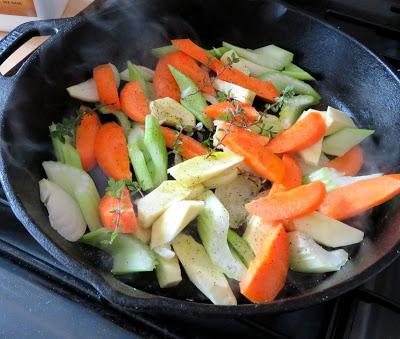 On this occasion I chose to roast my chicken on a bed of chopped root vegetables, aromatics and herbs.  Carrots, parsnips, onion, celery, garlic, a quartered lemon and fresh thyme.  I softened them in a bit of olive oil first and then laid the spatchcocked chicken on top.  Finally I squeezed a lemon over it all.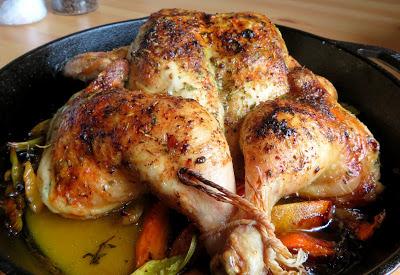 Oh boy but this smells pretty amazing when it is roasting . . . .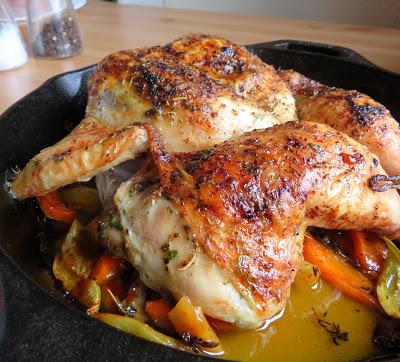 I start it at a high temperature and then turn the temperature down for the remainder of the roasting, basting the chicken partway through the roasting time.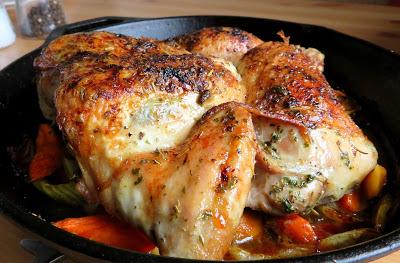 The high temperature at the beginning really helps to create a nice crisp and golden skin  . . .  just look at that perfectly cooked wing . . .  my favorite bit . . .  that and those little scallops on the underside near the thigh  . . .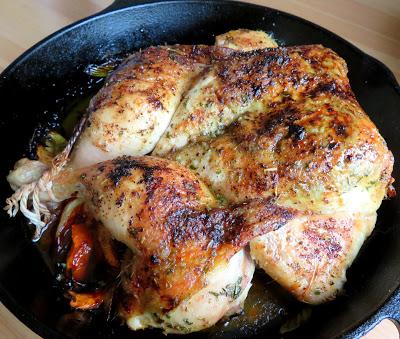 The aromatics roasting beneath the chicken serve as a trivet and also help to infuse flavor all the way through that meat  . . .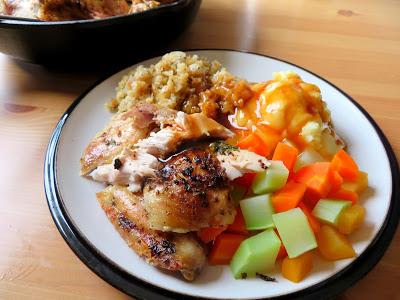 And then of course the butter herb mixture beneath the skin helps to insure that the meat is really well flavoured and succulent.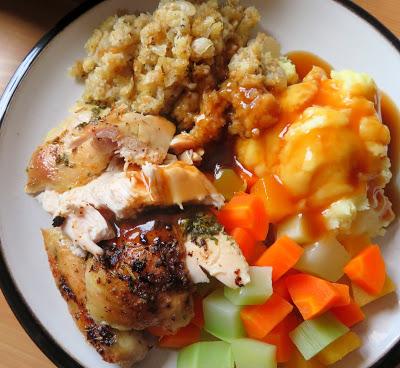 I served it with some of my homemade
Sage and Onion Stuffing
.  (I made a double batch so I could freeze some for another time.)  This is so good. I could eat it wih a spoon, even before I cook it.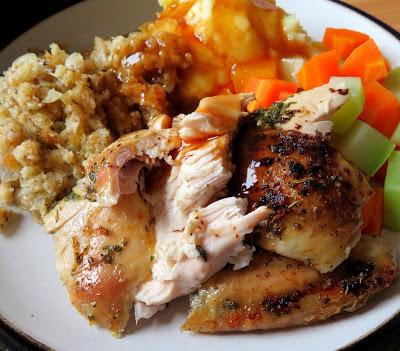 I cooked some cubed swede (rutabaga), carrots and broccoli stems for a vegetable.  Broccoli stems are nice. Just peel and cube.  No waste here!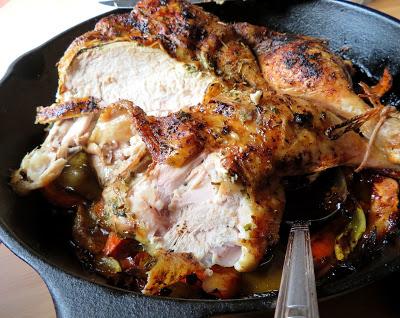 Just look at how tender and moist that chicken is, and how crisp that skin . . .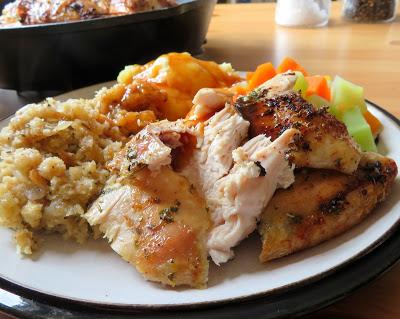 The pan juices are really lush spooned over top.  This was a fabulouslsy tasty dinner! 
Yield:
4 with leftovers
Author:
Marie Rayner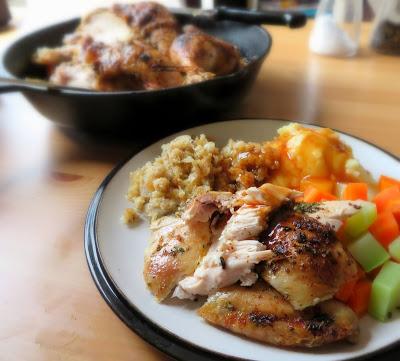 Roasted Spatchcock Chicken
Tender moist and flavourfull chicken with a lovely crisp skin.  Cooks to perfection in half the time.
Ingredients:
1 medium sized whole chicken, at room temperature
1 stalk of celery, trimmed and sliced
1 carrot, trimmed and sliced
1 parsnip, trimmed and sliced
1 onion, peeled and sliced
6 cloves garlic, peeled and bashed
a few sprigs fresh thyme
a splash of olive oil
salt and pepper to taste
2 lemons, divided
1 tsp dried sage
1 tsp dried parsley
1 tsp dried rosemary
1 tsp dried thyme
4 TBS softened butter
Instructions:
You will need a good pair of kitchen scissors for this recipe.  Pat your chicken dry with some paper towelling and ten place it onto a large cutting board, bottom side up, neck facing you.  Holding the neck in one hand, and using the kitchen scissors, cut  down along the spine on one side, working as close to the spine as you can so that you don't waste any good meat.  Repeat on the other side.  Wrap the spine (chicken back) up tightly and freeze to make some chicken stock another time.
Flip the chicken over on the cuttong board, breast side up.  Using the heel of your hand press down firmly, flattening the breastbone (you will need to break it) so that the chicken and legs are all one thickness.  I like to tie the legs together and tuck the wing tips under the skin of the thigh. (see photograph)
Mix together the softened butter along with the dried herbs, and the zest of one lemon.  Loosen the skin on both the breasts and the thigh and push some of this mixure under the skin.  Rub any remaining mixture on top and dust generously with salt and black pepper.
Preheat the oven to 225*C/425*F/ gas mark 7.
Place all of the cut vegetables in an oven proof skillet (I use my cast iron one) with a splash of oil, and cook for about 10 minutes, tossing and stirring. Add one of the lemons quartered and then the sprigs of thyme.  Place the spatch-cocked chicken on top of these in the skillet.  Squeeze the juice from the zested lemon over top.
Place the skillet in the preheated oven and roast for about  25 minutes.  Lower the temperature to 190*C/375*F/ gas mark 5.  Baste the chicken and roast for a further 35 to 45 minutes until the chicken juices run clear and the skin is a lovely golden brown. 
Remove from the oven and let rest for about 10 minutes before slicing to serve.  If you wish you can use the pan juices to make a gravy, or you can just spoon a few of them over the sliced chicken to serve.  Delicious!
Did you make this recipe?
Tag @marierayner5530 on instagram and hashtag it #EnglishKitchenCreated using
The Recipes Generator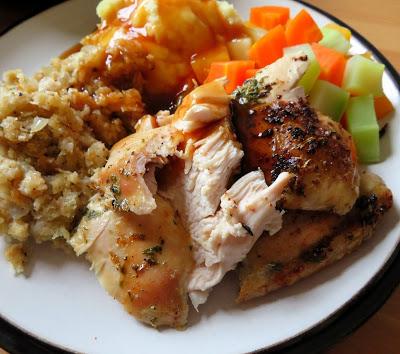 We had plenty for dinner on the day.  Leftovers for sandwiches, some for a casserole and the bones for a soup.  Roast chicken really is the meal which keeps on giving! 

Follow my blog with Bloglovin