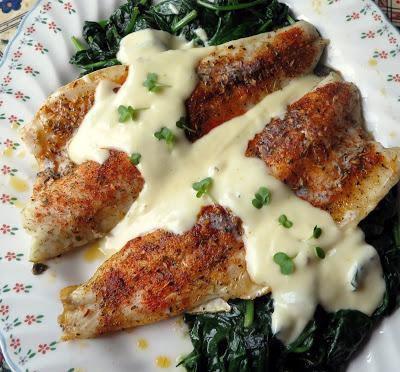 Fish for Friday here with a lovely dish this week of Roasted Sea Bass with a Lemon Parmesan Cream. Sea Bass is a fish that people really enjoy eating these days.  Its a common name which is used to describe a variety of fish, but here in the UK, all sea bass that is sold is exclusively European Bass.  I sourced  mine from Seafresh, the online fish monger.
Their seas bass
is farmed, which is the most sustainably sourced at the moment!  I can attest that it is a beautiful piece of fish.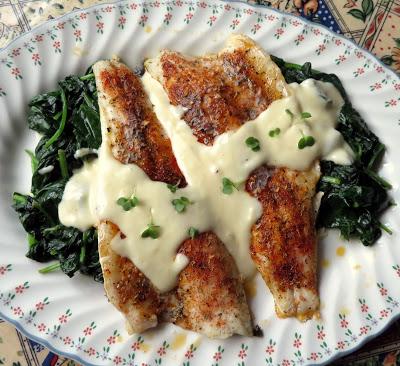 Not as thick as cod, or as flat as plaice it is white or light in color and beautifully sweet and buttery in flavour, mild and delicious!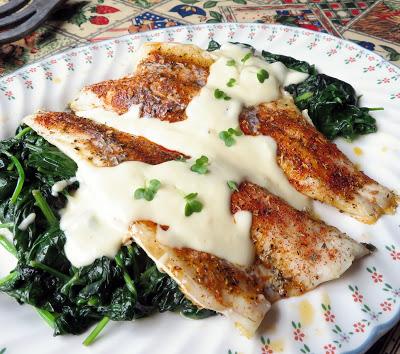 The sea bass from Seafresh comes in skin on fillets, each piece being frozen individually, making it easy to take out only as many fillets as you want to use at any given time.  Its very easy to thaw out overnight in the refrigerator, or for a few hours at room temperature.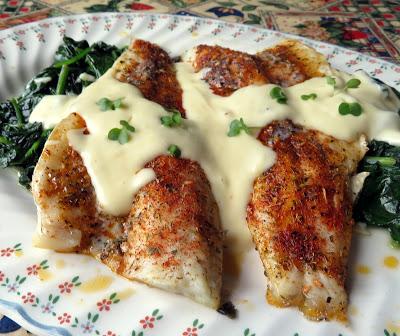 I roasted mine today in a hot oven.  Prior to roasting I sprinkled it with a spicy rub mix, of herbs and spices . . . and dotted it with butter  . . .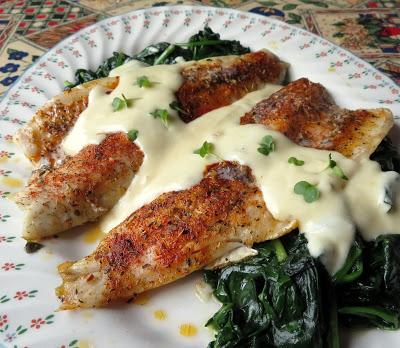 It cooks very quickly, only taking about 8 minutes in a hot oven, so I made the delicious sauce that I wanted to serve with it first and kept it warm while the fish roasted and I cooked the spinach that I also wanted to serve.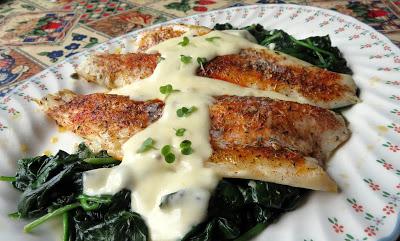 That's one thing I really love about fish . . . the easy of cooking it and the fact that it cooks very quickly.  Its an almost instant dinner!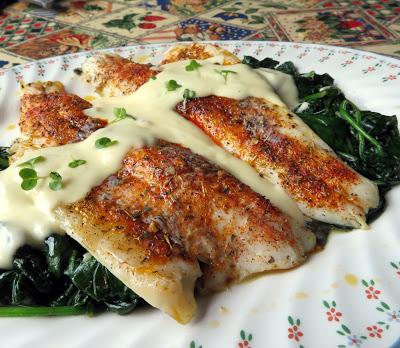 I made a Lemon Parmesan Cream Sauce to serve with our fish today.  It is lush and rich and goes beautifully with the flavor of the fish and that spicy rub  . . .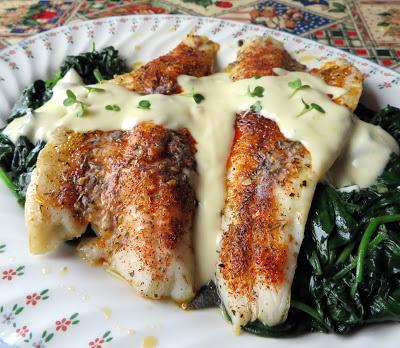 It is a basic cream sauce/or bechamel  . . .  flavoured with Parmesan cheese, white wine and garlic.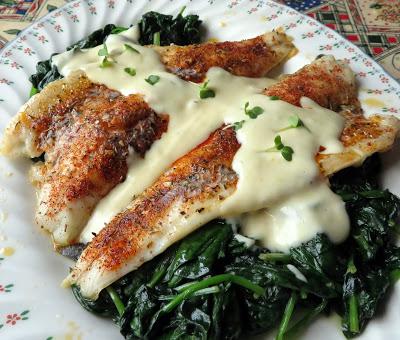 It is simple to make and makes for a luxurious finish . . .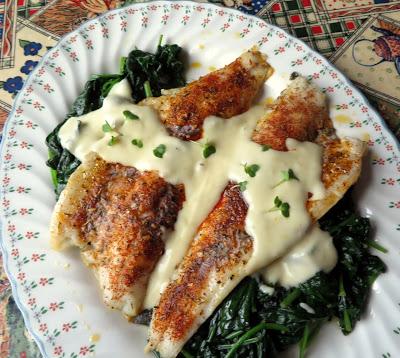 I sauteed some spinach to serve along side.  I love sauteed fresh spinach. It cooks in a flash, which makes it perfect for serving with fish.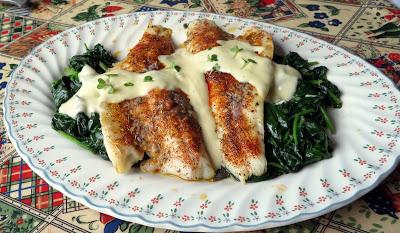 And its bright green color set off the fish and the sauce beautifully.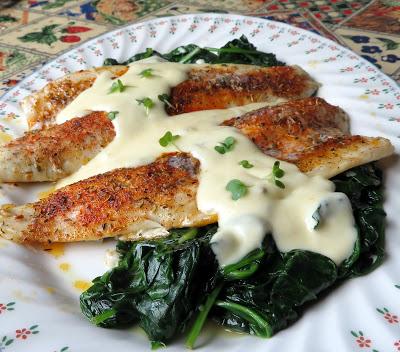 You can cook the spinach while you are roasting the fish. It doesn't actually take very long to cook the spinach at all. Its basically just wilted,  You can trim off any largish stems prior to cooking if you wish. They don't really bother me, but I know when I worked at the Manor, I had to make sure there were no stems on the spinach at all . . .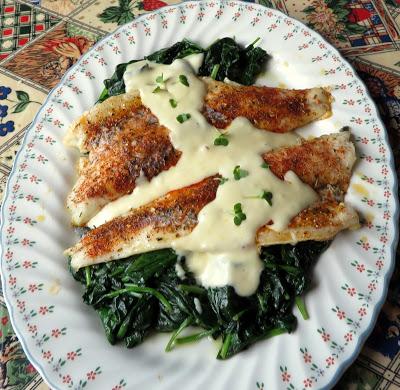 This is a really beautiful way to serve this excellent fish . . .  its so tender and flaky . . .  that rub just spiced nicely and the sauce goes very well with both the fish and the spinach perfectly.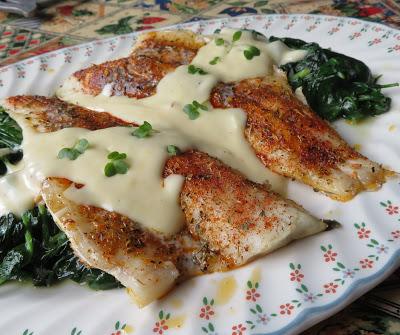 The only other thing you will need is some potatoes, rice or pasta on the side.  I steamed some baby new potatoes in the microwave. Just wash them, cut them in half if larger, and put them into a microwavable bowl with a cover, along with a knob of butter and some seasoning. Cover and then cook on high for 9 to 11 minutes until fork tender.  let sit for 3 to 5 minutes before serving. Perfect!
Yield:
2
Author:
Marie Rayner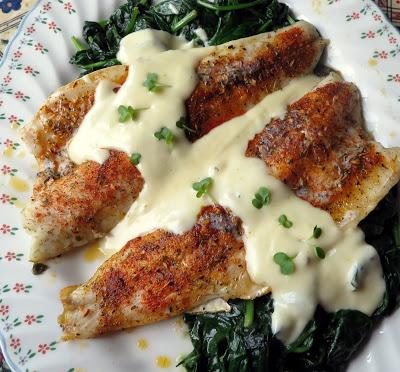 Roasted Sea Bass with a Lemon Parmesan Cream
Deliciously spiced and perfectly baked sea bass served with a lush flavourful cream. Simply wonderful.  You can easily double the quantities to serve more people if you wish. This would make a great dinner party first course.
ingredients:
For the fish:
2 sea bass fillets
1 tsp sweet paprika
1/4 tsp each dried basil, dried oregano,
1/4 tsp each salt and black pepper
1/8 tsp garlic powder
pinch cayenne pepper
soft butter to dot
For the sauce:
1 TBS butter
1 TBS flour
1/4 tsp garlic powder
30ml white wine (1 fluid ounce)
60ml chicken stock (1/4 cup)
120ml heavy cream (1/2 cup)
2 TBS grated Parmesan cheese
the juice and zest of 1/2 unwaxed lemon
salt and white pepper to taste
For the spinach:
1 bag  washed baby leaf spinach (about 5 large handfuls)
1 TBS butter
1 small clove of garlic, peeled and crushed
salt and black pepper to taste
instructions:
How to cook Roasted Sea Bass with a Lemon Parmesan Cream
Preheat the oven to 200*C/400*F/ gas mark 6. Batter a baking sheet. Place the fish fillets skin side down on the buttered baking sheet. Combine all of the herbs and spices, rubbing them together well. Sprinkle evenly over the fish. Dot with butter and set aside while you make the sauce.
Melt the butter in a small saucepan. Whisk in the flour. Cook, whisking for about a minute to cook out the flour taste. Stir in the garlic powder, and then whisk in the chicken stock and white wine. Cook, whisking until the mixture comes to a boil and bubbles. Whisk in the cream and heat through gently. Whisk in the cheese to melt. Add the lemon zest and juice and whisk again until it all comes together. Taste and season with salt and white pepper. Set aside and keep warm.
Put the fish in the oven and roast for exactly 8 minutes.
While the fish is cooking heat a non-stick skillet over medium high heat. Add the butter and garlic. Once the butter begins to foam add the spinach, tossing it into the butter and adding more once the spinach begins to wilt, a handful at a time, until it is all wilted. Season to taste with salt and pepper.
To serve lay a portion of spinach on a heated plate, top with a fish fillet and spoon a portion of the sauce over top. Serve immediately. Some boiled baby new potatoes would be lovely with this.
Created using
The Recipes Generator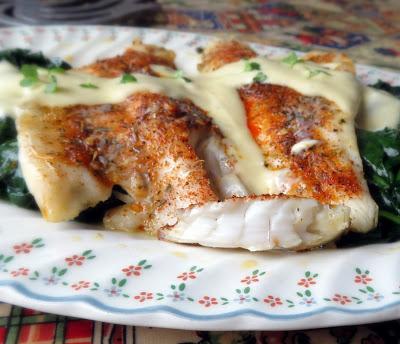 Look at how perfect and flaky that fish is and its beautiful color.  I am always so very impressed with the fish and seafood we get from Seafresh.  Their service is impeccable, the packaging well done and environmentally friendly, and the product of exceptional quality and value. If you would like to know  more about their products
please click here
.  You really can't go wrong! 
A few things about Seafresh:
Same Day dispatch on orders received before 1 PM.
All packages are carefully hand packed.
Free delivery on orders above £50, £8 on orders below that amount. 
Responsibly and sustainably sourced.
Air Blast Frozen at source within 4 hours of being caught.
Wide variety to choose from. 
Do check them out on their
website
to find out more.
Follow them on
Facebook
,
Twitter
and
Instagram
.
Up Tommorrow:
Easy Granola Bars