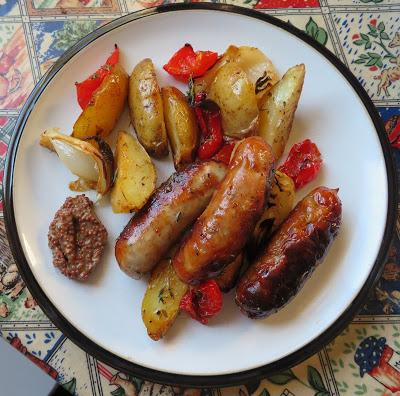 I had taken some sausages out of the freezer to cook for our supper last night, thinking I was going to cook them with some onions, apples and apple juice, only to discover today that I had no apple juice. I really should have checked before I took the sausages out . . .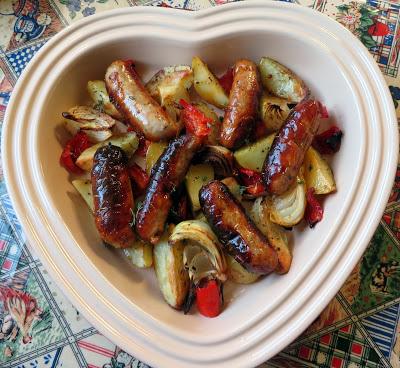 I have had this Mary Berry Cookbook, called Mary Berry Absolute Favourites, based on the television series of the same name, and I am ashamed to say I haven't used it.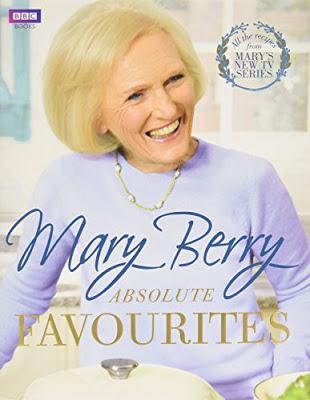 I just love Mary Berry, don't you?  I really miss seeing her on the GBBO. To me, its just not the same without her.  I love all of her television shows as well. She seems like a genuinely nice person.  This book contains over 100 brand new, simple and satisfying recipes from one of her latest cooking series, and I really have no excuse for not having used it before, as the recipes in it all seem sound and quite delicious!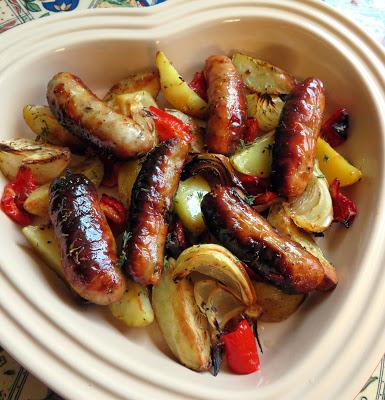 I was drawn to the bright colours of this dish!   I also liked that I was easily able to cut it in half to just feed two people.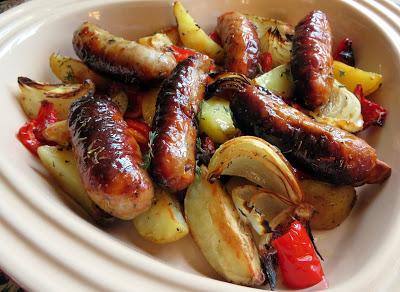 I hate wasting food, and so I tend to freeze my sausages in 6 sausage lots, and I had only taken one lot out.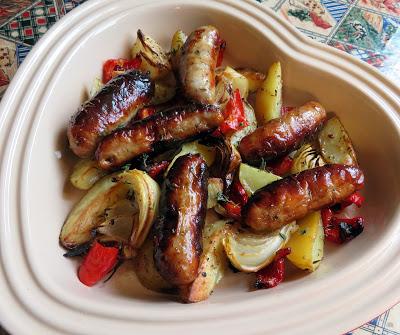 I buy my sausages at Costco. They are just lovely. I usually get a mix of Italian and Cumberland, and then break them down and freeze them in lots.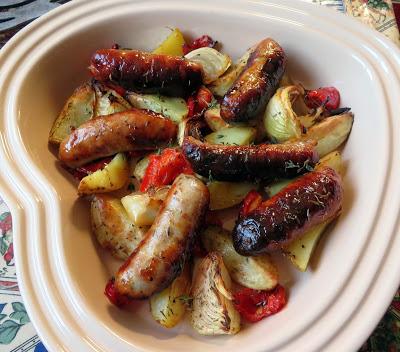 Her original recipe called for baby new potatoes, cut in half.  I did not have baby new potatoes, so I used medium white potatoes, skin left on and cut into quarters.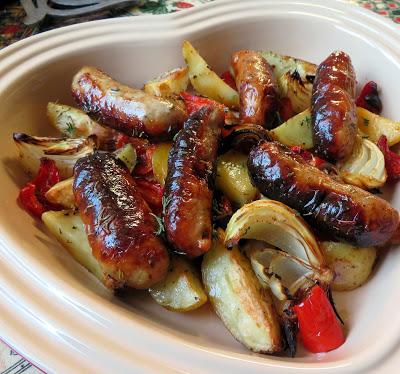 I used dry thyme, and reserved some fresh thyme leaves for garnishing the finished dish.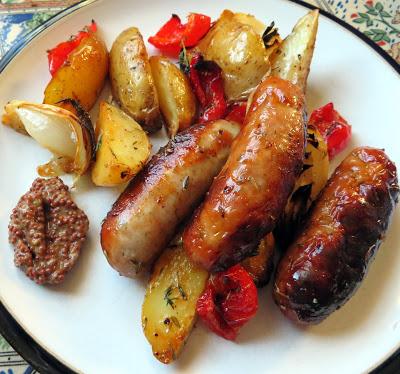 When you peel your onion, make sure you leave the root end as intact as you can, so that when you cut it into sixths the wedges don't break apart and they stay whole while roasting.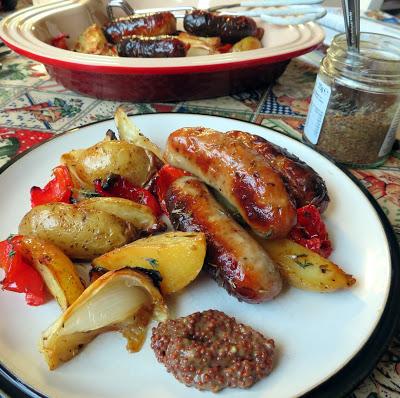 I think a mix of red and yellow peppers would also be very nice, and pretty colourful, as would red onion.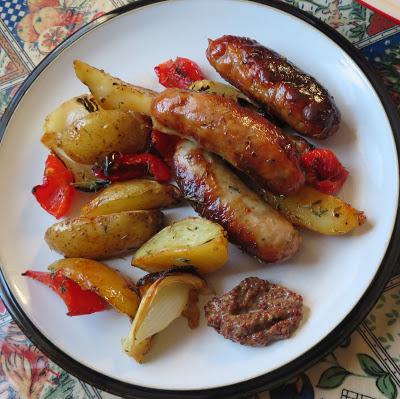 If you line your baking tray with aluminum foil, there won't be any pan to wash up either.  Perfect for these busy days we are in the middle of.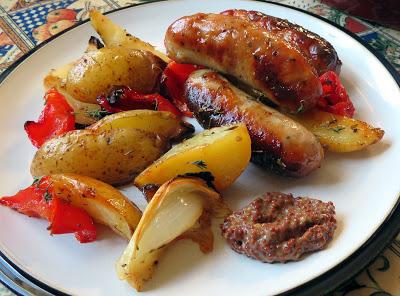 You do need a bit of white wine, but if you don't have it, I think either white grape juice or apple juice would also work very well in its place.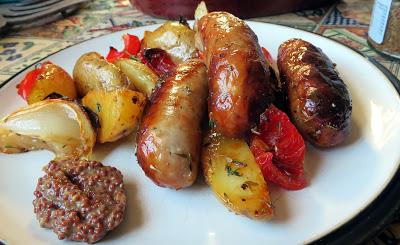 It helps to keep the sausages from drying out and they become almost sticky.  We enjoyed this with dollops of grainy mustard on the side.  I had thought to do a salad, but then forgot.  In all truth we were both very satisfied with just this!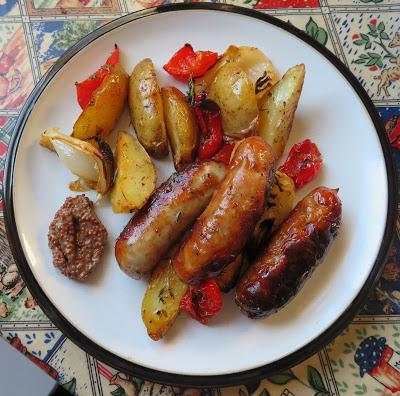 Roasted Sausage & Potato Supper
Yield:
2
Author:
Marie Rayner
A delicious recipe adapted from Mary Berry perfectly sized for two.  Quick and easy also. You can add an extra vegetable on the side, but this is surprisingly filling.
ingredients:
6 thick pork sausages (I like Cumberland)
1 medium red bell pepper, trimmed, seeded, cut into chunks
2 medium potatoes, washed, dried and cut into quarters
1 medium onion, peeled and cut into sixths
1 TBS olive oil
salt and black pepper to taste
1/2 tsp dried thyme leaves
100ml white wine ( 3.5 fluid ounces)
fresh thyme leaves to garnish if desired
grainy mustard to serve
instructions:
How to cook Roasted Sausage & Potato Supper
Preheat the oven to 220*/425*F/ gas mark 7.   Have ready a baking tray with sides,  large enough to hold everything in a single layer.
Put the sausages, potatoes, onions, and red pepper chunks into a bowl and toss together with some salt, pepper and the dried thyme leaves.  Mix together with your hands and then spread out onto the baking tray, making sure that nothing is piled on top of the other.
Roast in the preheated oven for 1/2 hour. Remove from the oven. flip over the sausages.  Pour the wine around them in the baking tray.  Return to the oven and roast for a further 15 to 20 minutes.  The pork juices should run clear and the vegetables should be tender. 
Transfer to a heated serving dish, garnish with some fresh thyme leaves and serve with some grainy mustard.
Did you make this recipe?
Tag @marierayner5530 on instagram and hashtag it #EnglishKitchenCreated using
The Recipes Generator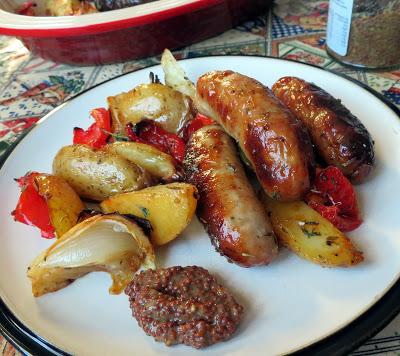 I hope you will give this a go and that you enjoy it!  Next time I might roast some sweet potatoes and carrots in place of the peppers, and use red onions! I can't believe it is already Thursday!  Can YOU?  This month is already whizzing by!